News
How Pebble brought our 18-handicapper to his knees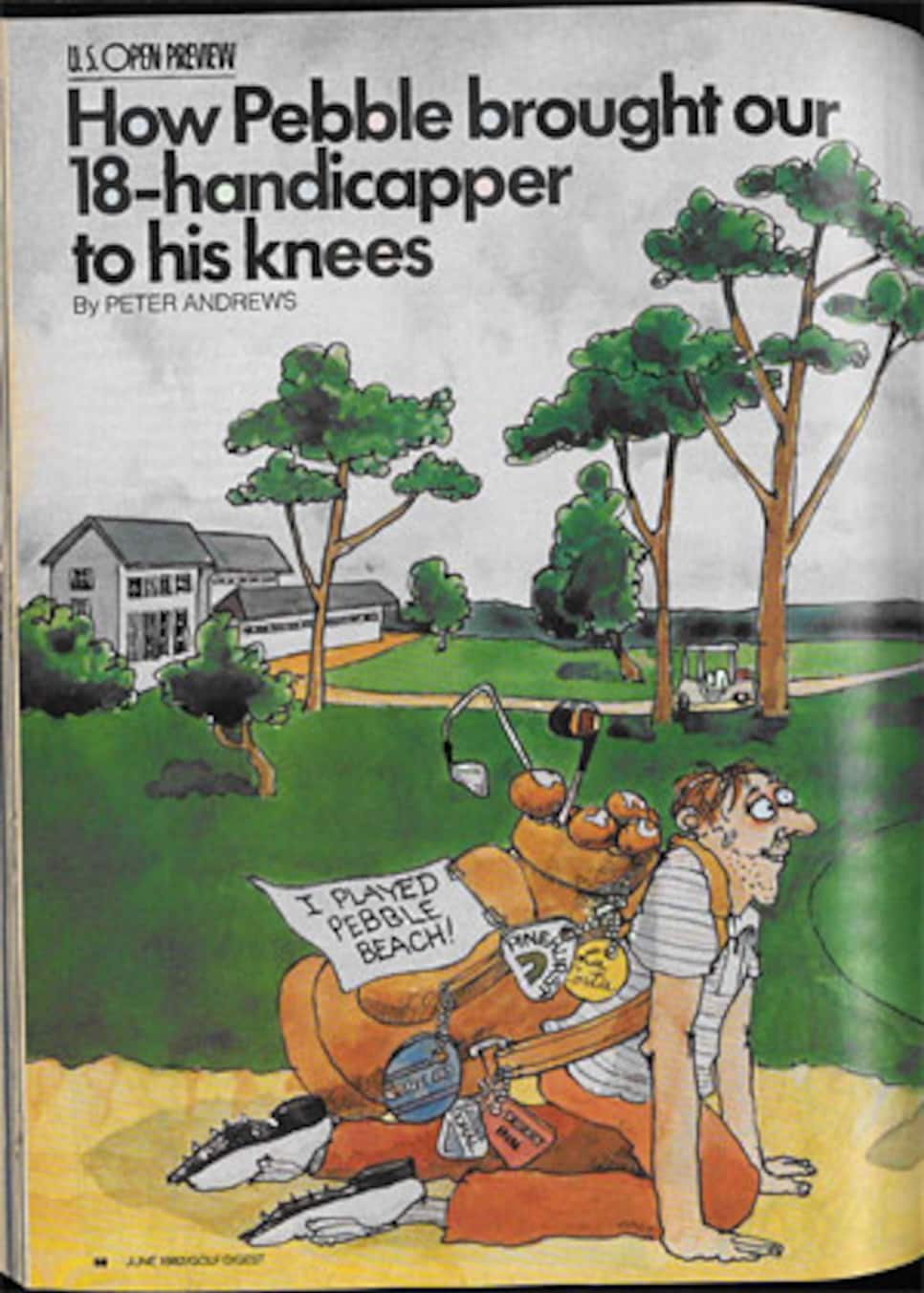 Pebble Beach had never seemed entirely real to me. The course is famous, certainly. Next to Augusta it is probably the best-known layout in America. It has been written about and photographed more than any seaside location since the Cuban missile sites, and I should imagine there is a Peabody Award for courage in broadcast journalism awaiting the first commentator who does not describe the 18th as "the greatest finishing hole in golf." But there was always a mythical quality about Pebble Beach when I watched it on television. I tended to think of it as a sporting Brigadoon that popped up along the California coastline for a few days every January just to get rained on during the Crosby so people could have fun watching George C. Scott swing like an outraged Bette Davis.
It was almost a surprise, then, to journey out to the Monterey Peninsula recently and find there really is an honest-to-God golf course called Pebble Beach -- a course that lays vainglorious claim to being one of the 10 best in the world and then sets about proving that boast on almost every hole. Moreover, people actually do play here. On an average day some 150 golfers will lay out $50 to $70 in green golf car fees to play a single round at Pebble Beach. And not one I spoke to thought it was anything but a bargain. Which says something about the fanatacism of golfers or the greatness of Pebble Beach. Probably both.
As the date for the U.S. Open approaches, you will be reading and hearing a great deal about Pebble Beach, where it will be played this year. (Incidentally, this is the only course open to the public that ever has been host to the Open.) Most of what you will read and hear will be expert and helpful to you in following the tournament. For example, you will almost certainly be informed again that the 431-yard eighth hole is one of the premier two-shotters in golf, requiring a drive down the left side of the fairway in the 240-yard range followed by a boring iron some 190 yards over a yawning chasm to a green about the size of a double bed surrounded by bunkers. I love reading about stuff like that, just as I love reading about men who have won the favors of Catherine Deneuve. It may not be immediately useful to me but it does have a certain anecdotal value and I am delighted to know that it can be done.
A few pages back, David Graham discussed for you, who might win the upcoming Open and how the world's greatest players might fare on this demanding venue. I have been in places on Pebble Beach that David probably doesn't know exist. And the course is such a beautiful place, you'll want to see it all.
Golf writers are forever pontificating about how "Pebble Beach starts out like a lamb." If that is so, I had a rabid lamb on my hands, even playing from the regular tees at just under 6,600 yards compared with the taxing 6,802 yards at which the Open will be contested.
Arriving on the course shortly after a long plane ride in early spring and with a swing that had been unmolested since the previous Thanksgiving, a 3-wood and a 2-iron were sufficient to negotiate the 373 yards to the first green. Then it was time to learn about the ocean. Everyone knows that a ball breaks toward the water, but no one can be exactly sure how much until he sees it for himself. I started out what seemed to be a reasonable birdie putt that rumbled toward the hole in the manner of a sedate parade float but half way there started twisting away and gathering speed. It fled past the hole by a wide margin and dashed for the sea like a lemming. On in two, one putt, one chip, two putts for a 6 and a feeling that my 18-handicap from a little sandbox course in New York State was not going to hold up.
But I had learned my first Pebble Beach lesson -- as long as either you or your ball is exposed to view, neither of you is safe. The rest of these pushover opening holes consists of a par 5 with a 200-yard carryover bunkers, a savage blind dogleg par 4 through heavy barranca country, a short par 4 overlooking the ocean to a green tighter than Nancy Reagan's smile and an uphill par 3 through a chute of trees with out-of-bounds left and right and a trap guarding the front two thirds of the green.
Having mollycoddled the golfer for five holes, Pebble Beach is now ready to start in earnest. Holes 6 through 10 are the first of the celebrity holes. They are better known and more widely recogized than many of the professionals who play on them. The sixth is a monster par 5 that works its way along cliffs so steep you can't see the slope. As far as you know, the world ends on the right side of the fairway at the sixth hole at pebble Beach.
Byron Nelson once said that No. 6 was the hardest hole on the course and that's good enough for me. Most pros drive for the seawall and then either lay up or go for it in two Homeric shots. It has often been said that pros are really playing a different game from most of us amateurs. Here they might as well be playing a different course. While they go right, we go left as far away from the roar of the cataract as possible and not infrequently catching the bunker that has been placed there specifically to upbraid the cowardly who would rather get sand in their shoes than algae. I traversed more than 450 yards through the left rough in this manner before I even tried to aim a shot in the general direction of the green. I didn't so much play the sixth as I tried to mug it from behind. But it's bigger than I am.
Then there is the darling little seventh, just a tad over 100 yards to a tiny green below. You will have to take my word for this, but I hit the softest, sweetest 9-iron you ever saw. It had the flag covered all the way and if the currents are running true, my ball should be somewhere off the coast of Ecuador by now.
And so it goes for the hacker at Pebble Beach. Bad shots get you in trouble and good shots get you in the Pacific.
By the eighth hole I had the sensation that I was playing while heavily sedated, which is probably just as well. If 12th-century cartographers were mapping the coastal area around No. 8 where the seawall cuts so deeply into the fairway between the tee and the green that you literally can't get there from here, they would simply mark it, "Here Be Dragons," and anyone with a brain in his head would stay away.
The ninth hole dances along the escarpment for 439 yards and, then to show you that they aren't kidding, on the 10th hole you get to do it all over again for another 395.
The big problem for a middle to high handicapper at Pebble Beach is not just that it is difficult to know exactly what club to hit or in which direction to aim it -- those are dicey considerations for me wherever I play -- but that the course simply overwhelms you. If you are playing decently, Pebble Beach, as any good course does, rewards you with some pleasing numbers. But Pebble Beach is remorseless in the face of sloppy play. If you're hitting badly, as I elected to do that day, Pebble Beach will devour you. I kept thinking of the Frenchman in the famous story, who, when asked what he did during the revolution, replied, "I survived." If after 10 holes I could be assured that I would get home with most of my equipment intact, I would have counted myself a happy man.
But Pebble Beach plunges on, turning inland in the back loop of a half-mad figure eight and gives no guarantees. The 11th is a blind uphill dogleg-right par 4 of 374 yards that plays more like 400.
The 12th is a par 3 that calls for a 184-yard fly over a front trap. If you are not on the green, usually one of two things happens. Either you are on the right where you can find your ball, but are out-of-bounds, or you are on the left and in play, but probably lost.
I think my favorite hole is the 13th. It is a 373-yard par 4 with out-of-bounds on the right and what appears to be a desert of some kind on the left. In between is a shelved green tightly trapped on both sides. The Pebble Beach guidebook is pleased to call the 13th "a breather." You will need the rest because the 14th is the longest hole on the course-553 yards of parade ground, right wheel. The 15th is a totally blind par 4 over a huge overgrown barranca. Although the 16th is billed as "the start of the tough road home," it affords the higher handicapper his best shot at a par 4 on the back side, especially if he is good at throwing an approach shot a couple of hundred feet in the air to get over the trees, and likes putting on a sloping green.
The par-3 17th on the ocean is as familiar to most television watchers as the graduation pictures of their children. What I did not realize is that the green is so distended from front to back that it is possible to hit the green and then find out you are off by two clubs. I ask you, is that fair? Is that just?
Watching tournaments at Pebble Beach on television, I always thought of the 18th as full of dark menace and roiling water. But coming upon it in person, the impression was quite different. I was only a scant 900 yards from the bar, and it was child's play to get home from there. Besides, I don't know how to hit a hook.
As has often been pointed out, par 5s on the golf tour are fast becoming as passe as the elephant's hoof umbrella stand. The pros can hit too far. It is Usually a drive and a long wood to eat up real estate, and then a chip and putt for an easy 4. Not so with the 18th at Pebble Beach. It still takes even a professional three separate and distinct shots to get to the green. Play too cautiously to the right and the bunker will get you. Play too boldly along the left and the ocean will. A slightly mis-hit approach shot turns into a snail darter heading for the shoals. If you want a birdie on the 18th, you have to do it the way John Houseman says: "You earn it." I carded a manful 6, looked back at where I had been and realized that, just as I had always been told, the 18th at Pebble Beach is the greatest finishing hole in golf. I knew Vin Scully wouldn't lie to me.
"Oddly enough, the person responsible for all this golfing grandeur was a man who did not care to play the game that much himself. Samuel Finley Brown Morse was captain of the 1906 Yale football team and had come to California to make his fortune.
In 1914 Morse found himself presiding over the liquidation of the Monterey land-holding of a California concern and became so enraptured by the beauty of the land that he formed the Del Monte Properties Company and purchased 7,000 acres of choice Monterey land, including seven miles of coastline, a lodge, a hotel and several cottages for $1.3 million -- that's right, $185 an acre for Pacific Coast property and we'll throw in the buildings to sweeten the deal. By way of comparison, after Spyglass Hill was finished in the mid-'60s, building lots were sold for as much as $32,000 for a quarter of an acre.
As an outdoorsman, Morse preferred horseback riding to golf, but he had a keen eye for property use. One of his first actions was to take a set of plans that had been drawn up for housing sites on the cliffs and burn them. Then he ordered Jack Neville, a California amateur golf champion, to design and build Pebble Beach. For the next 50 years S.F.B. Morse, who became known as the Duke of Del Monte, devoted his life to the creation of the pleasured principality that is Monterey. Pebble Beach, Cypress Point, Spyglass Hill, 17-Mile Drive and the sumptuous houses that coexist with their natural surroundings like deer in the forest are all part of the bigger-than-life dream that S.F.B. Morse had for the Peninsula.
After Morse died in 1969 Del Monte Properties was reorganized, bought, sold. merged and remerged until now the operation is jointly owned by Aetna Life & casualty and 20th Century Fox.
But throughout all of its transformations, the company has held fast to Morse's original idea to be the foremost purveyors of luxury in the area.
The centerpiece of this extraordinary complex is the Lodge at Pebble Beach, which administers lot only the Pebble Beach course, but the layouts at Spyglass Hill and Old Del Monte as well.
Guests at the Lodge can play any of the courses for a daily green and golf car fee. In descending order they are Pebble Beach $50, Spyglass $40 and Old Del Monte (which is not a bad course at all, by the way) $21.50. Pebble Beach is still a public course and nonguests are admitted for $70. This price structuring, designed as much to limit play as it is to maximize profits, has been fairly successful in dissuading the idly curious, except for the Japanese, of course, who love to play at Pebble Beach because they think it's cheap.
Cypress Point is within the general area, but socially it is as far away as Xanadu. The exclusive club is closed -- as my aunt used to say -- tighter than a Pullman window. It is sometimes possible, however, with discreet phone calls and judicial lying, to talk your way onto the course. It wouid be well Worth the effort, if you can pull it off, but it won't be easy, The Lodge itself is one of the most smoothly run resort operations you will ever find, And the rates are not exactly bed-and-breakfast stuff. Accommodations start at $135 European plan for a single room with fireplace and run $325 for a grandiloquent two-bedroom suite with the kind of ocean view you usually see only in travel posters. The Lodge charges top dollar, but gives top value in return. Even room service, the traditional bugbear of resort hotels, is swift and attentive.
The Monterey area is one of the premier tourist centers of the West Coast. There is a tendency for places on the Peninsula to get a little too cutesy for my hardened New York eyes -- Cannery Row has been so prettied up that John Steinbeck wouldn't know where to go for a drink anymore -- but there are good local restaurants in all the towns and boutiques everywhere you turn. One of special merit is the Golf Arts & Imports shop in Carmel. Michael Roseto has the best selection of golf prints and rare books of any I have seen in America. The biggest attraction is the Peninsula itself. Thanks to Morse, the 17-Mile Drive area has been flawlessly preserved and no one should miss the opportunity to expiore it by car, horse or foot.
But if you want to commune with nature, you can stay at any of the pleasant motels or country inns in the area and read a good book under a leafy bough. Golfers go outdoors not just to look at trees, but to thread 4-irons through them.
Eighty-five percent of all the guests at the Lodge go there expressly to play golf, usually at Pebble Beach.
Often a golf course has to endure a major overhaul to prepare for a big tournament such as the U.S. Open. Things get moved around until the members start to feel that the whole course is ground under repair. But Pebble Beach is taking a California cool attitude about the uocoming event.
They have put pot bunkers on the fourth and 16th holes -- Pebble Beach needs two more bunkers the way Robert Redford needs another pair of dimples. But it is the U.S. Open. You have to try something.
And that's about it. Pebble Beach was the site of the 1972 Open when Jack Nicklaus won with a two-over-par 290. Along with Julius Boros' 293 at Brookline in 1963, those are the only two times the Open has been won with scores in the 290s since 1935.
"There's really not too much to do," explained head pro Steve McLennan. "We're just mowing the greens and letting the rough grow. When it gets so that only a couple of guys on our staff can break 80 it will be ready." I think it's ready now.