Equipment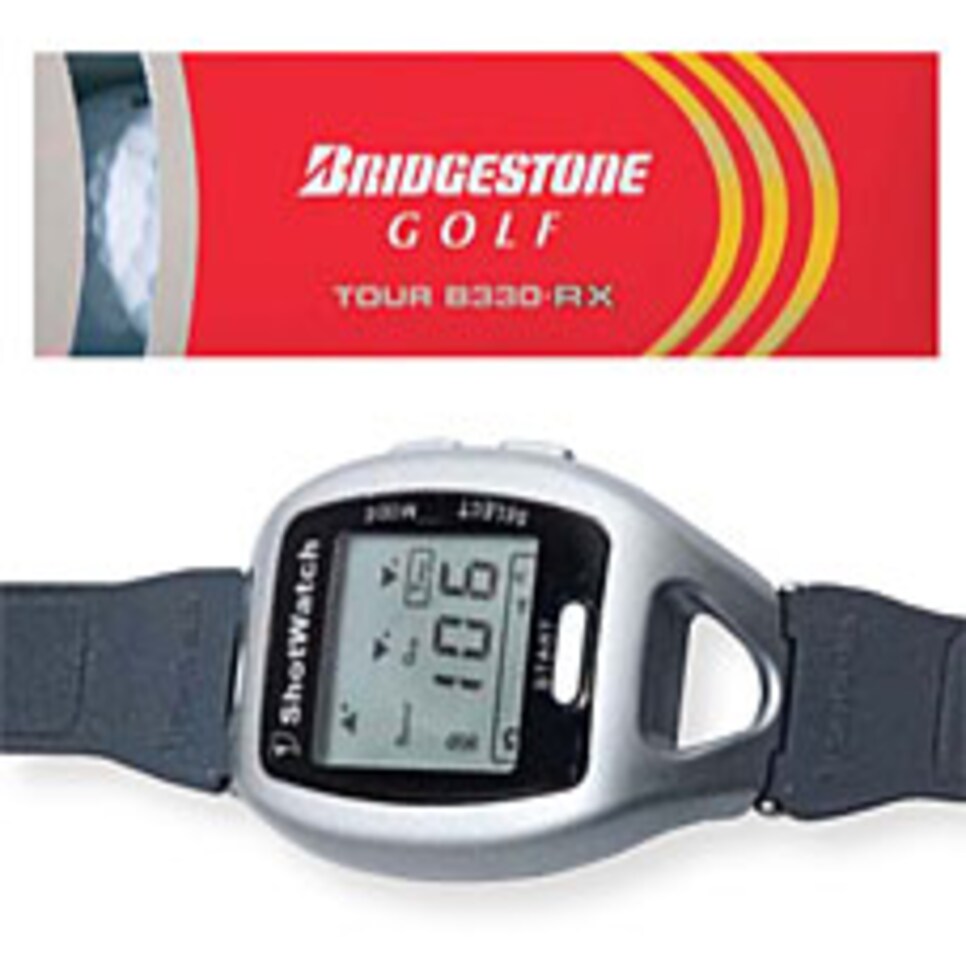 Bridgestone says its soft-compression tour ball, B330-RX ($40 a dozen), provides average swing speeds more distance. Don't know yours?
The Shot Watch calculates tempo, grip pressure and swing speed ($200, shotwatch.com).
Q: Why should the average golfer play a $4 ball?
GOUGE: I've long been known as a "cheap is good" kind of guy, so I'll happily defend a golf ball that costs $24 a dozen, or half of what the "tour" balls cost. But decide for yourself. Buy a sleeve of each, and play a round to get a sense of how the balls feel and perform. I did, and the luxury ball mattered on only one shot (around the green) during the entire round. The $2 ball might not be longer or straighter, but it's cheaper. Now, maybe on a par 5 you need your 40-yard third shot to subtly check up. Or perhaps you depend on the flop shot. Or maybe your home course is tuned to PGA Tour course conditions. But if none of these applies to you, why not give the $2 ball a try? One of the leading experts in golf-ball technology in Japan once told me after looking at the relatively large percentage of sales of tour balls in the United States: "Must be a lot of scratch players in America, huh?" Yeah, right.
BOMB: Of course it mattered on only one shot for you—no matter how good a ball is, it doesn't work on skulls and chunks. But enough about your game. I don't hit pitches that subtly check up, nor do I play a course that is tuned to PGA Tour conditions. But I have tried the two-buck golf balls, and here's my conclusion: They're not as good as the $4 balls. I'm not saying they're not worth playing. (There have been more technological advancements in low-cost golf balls than tour-quality balls in recent years, and the $2 ball is a lot better than it was five years ago.) If you're willing to sacrifice performance to save a few bucks, then by all means go with the $2 ball. I just hope I get the chance to meet you at my club and play a nassau where the stakes are car-car-house. Other than price, there really isn't a good reason any player should use the cheap ball over the tour ball. The $2 ball will cost you more than one shot per round around the greens. And even if it is just a stroke, that one shot could be the difference between winning your match, qualifying for an event or posting a career-low score. Of course, next you'll be suggesting people should use golf balls with red stripes because they're free.
GOUGE: I guess. But like my surgeon says: Just because I give you a scalpel doesn't mean you can perform a laparoscopic partial nephrectomy.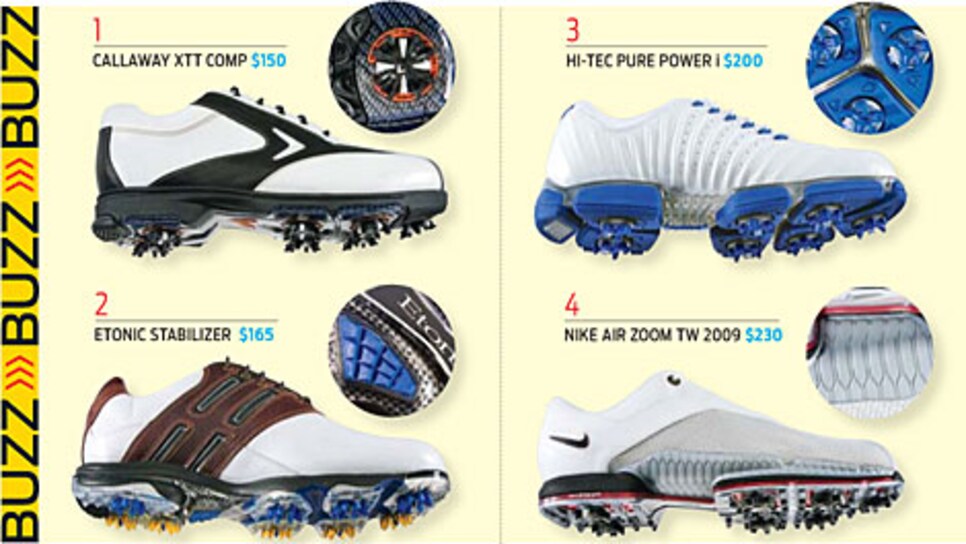 Unlike driver MOI or face grooves, shoe technology might be the last area of golf equipment to be rolled back. That's good news for golfers. These models are designed to keep you planted during the swing.
1 Cleat and receptacle are designed to move independently with terrain.
2 Among traction features is a sole element to stabilize the arch.
3 Isolated subsections for each cleat aim to improve ground-sole contact.
4 Molded external sidewalls help control lateral foot movement.
Bomb (aka E. Michael Johnson, the Equipment Editor for Golf World, our sister magazine) and Gouge (aka Mike Stachura, Equipment Editor for Golf Digest) answer your equipment questions online here.