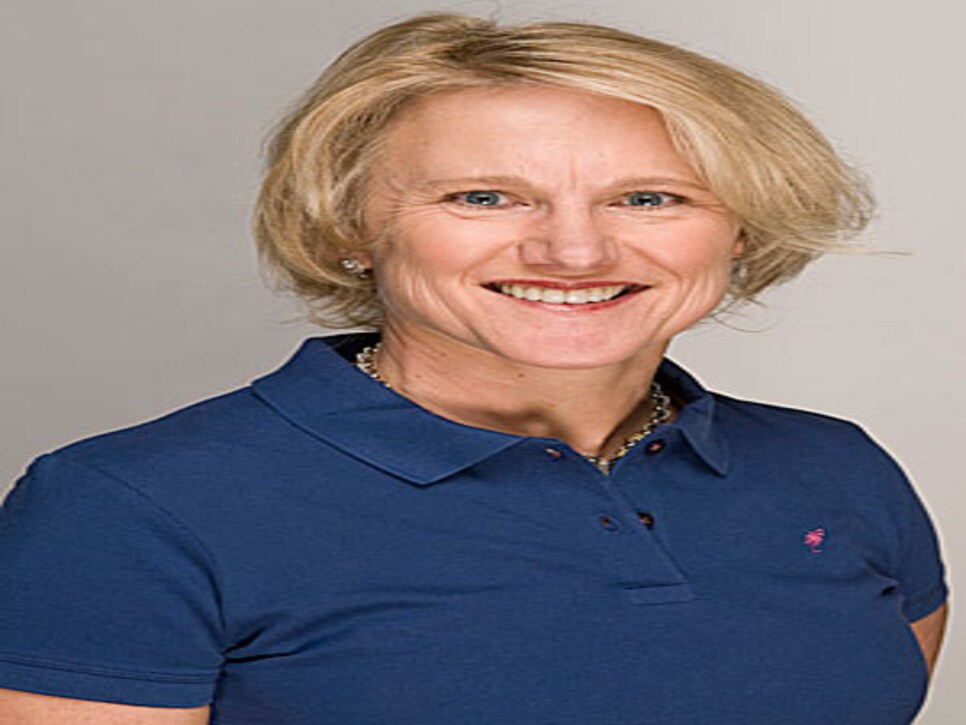 Peggy Ference was voted to play Pebble Beach from the tips days before the 2010 U.S. Open alongside Mark Wahlberg, Wayne Gretzky, and Drew Brees.
Two guys tried and came up short. Why not give a lady a chance?
For the first time since our contest began in 2008, voters have chosen a woman to take the Golf Digest U.S. Open Challenge at Pebble Beach. Peggy Ference, of Skillman, N.J., will play beautiful, treacherous Pebble from the same back tees as hockey great Wayne Gretzky, NFL quarterback Drew Brees and actor Mark Wahlberg -- and the U.S. Open field the following week. Her attempt to break 100 will be telecast on NBC on Sunday, June 20, prior to the Open's final round. Two previous challengers, John Atkinson and Larry Giebelhausen, shot 114 and 101, respectively.
"I'm so excited. This is a fairy tale!" said Peggy. "Some people said, 'Nobody will let a woman win.' But I felt good. I had random people come up to me and tell me they voted for me. I felt so much love."
Ference, the pharmaceutical industry sales manager who used a two-year period of unemployment -- she's since landed a job as a regional manager with another pharmaceutical company -- to get her game in competitive form, captured 37% percent of some 65,000 votes to win. She used daily early morning practices and lessons to maintain a single-digit handicap. She played courses from all the way back to get used to a distance most women never take on. And she used a well-oiled e-mail and a social network organization that calls itself her "posse" to get out the vote.
For Ference to prevail against Pebble Beach, she'll have to be both straight and long off the tee, two things she's worked hard on since being chosen one of five finalists last month. So there's no confusion: There will be no "forward" or "women's" tees used. All of the amateurs will play from the same back tees the Open contestants use -- the way backs that will stretch the course to 7,040 yards. "It's gonna be really hard, " acknowledges Ference. "But my advantage is I hit the ball straight. It's not going to be in somebody's back yard or in the ocean. And 40 percent of the score comes from the short game. From 100 yards and in, whether you're a man or a woman doesn't matter."
"Great for Peggy," said Eric Hunt, the plumbing contractor from Norton, Mass., and one of the four finalists who lost out to Ference. "I think Peggy can do it. She's really dedicated. She's an intense golfer. She can do it. I think she'll score between 95 and 100. I'm so happy for her."
Eric Weaver, the choir director and golf coach from El Paso, Texas, finished a close second to Ference, followed by former University of Oklahoma mascot Kenny Evans, New Jersey attorney Scott Fahrney, and Hunt.
When Ference lost her job in 2007, she asked Cherry Valley C.C. director of golf Allan Bowman to help her use the free time to improve her swing and become a better player. "Sure," Bowman told her. "We hit balls every morning at 6:30. You really want to get better? You can join us." Peggy did. Regular lessons and a lot more competitive play -- she attempted to qualify for the US Women's Mid-Amateur, for example, and captured four club championships in the process -- made her a much steadier, more consistent golfer.
When she takes on Pebble, Ference will carry one good luck charm. It's the same ball she carries on every round, a Noodle with a smiley face played by her oldest brother Mike on his last round during a trip to the Masters in 2005. He died after suffering a heart attack on the course prior to heading to Augusta. She now helps run the Mike Ference Scramble for Sparc, which takes place this July.
Does Ference feel any added pressure being the first female to play the Challenge? Nope, it's all upside, she says. "There's no 'lose' in this. I want to make sure I have fun, that I take in Pebble Beach, really enjoy it. Game on!"