News
A Little Sole Searching Reveals Pros Prefer Plastic About 3 to 1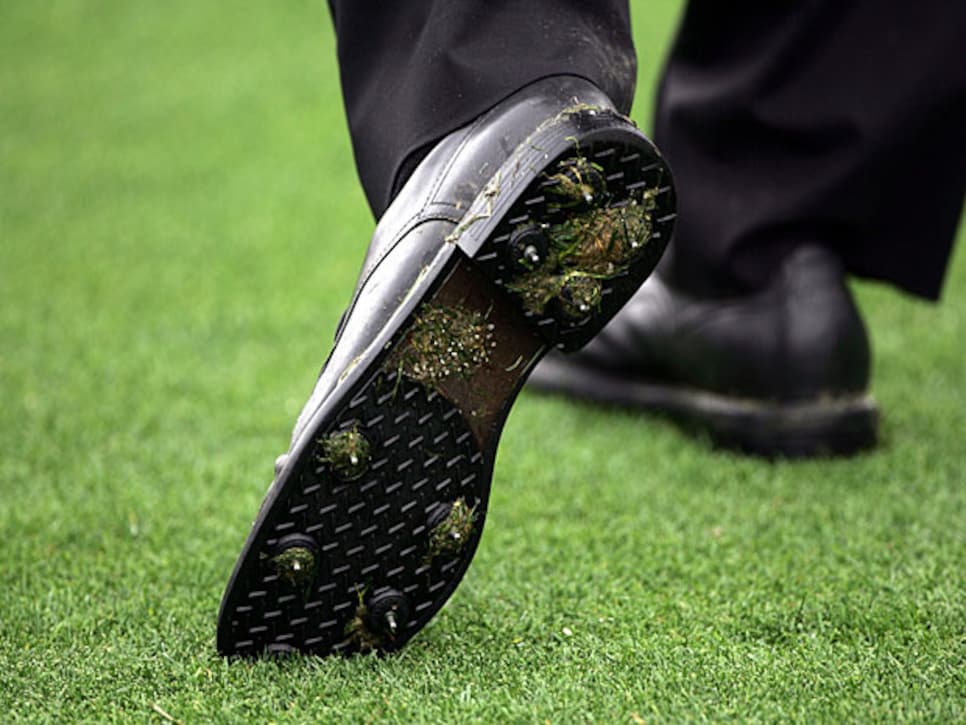 Bottoms Up: Mickelson and the spikes he wore at the 2005 Masters (above) caught the attention of Singh.
During the 2005 Masters, Vijay Singh caused a bit of a ruckus by asking to have Phil Mickelson's spikes checked after claiming there was damage around the cup on Augusta National's 12th hole. Lefty, who was using lengthy--but perfectly legal--8mm metal cleats, was in the group ahead of Singh. The dispute later led to a verbal confrontation in the Champions Locker Room.
At the time a little less than one-third of PGA Tour players still wore metal spikes--a number that, surprisingly, hasn't changed much since. In 2011 24.9 percent of all rounds played on the PGA Tour were by players still sticking with metal in their shoes.
Until 1997 it was nearly impossible to find anything but metal spikes on the shoes of PGA Tour players--and the accompanying mini-mogul spike marks they often left on greens. However after David Frost won the 1997 Colonial event, the first win by a PGA Tour wearing a plastic cleat, tour players began gravitating to lighter, less damaging spikes. Later that year Davis Love III captured the PGA Championship at rain-soaked Winged Foot and the credibility of the plastic cleat was further established.
By year's end, 26 percent of spikes used during the 1997 PGA Tour season were non-metal. And as players noticed the ensuing benefits of smoother greens and greater comfort--not to mention an improved plastic product that offered better traction than the early plastic cleats--alternative cleats became the rule rather than the exception. At the end of the 2002 PGA Tour schedule, plastic accounted for 66 percent of all spikes being worn.
Metal usage continued to shrink but has leveled off in recent years. In 2007 metal was worn 26.8 percent of the time. It has only dropped about 2 percent since.
"Some guys are stuck in their ways, and others simply go for the traction because they are what we call 'heavy swingers,' " Jessica Georgenes, tour coordinator for cleatmaker Champ. "They feel they want that traction."
Others bounce back and forth on conditions. "When it's soggy, the call for metal goes up," Georgenes said. "Terrain is important. There was some rain in Houston [last] week, so some guys opted for metal. On some very hilly courses, but in dry conditions, some may go for the comfort of plastic."
Although some harder swingers prefer metal, Georgenes points to Jeff Maggert, Matt Kuchar and Zach Johnson as players wearing metal spikes who "swing so easy they could play in street shoes." However, while metal spikes may be the preference of those wearing them, they cause some consternation among the plastic-cleat crowd--and sometimes even for those who wear them.
In 2006 Steve Elkington was involved in an interesting incident regarding his spikes. Elk entered the U.S. Open qualifier at Houston's Lakeside CC where he was told he couldn't play in metal spikes. It turned out the fine print in the application noted that some qualifying sites would not allow metal. Rather than play in unfamiliar plastic cleats, Elkington withdrew.
Still, some top players continue to use metal. Until recently Tiger Woods and Phil Mickelson wore metal while players such as Kuchar, Rory McIlroy (who wears a hybrid spike created by Champ--a single metal spike in the center surrounded by three plastic cleats) and Bubba Watson remain committed to spikes. Then there's Jim Furyk. At last year's Masters Furyk, feeling the closely mown, firm Augusta National terrain was a bit slippery, wore metal cleats on his right shoe and plastic on his left.
Even so, there's little denying that eventually the PGA Tour will be almost all plastic. Because plastic cleats are original equipment on virtually all golf shoes, the majority of young players coming out on tour have known nothing but plastic. In addition, all NCAA men's and women's golf championships prohibit the use of metal spikes.
It's doubtful the tour would ever implement such a rule--but it would solve the spike-mark problem.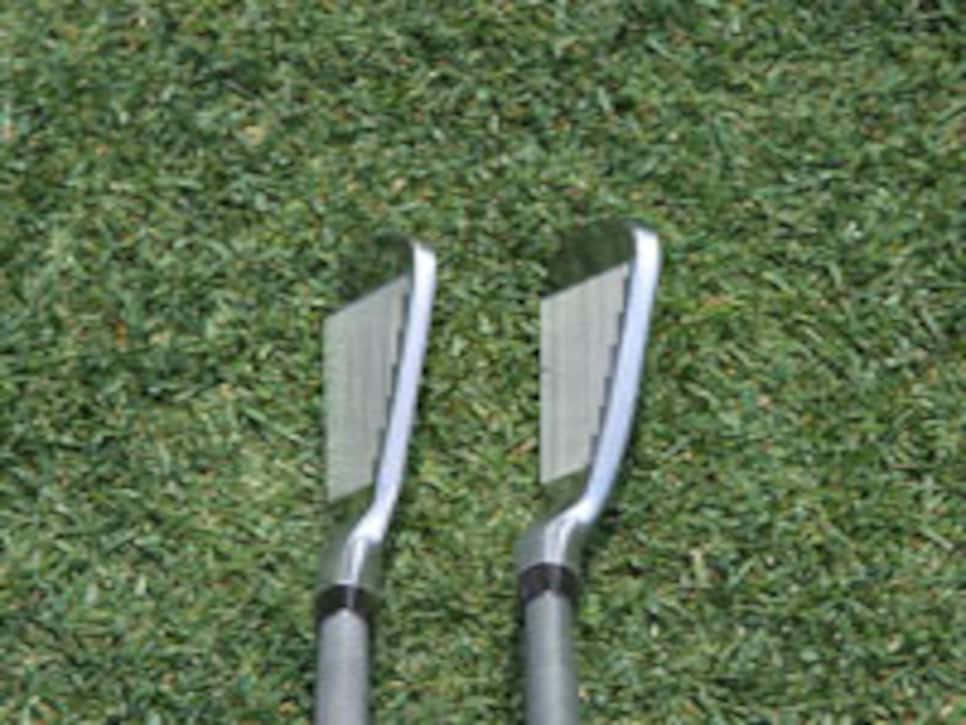 Pat Perez // Easy Adjustment To A Different Look__
Tour players often speak about the importance of a club having the right "look." As such, they tend not to deviate much in appearance even when changing equipment. Pat Perez, however, made a relatively dramatic change to his irons at the Shell Houston Open. For more than a year Perez had used a set of TaylorMade R9 TP irons with onset to promote a fade bias for left-to-right workability. Perez, however, found that design made it difficult to work the ball the other way, especially in his long irons. To address the issue, Perez had to adjust to a significantly different look, one that included more offset. TaylorMade built Perez a set of Tour Preferred MC irons, bending them to produce enough offset to achieve the workability he desired. Satisfied with the new irons, Perez asked for a similar offset bend on his TP xFT wedges (48, 54 and 58 degrees). The change provided immediate dividends as he had his best finish of the season, a T-12, while ranking T-9 in greens in regulation at Redstone GC.
Price: $185 (Models: Two blades, one mallet)
Oval dimples in the face are designed to create faster forward roll and reduce the surface area to soften the sound at impact. The aluminum-urethane face insert removes weight from the face to further deepen the center of gravity.
Phil Mickelson used Bay Hill and the Shell Houston Open to get acclimated to a new iron shaft, changing from Project X to the KBS Tour. The X-flex shafts in his Callaway irons have the same weight and flex as the stock KBS Tour X, but they include slight modifications to the diameters in the step pattern. This increases the stiffness toward the tip section to produce a more controlled feel and slightly lower ball flight. Lefty was T-4 at Houston hitting 75 percent of his greens in regulation. Prior to the switch he was hitting 64.32 percent. ... When Scott Stallings wanted fresh Titleist Vokey wedges for the Masters, Titleist asked visitors to its Team Titleist website for ideas on what to stamp on the four clubs. The winning suggestions: "A dream come true" (SM4, 46 degrees, 8 degrees bounce); "Georgia on my mind" (Spin Milled C-C, 52 degrees, 12 degrees bounce); "A tradition unlike any other" (Spin Milled C-C, 56 degrees, 12 degrees bounce) and "46L" (Stallings' jacket size and stamped several times on his 60-degree SM4 wedge with 3 degrees bounce). The stamps employed numerous colors, but green was part of each design. ... Stuart Appleby has an interesting combination on his Odyssey Metal-X #7 belly putter, using a True Temper BiMatrx shaft that is part graphite, part metal.