News
With History Literally In His Grasp, Writer Relives Masters Moments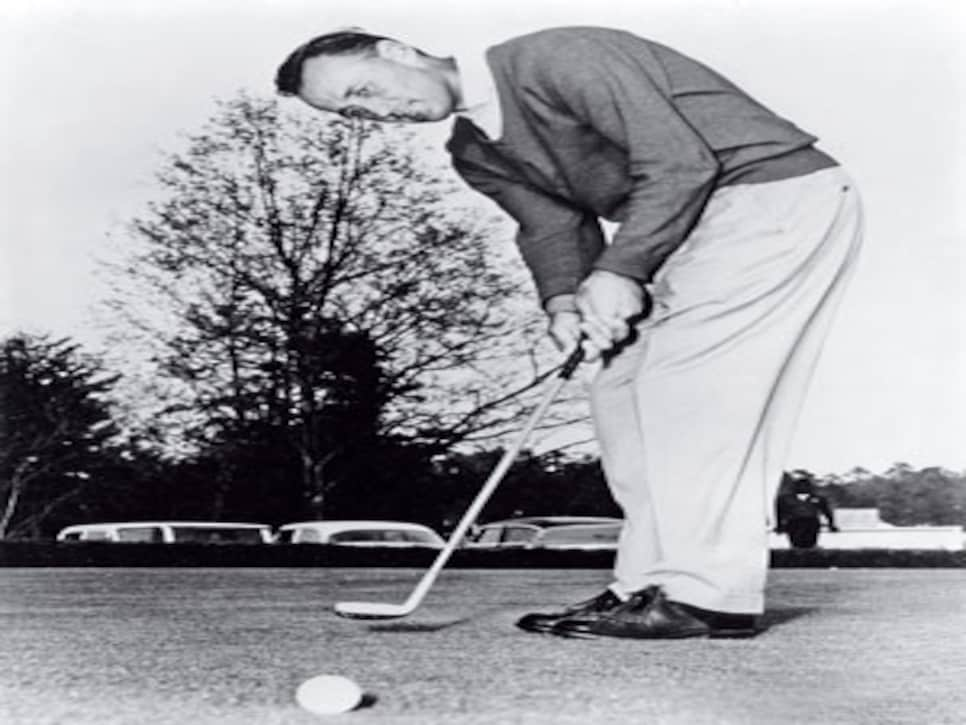 Fabulous Flat Stick: Art Wall gave Augusta National the putter he used to birdie five of the last six holes in 1959.
I've covered golf equipment pretty much full time for 15 years and have enjoyed some great assignments, including an hour-long chat with Phil Mickelson and spending a full day with Tiger Woods as he tested clubs and balls. Nothing, however, compared to an experience last fall when I was reporting a story for the Masters Journal--the tournament's official program--about the collection of clubs donated to Augusta National by past champions.
Patrons fortunate enough to be at the Masters with badges allowing clubhouse access can view the collection in the Trophy and Grill rooms. The collection features just one ball (used by Gene Sarazen for his double eagle on the 15th hole in 1935) and one club from a nonchampion (Lloyd Mangrum's putter from his opening-round 64 in 1940). Until 1954 champions were asked for a club from each victory. Since that time multiple champions have donated a club from their inaugural victory (José Maria Olazábal is an exception, his putter coming from his 1999 win, not his first in 1994). Phil Mickelson has two clubs at Augusta National: the Titleist 8-iron he hit to set up his winning birdie in 2004 and the Callaway 6-iron he used for his heroic shot off the pine straw on No. 13 during his 2010 win--a shot so significant the club asked if it could have that particular iron.
Most of the clubs are tied to a significant moment in a player's march to the title: The putter Art Wall used to birdie five of the last six holes in 1959, the 5-wood Raymond Floyd used to dominate the par 5s in 1976 or the 8-iron Fuzzy Zoeller hit his approach shot with on No. 11, setting up his winning putt in the 1979 playoff. Some, however, have less of a connection. Sandy Lyle donated a 1-iron from his 1988 win when the 7-iron he used out of the fairway bunker on 18 would have seemed a more logical choice.
Normally, players will send the club to Augusta National within a short period of time. In some circumstances, however, ANGC will happily wait. Such patience was rewarded in the case of Larry Mize who had just switched to the wedge he employed for his famous chip-in at the 1987 Masters and wanted to continue using it. After Mize was done with the club for competitive purposes, he sent Augusta National the well-worn stick.
For the Masters Journal assignment I visited the club in September, when it is closed. The clubs were removed from their display cases and photographed before I was allowed to take 15 of the more notable artifacts to the golf-club repair area where I weighed, measured, checked the lofts and inspected the implements for any interesting details. Among the findings were an extra metal screw in the middle of the insert on Ben Hogan's 4-wood and black electrical tape holding the bottom of the leather-wrap grip on Arnold Palmer's 1-iron--reminders that in years past players often worked on their own clubs.
During my information gathering, there was a moment I stopped, looked around the room and realized something that had been lost on me to that point. I had been handling Gene Sarazen's 4-wood, Tiger Woods' driver from 1997, Horton Smith's putter from the first Masters and clubs used by many of the game's legends. I was holding history in my hands.
Although the temptation was there to take a swing or two, common sense prevailed, and I did little more than grip each of the clubs (the grips on Sam Snead's 1-iron and Mickelson's 6-iron were both noticeably built-up). After two hours the clubs were returned to their home in the clubhouse.
Space doesn't permit an in-depth description of the clubs here, but if you're at the Masters--and have a clubhouse badge--make sure you take the time to view the display. If that's not possible, this year's Masters Journal has all the details (complete with up-close photos) of more than a dozen of the more notable clubs.
You can order the Journal here
You may not hold history in your hands, but you can see it with your eyes, which is almost as good. Almost.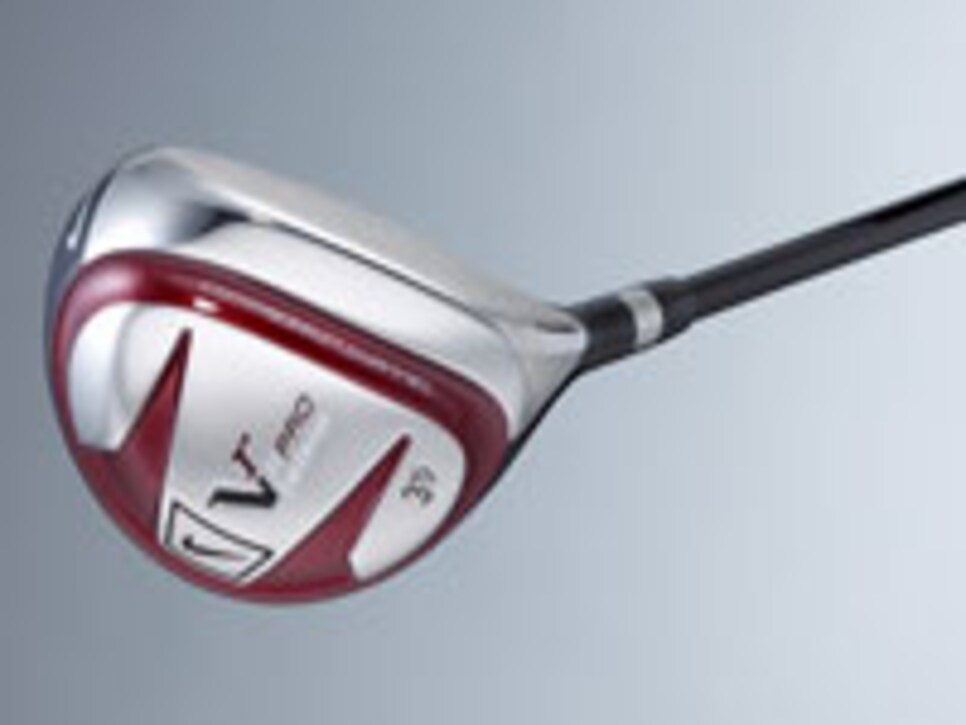 Nike VR Pro Limited Edition Fairway Wood__
Price: $230 (Lofts: 15, 19 degrees)
The Variable Compression Channel on the sole is designed to enhance ball speed from more spots on the face. Tiger Woods used a 15-degree VR Pro Limited Edition 3-wood during his win at the Arnold Palmer Invitational.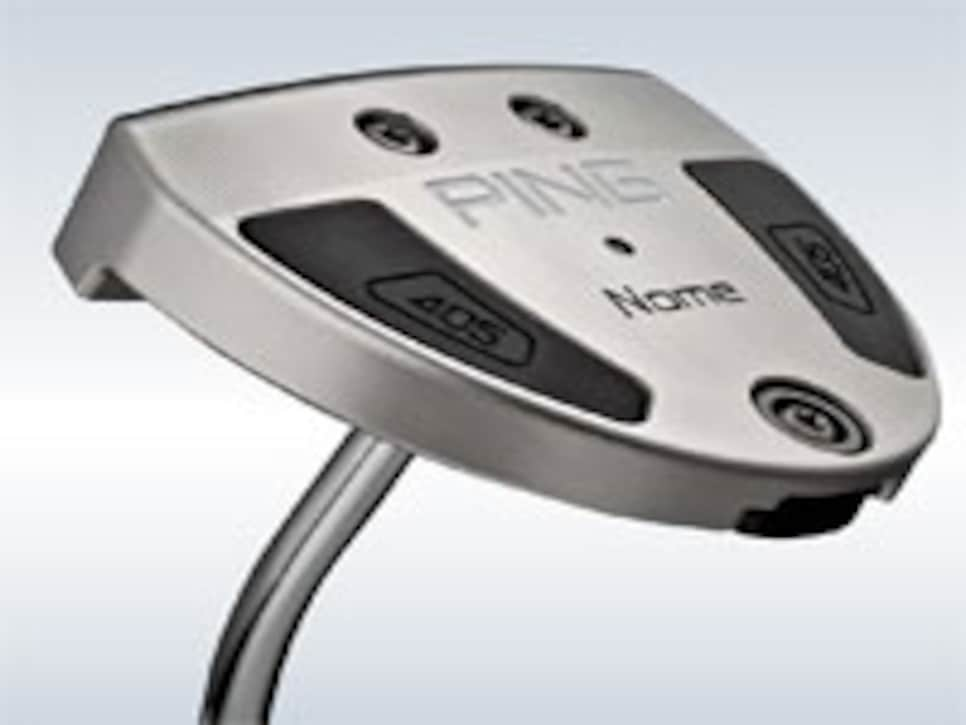 Ping Nome 405 Adjustable __
Price: $320 (Three models: Straight, Strong Arc, Slight Arc)
Ping introduced a USGA-approved adjustable-length belly putter with its Nome 405 adjustable model--a club that allows golfers to self-adjust length from 37.5 inches to 46.5 inches. The change is made using a tool that threads into a locking ring on the shaft. Loosening the ring allows the shaft to slide like a telescope and once the desired length is achieved, the ring is tightened, locking the shaft in place. "For golfers using a belly putter, length is an important fitting variable," said John A. Solheim, chairman and CEO of Ping. "This gives them a nine-inch range of adjustment to do that."
Copy Cat: K.J. Choi has tried many putters and putting styles over the years (remember the side-saddle method he attempted two years ago?), but had a new plan in place last week: Copy World No. 1 Luke Donald. Choi asked Odyssey for a replica of Donald's White Hot XG #7H putter (same swingweight, length, loft, lie) with the lone exception the SuperStroke Fatso grip Choi prefers. The eight-time PGA Tour winner said the clubhead's "fangs" make it incredibly easy to stroke on plane. ... Charlie Wi made a tweak to his fairway wood, bending a TaylorMade RocketBallz model from 14.5 to 16 degrees while keeping a 3-wood shaft length (43.5 inches). Wi was seeking a higher launch without sacrificing distance. ... Gearing up for Augusta: Fredrik Jacobson wanted fresh wedges for the Masters and had Callaway modify the soles to reduce the bounce on his X-Forged wedges.