News
Gary Player says son was 'wrong' for guerrilla marketing at Masters, but won't say if he's banned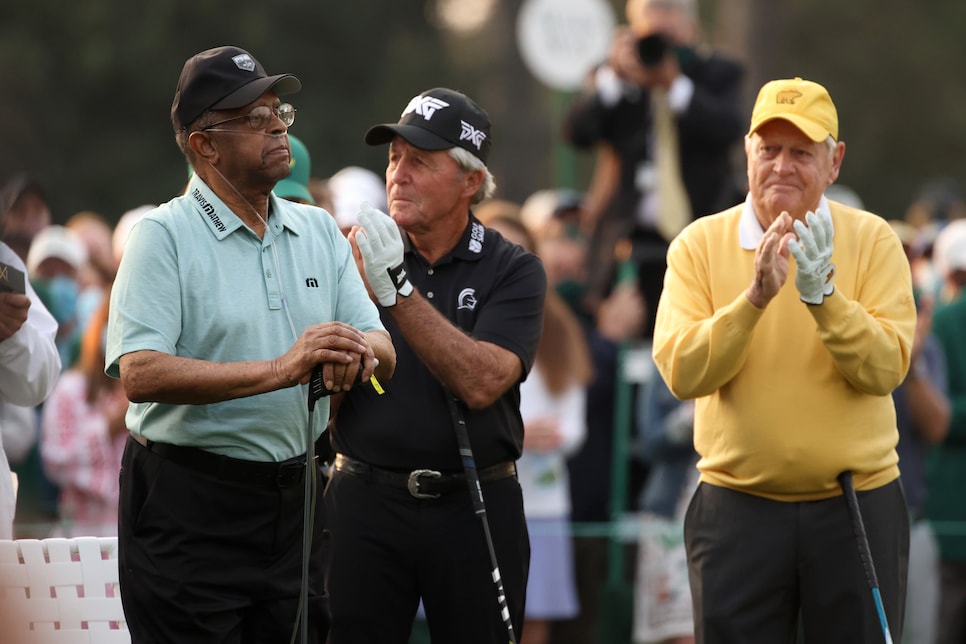 Gary Player and Jack Nicklaus acknowledge Lee Elder during the honorary starters ceremony at the 2021 Masters.
Kevin C. Cox
The 2021 Masters ended with the first Japanese player, Hideki Matsuyama, joining the exclusive club of green jacket winners, but it started with a son of one of its global champions potentially being banned from the grounds. It is still unclear whether Wayne Player, son of Gary Player, received a permanent ban for his crowbarred marketing attempt during the honorary starters ceremony. But Gary Player did address the controversy that erupted in an interview with Ann Liguori of WFAN.
The elder Player stated that Wayne's actions were wrong and not "the most intelligent thing to do" but did not say that an outright barring from the premises had already occurred. It was a mistake, he said, but one he hoped people would move past because "everybody in the world makes mistakes," even the club that wields the power to ban his son.
"Let me tell you, Augusta has done a lot of things that a lot of people don't like, as well, throughout history," he told Liguori. But the three-time Masters champion said he fully understands the potential implications of running afoul of the club's rules or sensibilities and is ready to accept any punishment for his son.
"That's their course," he added. "It's their tournament. And you've got to abide by their rules. And if you don't, you're going to be asked to leave. We'll see what their verdict is in the end. Whatever happens, so be it."
The issue stems from the conspicuous and unnatural posturing of a sleeve of golf balls by Wayne Player over the shoulder of Lee Elder, the first Black man to play the Masters in 1975 who was serving as an honorary starter for the first time in the tournament earlier this month. The sleeve was picked up by cameras covering the ceremony. Gary added that Wayne was close with Elder, and the two had talked since the controversy.
"Lee Elder is a very dear friend of Wayne's, a very dear friend," Gary said. "He even phoned Lee Elder and Lee Elder said, 'Don't worry about it. My goodness me, I've always loved you and you've always loved me.'"
It was a wide-ranging segment with Liguori. Player offered his routine citations of Martin Luther King, Jr., Nelson Mandela, and Mahatma Gandhi in discussing his history of fighting for freedom and against discrimination in the sport, which he added he also suffered from. He was less clear on how the indiscriminate marketing attempt came together before the honorary starters ceremony.
"I don't think he did it with any malice," Player said. "He was basically telling his friends, 'My father will play this ball.' And I think his friends didn't believe it because it's not a ball on the market."
Wayne may not be on the guest list anymore, which would be a penalty his father will agree to if it's handed down. According to the World Golf Hall of Fame pitchman, he even suggested such a punishment during the initial uproar.
"It was wrong," Player said. "And I said to Augusta, 'Listen, a man's got to take his punishment. If he does something wrong and you don't want him back here again, then just bar him. That's what you go to do.' "