Gary Player truly was, in many ways, a golfer ahead of his time.
In an era when the mainstream opinion was that working out was bad for your golf swing, and that power was as much a curse as a gift, Gary Player went full-throttle. An undersized talent compared to many of his peers, he won the 1959 Open Championship, and after a top 10 finish at the following year's Masters, came to another realization.
"I told myself, 'Gary, if you expect to win this, you'd better start hitting your drives 30 yards farther.' I had just finished my fourth try at the Masters and the reason for my faliure to win was obvious to me. I just couldn't reach the par-5 holes in two shots. Instead of putting for eagles on these holes like Arnold Palmer was doing, I was forced to rely on a full approach and a good putt to even get a birdie."
So, Player said he made a few key adjustments.
First, he lengthened his clubs 0.5 inches. But before you do the same, beware: Lengthening your clubs is a proven way of hitting the ball longer, but doing so can often cause golfers to hit the ball worse. More toe and heel hits will cost you distance overall. It's an important point to remember: One big key to hitting your drives longer, above all else, is making solid contact.
Player could do this with his clubs half an inch longer, and he also said he'd grip down on the club for extra control when he really needed to. Both those tools set the stage for what he says was the key "improvement" in his golf swing.
The tip: Bigger weight shift
Player writes the central breakthrough for him was shifting his weight forward through the ball on the downswing. By improving his golf swing's sequence — which is the most important move of every golf swing — Player said he could use the weight of his body to release the club into the ball with maximum speed.
"Like many, many golfers, I've always had a problem shifting my weight to my left foot on the downswing. I was always falling back on my right leg, pulling away from the ball. Your weight should go slightly to your right foot on the backswing and then shift to the left foot immediately at the start of the downswing. The only thing I concentrate on during my swing is shifting my weight to the left foot in returning the clubhead to the ball."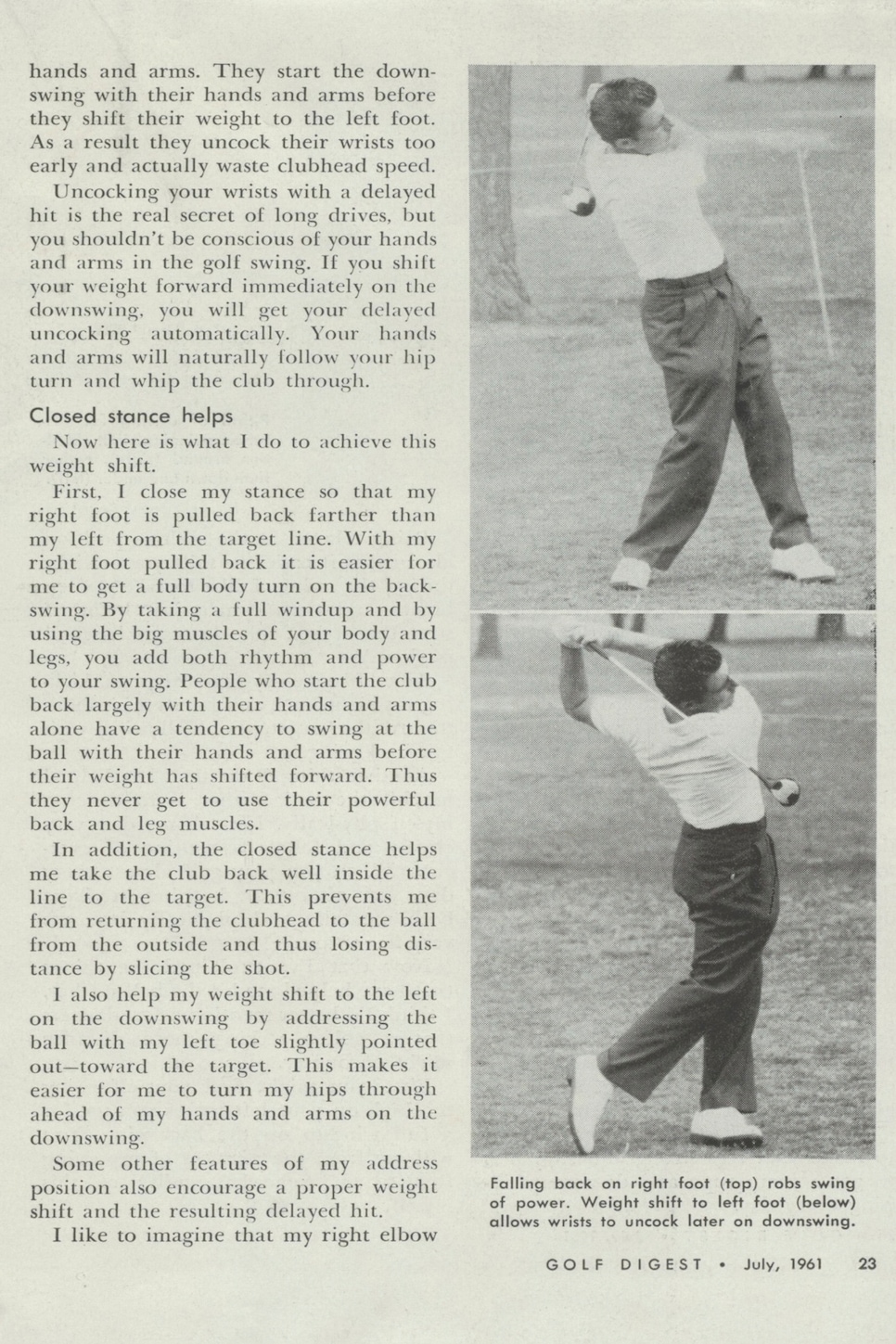 Player says: Close your stance
"With my right foot pulled back it is easier for me to get a full body turn on the backswing. By taking a full windup and by using the big muscles of your body and legs, you add both rhythm of power."
Closing his stance helped him back a bigger turn on the backswing, and allowed him to focus on aggressively shifting onto his front foot on the downswing. Needless to say, it worked. Player gained his distance, and slipped on his first green jacket in 1961.
Once again you can read the full article, and browse the rest of our archive, right here.