Payne Stewart Award
Gary Koch named recipient of prestigious Payne Stewart Award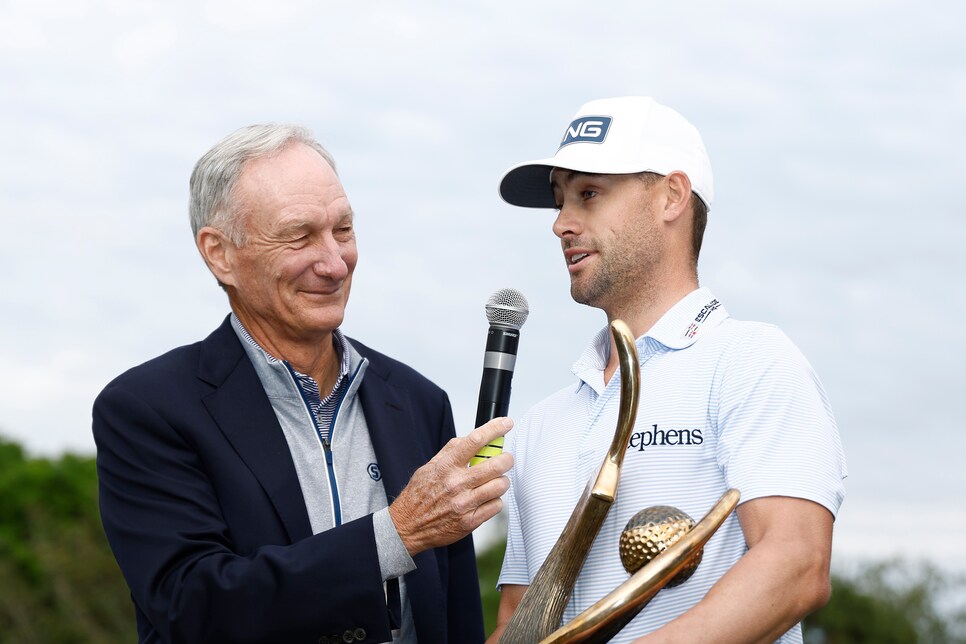 Gary Koch speaks with Taylor Moore during the trophy presentation after winning the Valspar Championship at Innisbrook Resort back in March.
Douglas P. DeFelice
Gary Koch has enjoyed a golfing life in three acts, with the first two—as a player and television broadcaster—paving the way for the third, his ongoing work with a number of charitable causes, including youngsters near his home in Tampa, Fla. Taken as a whole, and considering the manner in which he has conducted himself throughout his career, it's no surprise that the 70-year-old is the latest recipient of the Payne Stewart Award.
"To say that I've been blessed through the years and that the game of golf has given me so much is an understatement. I'm very humbled and overwhelmed by this, given what it represents and in whose honor it's dedicated," said Koch, who is the 26th recipient of the honor, presented annually by the PGA Tour to a professional golfer who best exemplifies Stewart's values of character, charity and sportsmanship. Stewart, an 11-time winner on the PGA Tour and World Golf Hall of Fame member, died in 1999 in a Learjet crash.
Koch, who retired from broadcasting at the end of 2022, will be honored Aug. 22 at the Southern Exchange in downtown Atlanta in conjunction with the Tour Championship. The ceremony will be televised live on Golf Channel as part of a "Golf Central" special from 7-8 p.m. EDT.
"From a decorated amateur and professional playing career to his legacy as a broadcaster, where his voice and commentary became the soundtrack of so many memorable moments in PGA Tour history, Gary Koch is the epitome of what it means to be a Payne Stewart Award recipient," said PGA Tour commissioner Jay Monahan in a statement. "Today, Gary continues to show his passion and character through his dedication towards making our game more welcoming and accessible to the next generation in the Tampa area. We are thrilled Gary will join the list of Payne Stewart Award winners who—through golf—have achieved greatness, inspired others and impacted lives."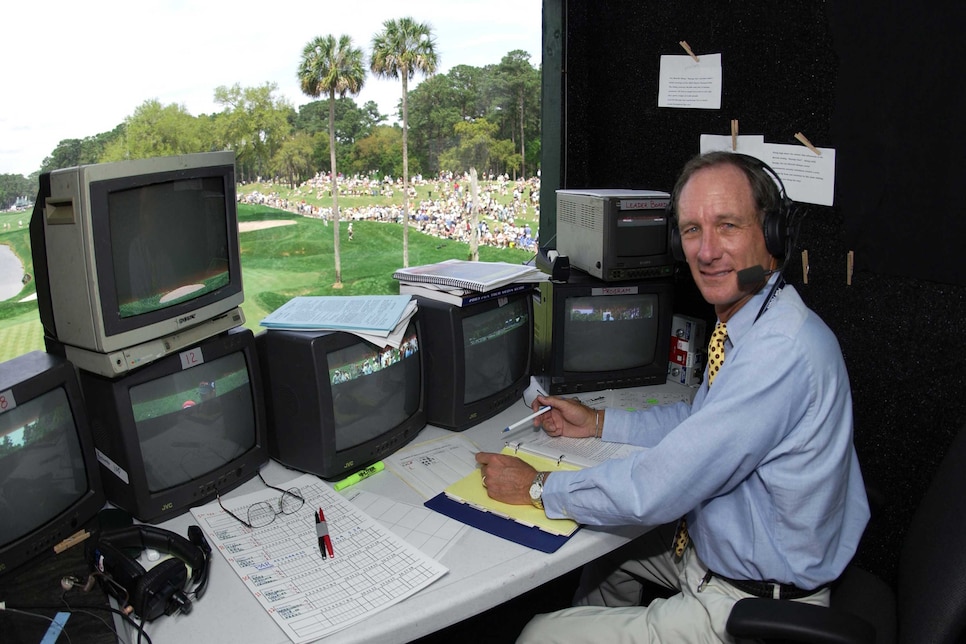 Gary Koch in the 16th hole TV tower at the Players Championship in 2003.
Rusty Jarrett
Koch's life was impacted by golf at an early age. A native of Baton Rouge, La., he showed early promise by winning the 1969 Florida Open as a 16-year-old amateur and then capturing the 1970 U.S. Junior Amateur. It was also in 1970 that Koch, before a decorated collegiate career at the University of Florida, played in a charity exhibition with Arnold Palmer, Gary Player and another standout junior, Eddie Pearce, in Sarasota, Fla. Koch and Player won the match, 1 up, at Longboat Key Club, and Koch still remembers Palmer throwing an arm around his shoulder and telling him, "see you out on tour one day."
Fast forward to 1984, and Koch played what he considers the best golf of his life in winning Palmer's tournament, then known as the Bay Hill Classic, for the fifth of his six career PGA Tour titles. Koch shot a final-round 63 and then beat George Burns in a playoff. He birdied 10 of the 20 holes he played that day. Koch couldn't wait to tell the crowd his story of playing with Palmer as a teenager but never got the chance.
"Arnold has the microphone first, and the first thing out of his mouth is, 'A lot of people won't know this, but I played with Gary when he was 17. I told him that he was gonna be out here on tour, and now he's won my tournament.' I was just amazed that he remembered that," Koch said.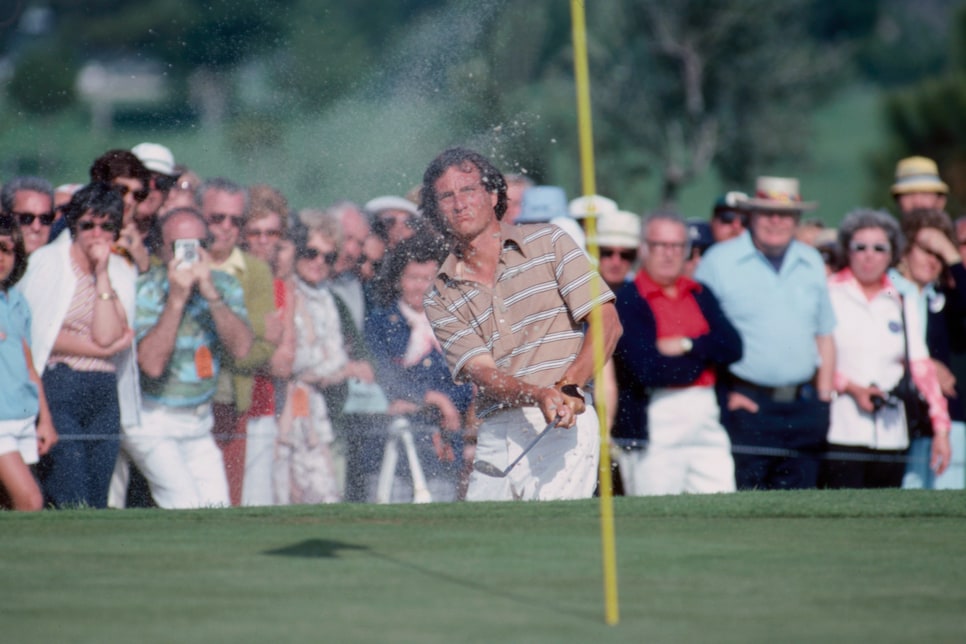 Gary Koch competing in the 1977 PGA Tournament of Champions.
Walt Disney Television Photo Archives
Koch began his broadcasting career with ESPN in 1990 when Jim Colbert left the network to compete on the PGA Tour Champions. He moved to NBC full time in 1997 and was a stalwart at the network until his contract was not renewed at the end of last year.
"Thirty-two years is a darn good run, and I won't lie that I didn't miss being at Bay Hill and the Players and the U.S. Open this year," he said. "But this next stage has given me an opportunity to do some other things that I truly enjoy."
Those things include devoting more time to the Gary and Donna Koch Family Foundation, which he and his wife launched in 2014, and working with the First Tee in Tampa, Fla., and serving the last 17 years as honorary chairman for the Florida chapter of Gift of Adoption Fund, which provides adoption assistance grants to assist children in vulnerable circumstances.
Koch's foundation funds a number of programs as well as student aid for First Tee participants who might have limited options after high school. Koch tells the story of receiving a letter from one First Tee graduate who received financial aid who is now thriving.
"He said I can't thank you enough and that his goal was to continue what we've started," Koch said. "This is a kid, 22 years old, who is thinking ahead, maybe taking the lead on this someday. It really brings a tear to your eyes. I mean, you get emotional when you read something like that. It makes it all worth it."