Game Changers
How one man's efforts spawned a community of golfers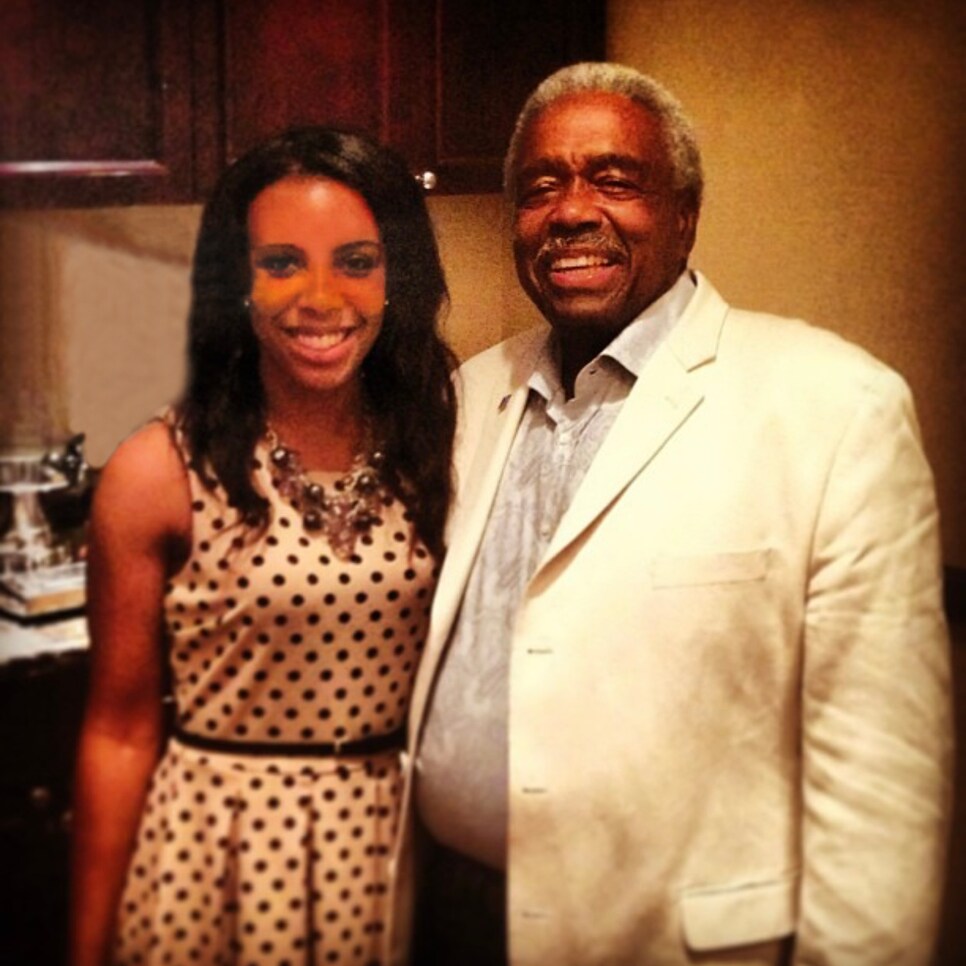 The author with T.J. "Doc" Dorsey
In celebration of Black History Month, Golf Digest is asking a collection of Black men and women in golf to reflect on a figure who influenced their paths in the game. Ashleigh McLaughlin, 35, played college golf at Florida State University and spent more than a decade working for the LPGA Tour on initiatives aimed at bringing underrepresented groups to golf. She's now vice president of marketing and communications for Youth on Course, a nonprofit organization that provides juniors with affordable access to play golf (for $5 or less) along with internship, caddieing and scholarship opportunities.
I like to say I stumbled upon golf by accident. When I was 10, some close family friends invited my sister and me to play golf. Assuming they meant miniature golf, we showed up in overalls and our favorite sparkly jelly sandals ready to take on windmills. To our surprise, we were met by kids with clubs and balls who were serious about playing "real" golf.
Dr. T.J. Dorsey greeted us and gave us a tour of the Orlando Minority Youth Golf Association facilities in Parramore, a historically Black neighborhood in west-central Orlando that was developed as a segregated Black community during the Jim Crow era. Doc founded the OMYGA in 1991 with the idea of introducing golf as a positive influence in the lives of inner-city minority children. With the help of the city's recreation department and private donors, Doc was able to acquire funding for the equipment, space and educational materials needed to launch the program.
As nervous as I was on that first day, Doc made me feel at home. His warmth and kindness made him seem less like an instructor and more like a family member. That afternoon was the first time I held a real golf club, and from that moment, on my life was forever changed.
Golf became a significant part of my life. It challenged me physically and mentally, and became a game my family could enjoy together. For OMYGA participants like me, the program offered a structured weekend schedule, a built-in community of friends and a way to keep us out of trouble. On Friday nights we met in a classroom at Parramore's Callahan Neighborhood Center and learned the rules and etiquette. On Saturdays, we practiced swing fundamentals in outdoor hitting bays, and on Sundays we put our knowledge to the test at Dubsdread Golf Course. On any given day in Parramore, Black children could walk by and see kids that looked like them swinging a golf club, an intentional effort by Doc to inspire those most at risk to give golf a try.
Growing up in the suburbs, I was one of only a few Black kids in my neighborhood and school system. The OMYGA is where I got to know boys and girls from different cultural, ethnic and socio-economic backgrounds. Imagine the energy from a Black Baptist church being shifted to the golf course; that's how those weekends at the OMYGA felt. It's where I fell in love with being Black and learned to embrace standing out when at my school.
Doc, now 77, was introduced to golf in 1971 by a close friend and fell in love with its community-building potential. He believed that the self-respect and discipline golf had taught him was too special to be reserved for adults. For more than 30 years, Doc has sacrificed his weekends to help introduce golf to more than 1,000 children. Forty-six of us have gone on to attend college on a golf scholarship, but that's never been the only measurement of success. Doc used golf as a tool to empower kids of color beyond our time on the course.
Today, I work in marketing, but I have never been attracted to the idea of selling products for a living. Doc and the OMYGA have ingrained in me a passion to be involved in something that will make a positive impact on the lives of other people. Because golf was so instrumental to my upbringing, it seemed to be the best outlet for me to spark change. I wholeheartedly believe that this game lends itself organically to creating opportunities to connect with those who are different from us, a vehicle our world desperately needs. I yearn for golf to become a place where everybody feels welcome, and Doc and the OMYGA inspired me chase that vision and lend a hand in making it a reality. —with Gabrielle Herzig