Game Changers
A veteran journalist inspires with his actions, attitude and work ethic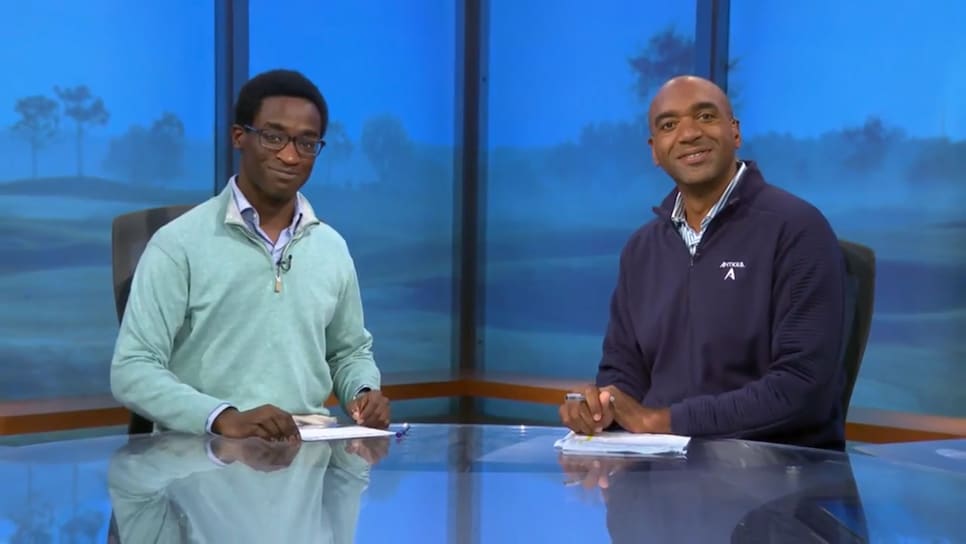 Langston Frazier sits at the old "Morning Drive" desk with Damon Hack during an internship at the Golf Channel.
In celebration of Black History Month, Golf Digest is asking a collection of Black men and women in golf to reflect on a figure who influenced their path in the game. Langston Frazier is wrapping up his senior year in college this semester while also working as a Digital Content intern for Golf Digest.
I always had a dream to cover some of the biggest stars in golf. And I always knew attending a Historically Black College and University was in my future. I just didn't know how I would connect the two. It wasn't until I enrolled at the country's lone HBCU to offer the PGA Golf Management program—the University of Maryland Eastern Shore—where I finally started to piece it together.
As a future PGA Professional, you can explore many avenues, but golf media is where I belonged. And this became clear during my freshman year in 2016 when I met Damon Hack, former co-host of Golf Channel's "Morning Drive," now co-anchor of "Golf Today," at the PGA Merchandise Show. Growing up, I had been a fan of his work, but to see him reporting on camera in person was inspiring, especially as a Black male. To watch someone who looks like me telling and sharing stories—something I loved and wanted to do—made my goals seem attainable. He showed me it's OK to break the mold, be authentic and never take no for an answer.
Damon gave me my first break in the golf media industry, helping me get an internship on "Morning Drive" and then on "Golf Central." That was the spark I needed to pursue broadcast journalism and writing. And my interest in this pursuit has only grown in the era of the Black Lives Matter movement, with diversity and inclusion becoming a more prominent part of the conversation throughout the industry and the game. If it weren't for that meeting on the PGA Show floor, I'm not sure I would have been so convinced about this as a career path, or whether it would've been possible. I went from a fan to a colleague, having a great friend and an even better mentor.
Before I knew it, back at school I had a radio show and two podcasts, I created a digital/streaming sports show, covered my school's Division I golf team and worked at a regional golf magazine company. All those experiences eventually brought me to Golf Digest and the internship I've just started as a senior in my final semester of college. "It's a rewarding job, but it's a tough one too," Damon told me. "You have to work 10 times harder and always be prepared." Supportive but honest.
Even though my career is only really beginning, I hope I can pass along that same message to others. Never count yourself out and give yourself a chance to make an impact.