Game Changers
A reminder of Charlie Sifford's singular legacy at every turn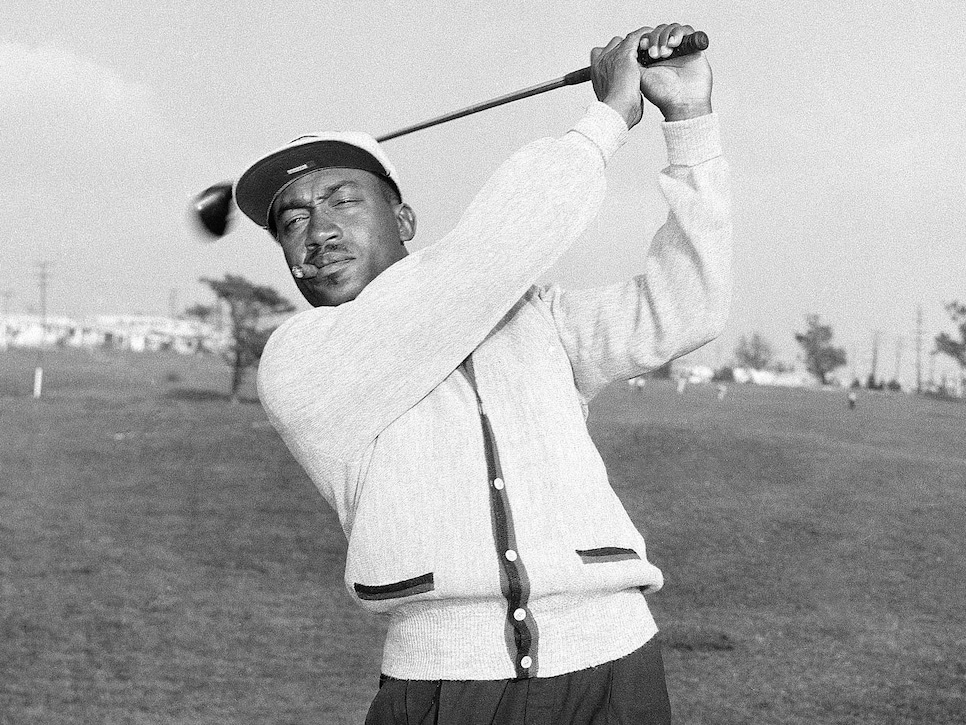 I had yet to own a set of golf clubs when Tiger Woods made his debut at the 1996 Greater Milwaukee Open. But Tiger hasn't been the biggest influence on my life in golf. That label belongs to someone that both he and I admire. Charlie Sifford paved the way for both of us and many others to play the game. When I was preparing to play every course on Golf Digest's list of America's 100 Greatest Golf Courses in one calendar year, several people remarked that it wouldn't be possible because there were clubs on the list that would likely block my attempt to become the first person ever to accomplish that feat.
A statue of a boyhood Charlie Sifford swinging a golf club stands on the front porch of my family's vacation home on Kiawah Island. My wife Erika purchased the statue from a local artist and gave it to me as a gift. Each time I walk past that statue, I think about the challenges Sifford faced as the first African-American to compete on the PGA Tour. I also think about his efforts to make golf a more inclusive sport. In 2017, as I thought about the challenges I might face gaining access to some of the most exclusive clubs in the country, I knew some progress must have been made since he played in his first tour event. During the 12 months I criss-crossed the country playing at these unimaginable venues, I saw other African-American golfers at just eight of the 87 private clubs in the 100 Greatest. At seven of the eight, it was the persons hosting or playing with me. Also, only three of the 100 had Black PGA professionals on staff, one at Riviera and two at Pebble Beach Golf Links.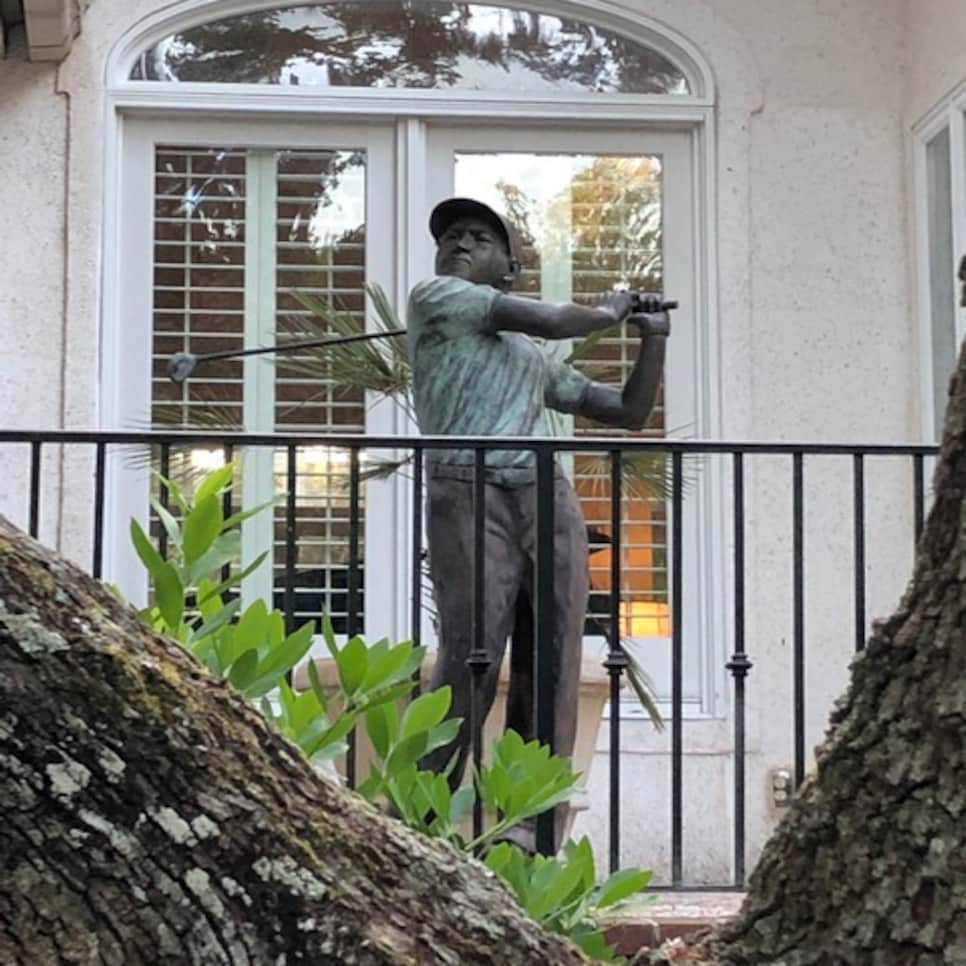 A statue of Charlie Sifford at James' house on Kiawah Island, S.C.
I was fortunate to be able to retire at age 58 after a successful career at ExxonMobil. But I was born in abject poverty and spent the first years of my life in a shack without plumbing, electricity, or anything to block the wind and dust from seeping between the wooden planks that served as walls. I was the first in my family to graduate from high school and to attend and graduate from college; the first Black to hold several of the esteemed positions I filled during my career. It's long past time for there to still be firsts for Blacks in golf. Some firsts I'd like to see are two or more Blacks on a leader board at a major on Sunday afternoon, a Black female golfer winning a major, and a Black head pro at one of the very top clubs at America.
Each time I walk past that statue of a young Charlie Sifford, I rededicate myself to spending the rest of my life making golf a more inclusive sport. Charlie is my inspiration to share my own journey from that world that lacked almost everything, where I played baseball with a stick and a doll's head, to where I had the privilege to stand on the first tee in a world such as Augusta National's that lacks almost nothing. Charlie is my inspiration to work with Pete Matthews, the Director of Golf at Wade Hampton Golf Club to create "The Second Tee," an initiative to get more Blacks enrolled in PGA Management Programs so we can increase the number of Black PGA Professionals. Only one of the Historically Black Colleges and Universities in the country has a program.
Charlie is my inspiration to work with Maurice Allen's "Grow the Game," initiative to support young black men and women trying to make it onto the professional tours.
Charlie is my inspiration to continue to play at not only the top courses in America, but also the top courses around the world so that someday soon it's not uncommon for others to see Blacks in these places of privilege.