more thrills about phil
Gambler claims Phil Mickelson was involved in a previously unknown money-laundering investigation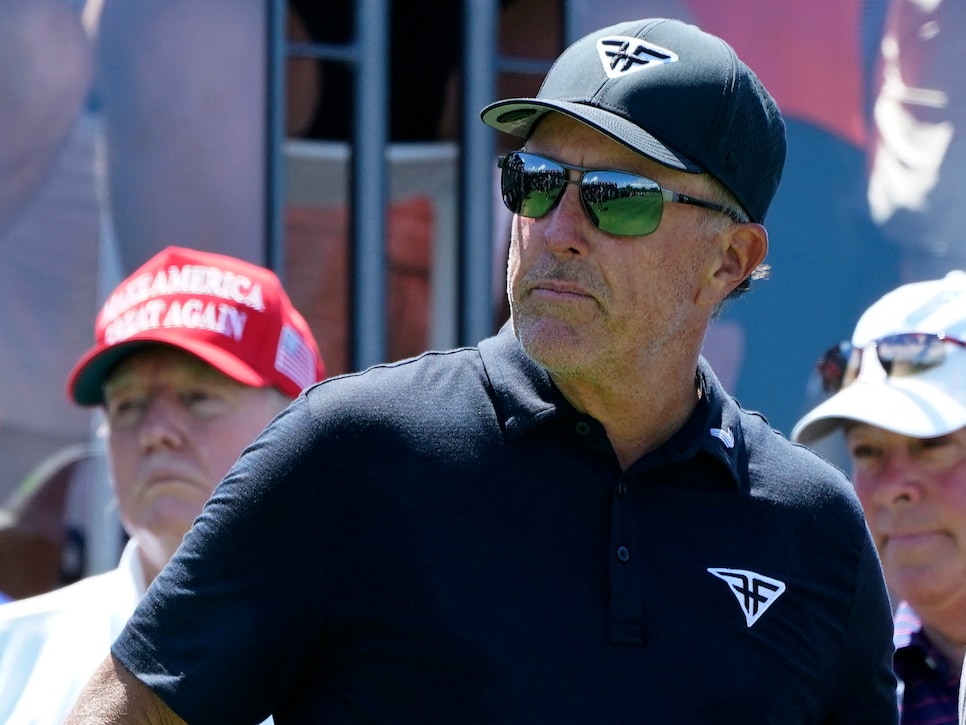 A former associate of Phil Mickelson alleges the six-time major champion was involved in a previously unknown money-laundering investigation, according to an excerpt from a new book.
In Gambler: Secrets from a Life at Risk, sports bettor Billy Walters details his relationship with Mickelson. Among the revelations in an excerpt of the autobiography released publicly last week are accusations that Mickelson has waged more than $1 billion in gambling and lost close to $100 million. Walters also claims that Mickelson called him to try and place a bet on the 2012 Ryder Cup, an event in which Mickelson was a competitor for the United States.
In a follow-up excerpt released Thursday on Fire Pit Collective, Walters claims that Mickelson had stockbroker Gregory Silveira do Mickelson a personal favor. Walters writes:
Mickelson wanted to transfer several million dollars to Silveira and then have Silveira wire it from his personal bank account to the offshore book to pay off Phil's gambling losses. Unfortunately for Silveira, he said yes. The wire transfer quickly caught the attention of the criminal division of the IRS.
With the feds on his heels, Phil told me that his friends at KPMG, his main corporate sponsor at the time, had introduced him to a D.C. attorney named Gregory Craig. He was not just any lawyer; Craig had been chief White House counsel for President Obama. With boyish looks and trademark white tousled hair, Craig had an Ivy League pedigree, having attended Harvard as an undergrad and Yale Law School. Craig also was tight with Preet Bharara, then the U.S. attorney in the powerful Southern District of New York, former U.S. attorney general Loretta Lynch, and the director of enforcement at the SEC. Now that's political juice.
With Mickelson in the midst of a money-laundering investigation and a target of an insider-trading investigation, what did super-lawyer Craig do to get the prosecutors off Phil's back? He performed a legal trick so improbable that it was like Harry Houdini pulling a rabbit out of a hat while in chains underwater.
On May 19, 2016—nearly a year before my trial—the SEC issued a press release headlined "Pro Golfer Agrees to Repay Trading Profits.'' The statement, which was related solely to the Dean Foods case, named Phil as a "relief defendant," government-speak for people not accused of any wrongdoing but named in complaints for "purposes of recovering alleged ill-gotten gains in their possession from schemes perpetrated by others."
It went on: "Mickelson neither admitted nor denied the allegations in the SEC's complaint and agreed to pay full disgorgement of his trading profits totaling $931,738.12 plus interest of $105,291.69." It also noted that I had "urged" Mickelson to trade in Dean Foods stock and he later sold almost $1 million in profits to pay off part of his gambling debt to me.
"Mickelson will repay the money he made from his trading in Dean Foods because he should not be allowed to profit from Walters's illegal conduct," the press release stated. There was no mention of any money-laundering investigation. Craig chimed in on cue by releasing his own statement claiming that Phil was "an innocent bystander" to any alleged wrongdoing by others.
Phil and Bharara both got what they wanted. Phil's attorneys issued a statement that made it look like Phil was an innocent victim of an insider-trading case that implicated me. And in the process, Phil was off the hook on the money-laundering case. The only person who ended up looking guilty was me.
In 2017, Walters was convicted in U.S. District Court of securities fraud, conspiracy and wire fraud. Prosecutors argued that from 2008 to 2014, Walters made more than $43 million from trades of Dean Foods by realizing profits and avoiding losses thanks to information he had obtained from former company chairman Tom Davis. At the urging of Walters, Mickelson began to trade in Dean Foods stock, and made more than $931,000 in profits after buying and selling holdings between July and August 2012. Mickelson's trading in Dean Foods was used as evidence against Walters, but Mickelson did not testify at trial. The golfer's lawyers informed the prosecution and defense that if called by either side, Mickelson would decline to testify based on his Fifth Amendment right against self-incrimination.
The government had no proof whether Mickelson knew where Walters' information was coming from, and thus could not know if he intended to violate the laws against insider trading. But the SEC did name Mickelson a "relief defendant" in a civil case, meaning that the agency believed that he profited from insider trading in Dean Foods, even if he didn't engage in it himself. Mickelson settled that civil case by agreeing to surrender his trading profits plus interest of more than $100,000. In doing so, Mickelson neither admitted nor denied the allegations in the SEC's complaint.
Last week Mickelson released a statement to Golf Digest regarding some of Walters' allegations: "I never bet on the Ryder Cup. While it is well known that I always enjoy a friendly wager on the course, I would never undermine the integrity of the game.
"I have also been very open about my gambling addiction. I have previously conveyed my remorse, took responsibility, have gotten help, have been fully committed to therapy that has positively impacted me and I feel good about where I am now."