News
Gaby Lopez celebrates her 25th birthday in style, grabbing the lead in China thanks to a hole-in-one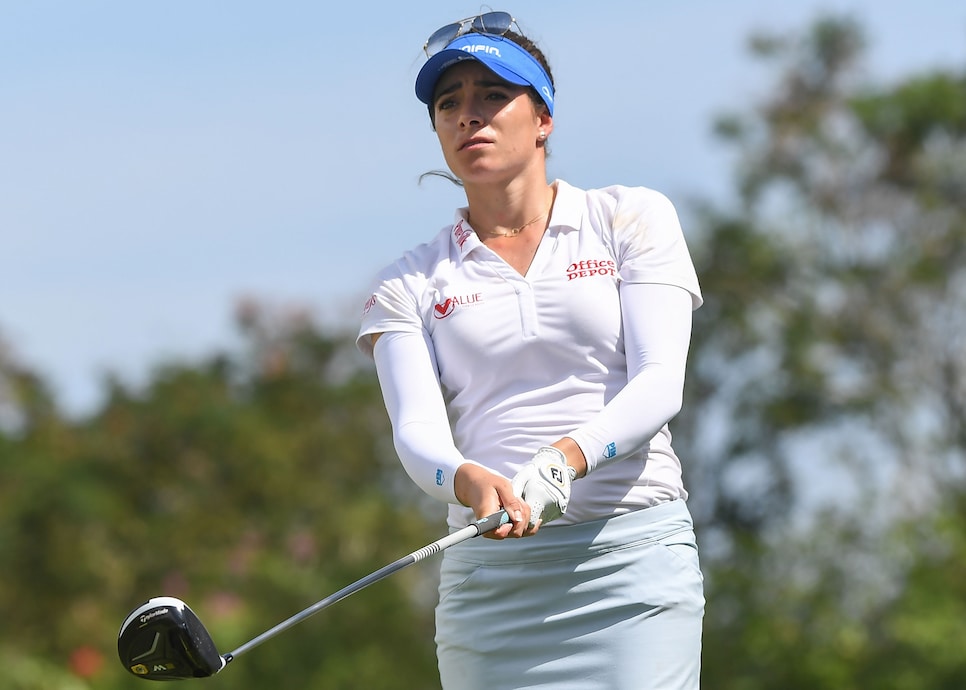 How did you celebrate your 25th birthday? We're guessing you didn't take the lead in a professional golf tournament while posting a six-under 66 that included your eighth career hole-in-one.
OK, so Gaby Lopez has a leg up on most of us. The Mexico native jumped to the top of the leader board at the Blue Bay LPGA during Friday's third round in China. The highlight of the round came in the form of an ace with a 7-iron from 181 yards on the par-3 17th.
Prior to the shot, Lopez was three strokes back of second-round leader (and World No. 1) Ariya Jutanugarn. But the eagle 1 and a 21-foot birdie putt on the home hole, along with a Jutanugarn bogey on the 18th, gave Lopez a one-stroke advantage heading into Saturday's final round at Jian Lake Blue Bay Golf Club in Hainan Island.
"As soon as the ball left the club, I knew it was a good shot, but I couldn't see because the sun was in my face," Lopez said. "I turned around and my caddie goes, It went in. I'm like, No way. And the camera guy told us, Yes, it did. I couldn't give myself a better birthday present."
Lopez best finish to date in her three-year LPGA Tour career is a T-7 at the 2017 ShopRite LPGA Classic, one of three career top-10s. There will be nerves—besides Jutanugarn just one stroke back, Sung Hyun Park is tied for third, four off the lead with a shot at regaining the World No. 1 ranking with a win. But there is a fair bit of confidence as Lopez tries to join Lorena Ochoa as the only golfers from Mexico to win on the LPGA.
"I'm right here because I can do it," Lopez said. "It's not because of luck. It's not because I've been having good bounces around the golf course. You know, I'm just very, very excited to do it again tomorrow."
Lopez knows she can play, too, free of any concerns about grabbing spot in the field at next week's season-ending CME Tour Championship. She began the week 69th in the points standings with the top 72 qualifying for Naples. A victory jumps her into the top 45 and anything less can't slide her back out of the top 72.