My Week Undercover As A Golf-Course Worker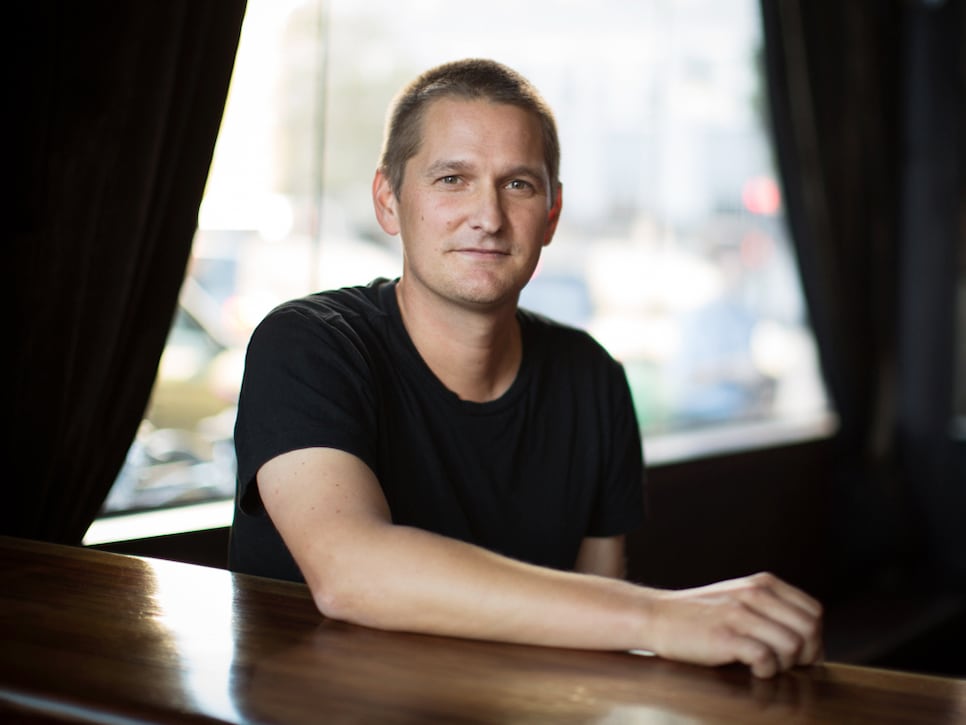 "Manuel, Pedro, Alejandro—bunkers! José—target greens! Emilio... hey, where's Emilio?" The superintendent, wearing a yellow vest and khakis, smiles as he looks around the room filled with several dozen maintenance workers. A head pops up.
"Ah, Emilio, how are you? Corta greens!" (Cutting the greens.)
Though it's just 4:30 in the morning, it's clear that the superintendent, whom I'll call Doug, has already consumed his share of coffee. (All the names except mine in this section have been changed.) While he enthusiastically shouts out assignments and greetings, a muted television in the corner is turned to the Golf Channel. I'm one of the few non-Latino faces in the group, awaiting my orders while sandwiched between two older Mexican men drinking tea.
Finally it comes: "Gabriel—bunkers 10 to 18!" After last-minute instructions we stream out of the maintenance break room and into a shed filled with carts and mowers. I grab a rake hanging from the wall and hop into a cart with my partner for the morning, Samuel. The course, nestled in a beautiful valley on the West Coast, is home to wild turkeys, rabbits, deer and coyote. But at the moment everything is black. The sun won't rise for another two hours.
We pull off the path at the 10th hole and strap headlamps over our caps, making our way across the dark fairway. Samuel, in his 50s and originally from Tijuana, gives me a tutorial on raking bunkers. Like many members of the crew, he brings a seriousness to each task, showing me how to rake gently to create smooth and straight lines, being careful to cover up his footprints. I hop into the sand and stumble around—the lamp illuminates only a foot or so beyond my feet—hoping to follow Samuel's example. At the end of the bunker I turn and pivot the lamp to see my handiwork. My line is wavy and uneven, with easily visible footprints. I'll have to do it again. "Don't worry," he says.
I try again, with slightly better results. "That's good," Samuel says, charitably. Three hours later, breathing heavy under the bright morning sun, I'm still struggling to get my bunkers to look passable. "Keep at it," Samuel encourages me. "You'll get it with practice."
Here's what you learn by working at a course: When you think the work is done, you're wrong. During the week, I spend the early morning hours raking bunkers just in time for golfers to mess them up again. Then I move on to a variety of activities: pulling weeds, shoveling dirt, watering grass with a high-powered hose. I wrestle with a leaf blower while cleaning up divots on the range and, one afternoon, nearly get conked on the head with a golf ball while planting bushes next to a lake. The days start frigid and end with my shirt drenched in sweat and my back aching. "It'll take weight off anybody," Doug tells me during a break, noting that greens cutters walk eight miles each day before lunch. One guy lost 20 pounds in his first month.
As I work, the two-way radios attached to the belts of co-workers relay an unending string of crises: Patches of grass are turning brown; other sections are too soft and soggy. Carts break down; leaves blow into bunkers; a sprinkler goes haywire and shoots water 30 feet into the sky. A dead snake needs to be cleared from the 12th hole. "There's always something," Samuel says.
On my last day, I drive to the practice putting green with a thin, mustachioed worker named Candelario, who thinks I'm ready to learn how to cut greens. I watch as he creates perfectly straight lines, whipping the machine around at each end to double back. My confidence rises: This doesn't look so hard.
It's not until I get behind the machine—a Toro Greensmaster Flex 21—that I realize I'm guiding a piece of equipment that weighs more than 250 pounds. I follow the mower the length of the green and prepare to whip it around in a similar fashion. Instead, having underestimated the strength needed to turn the Toro—which, appropriately, means "bull" in Spanish--I yank with one arm and am nearly upended. By the time I recover, the machine has taken off in a different direction, nearly perpendicular to the line I just cut. Candelario, laughing, takes over.
"Not as easy as it looks, right?" he says.