The Loop
Furyk says American golf is in good hands
CROMWELL, Conn. -- It's a little premature to already be counting out American golf. At least that's the sentiment of one longtime U.S. golfer and PGA Tour veteran: Jim Furyk. Competing this week at the Travelers Championship, Furyk noted that despite the past five majors being won by international players, all is not lost for those wearing the red, white and blue.
Furyk specifically sang the praises of Rickie Fowler, Hunter Mahan, Dustin Johnson and Nick Watney, none of whom have won a major championship yet, but all of whom remain talented golfers ready to move the game forward.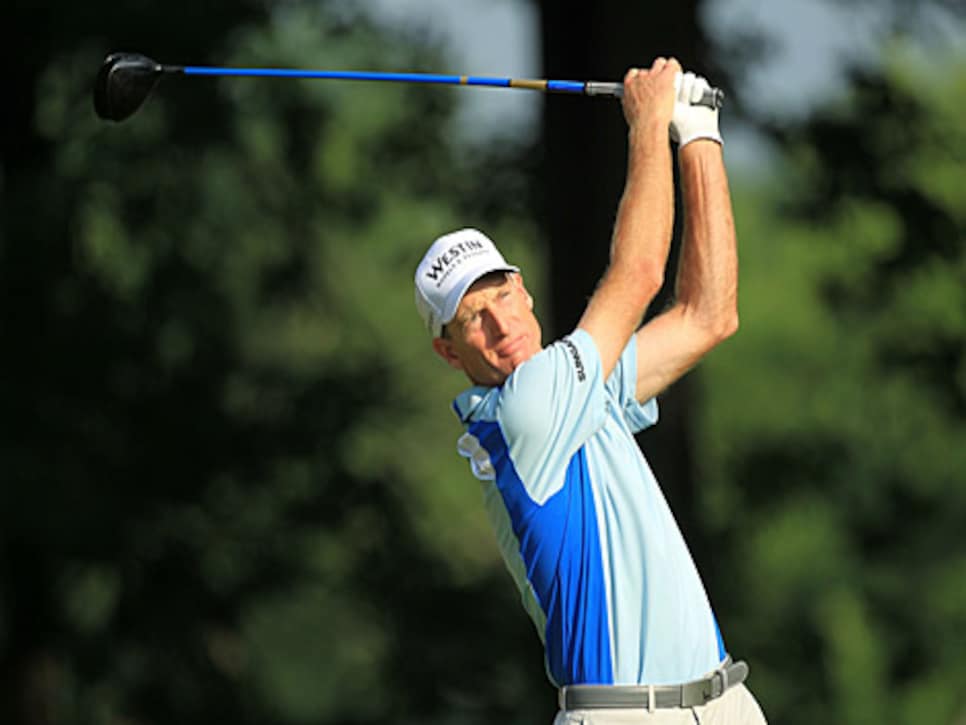 *Furyk says we needn't despair over the future of American golf. Photo by Getty Images.
"I'll allow you to pick four guys from any other area in the world, I won't even make you pick a country," Furyk said. "Pick an area and I'll pick those four against anyone."
The recent fall of Tiger Woods has naturally led some to believe the dominance American golf had held is no more. Still, others see the change in the world ranking reflecting a natural shift in the game.
Golf is just "getting back to normal now," as Australian Geoff Ogilvy puts it. "The last 15 years have been weird. [There will now be] 10 or 15 players shuffling around at the top."
At age 41, Furyk appreciates that the game is getting younger, as evidenced by the recent array of players 30 and younger who have won some of the game's most prestigious titles. The absence of Tiger has "allowed the focus to shift and allowed some of the younger guys to really be able to step up and get the notoriety ... they deserve," says Furyk.
Yes, it can be argued that Tiger's 15-year supremacy is over but his struggles don't necessarily reflect those of an entire nation. Sports all tend to be cyclical. The Chicago Bulls had control over the NBA for years when they had Michael Jordan but only recently have they resurfaced as a contender. Boston sports have had an incredible decade, but before then, teams like the Red Sox hadn't won a title in 86 years.
With young talent is still developing, it's hard to imagine American golf not returning to prominence relatively soon. Even though the world's Nos. 1, 2, 3 and 4 may be foreign players, they all hail from different countries.
Meanwhile, Nos. 5, 6 and 7 are all American.