The Loop
Furyk could be a winless winner of the FedEx Cup
ATLANTA -- There are many scenarios for winning the FedEx Cup, but Jim Furyk's may be the strangest -- and one of the most plausible.
Without a victory for two years, Furyk still could claim the FedEx Cup and its $10 million bonus should he finish second at the Tour Championship and certain other events fall into place. In that scenario, Tiger Woods would have to finish fourth or lower, and the Tour Championship winner would come from eighth in the standings or lower.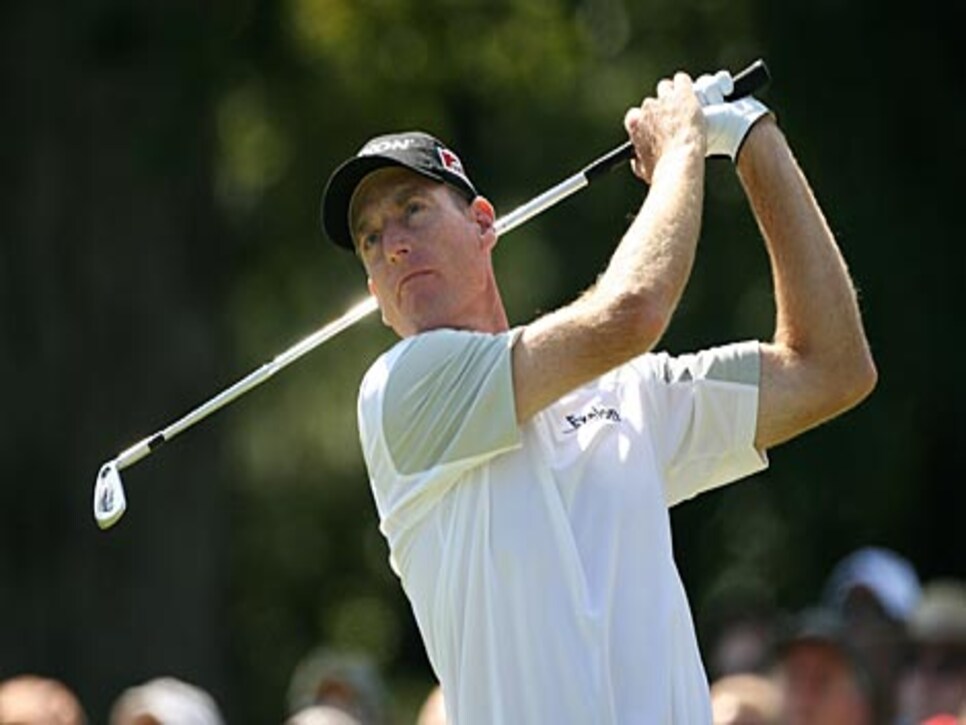 Furyk said even if it fell that way for him, he wouldn't feel right about it.
"Well, I'd be like Sylvester," he said Wednesday. "I just swallowed Tweety Bird and that would put a big smile on my face. But, obviously, that probably wouldn't be good for the system.
"I don't think that someone should be able to win the championship without winning a golf tournament.
"You know, it's easy to say beforehand, but I'd say the same thing afterwards: it's not supposed to work out that way. It would be a little anticlimactic."
Each one in the top five in the FedEx Cup points -- Woods, Stricker, Furyk, Johnson and Slocum -- can win the FedEx Cup by winning the Tour Championship. Like the others, Furyk controls his own destiny -- and the possibility of claiming the $10 million bonus even without winning the tournament isn't something he plans to dwell on very long.
"I really don't have to worry about it," he said. "Right now, it's just go play golf and have fun, and as I said, it's an opportunity, so I'm going to enjoy it."
Furyk's last victory was the Canadian Open in 2007 -- but that doesn't matter nearly as much as how he played his way into the top five of the FedEx Cup points list in the last month, pulling himself out of nowhere and giving him a chance to win the $10 million FedEx Cup bonus.
Furyk tied for 15th at the Barclays (Despite being penalized four shots during the third round for having too many clubs in his bag), tied for eighth at the Deutsche Bank and then tied for second at the BMW Championship.
PGA Tour commissioner Tim Finchem said the possibility of a non-winner winding up winning the FedEx Cup is not unsettling.
"I'm certainly not uncomfortable with the idea that a player could come from a reasonably good year without winning a tournament and win the Cup," he said Wednesday. "It would be odd to somehow legislate against that."
(Photo credit: Hunter Martin/Getty Images)