The Loop
Furyk: 'Another swing he would like to have back'
A good swing need not be identified by its beauty, as the winner of the McGladrey Classic demonstrated on Sunday. Tommy Gainey has an unsightly motion they don't teach at golf school.
"Everything about his golf swing is different," Golf Channel's Brandel Chamblee said.
All the same, it features the hallmark of any good swing: Its ability to replicate itself with the consistency of a copy machine.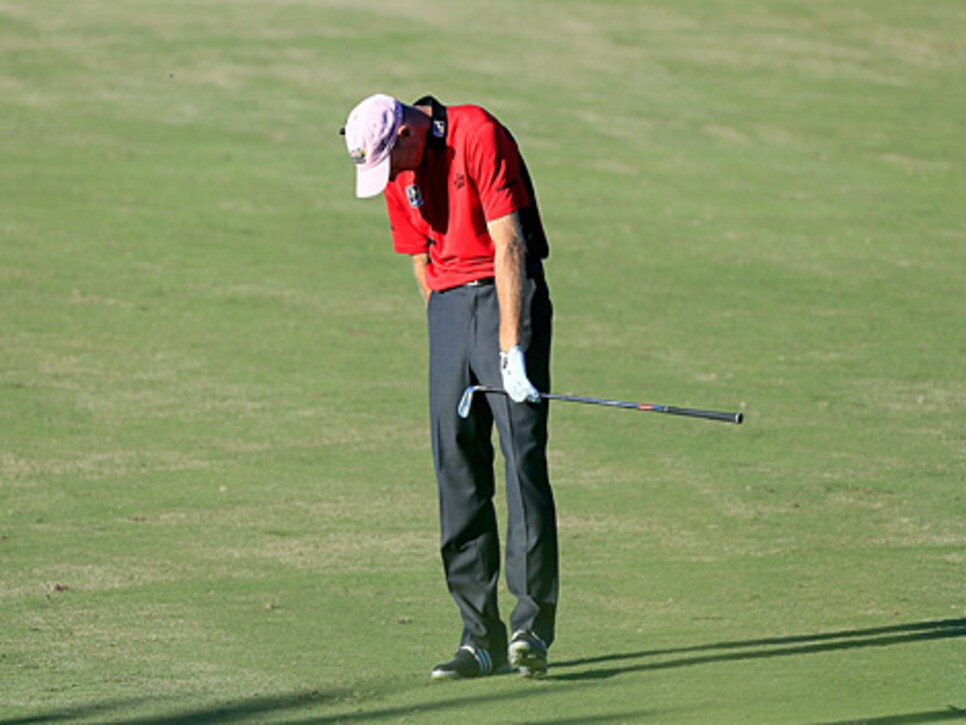 Jim Furyk has one of those, too, an eyesore of a swing, homemade, but effective enough to have assembled a Hall of Fame career, at least by induction standards that have been re-defined by Fred Couples' 15 victories, one major.
Furyk's numbers are 16 and one, a record achieved by his clubhead inexplicably following an identical circuitous route through to impact, "kind of like going from Philadelphia to New York by the way of Pittsburgh," the late Los Angeles Times columnist Jim Murray wrote.
The problem now is that it gets lost en route to New York, at least late in the game, as it did again on Sunday. Furyk again had a chance to win, trailing by a stroke with three holes to play on the Seaside Course at Sea Island, Ga. He played them in one-over par and missed the green left off the tee at 17 and right from the fairway at 18.
"Another swing in 2012 that he would like to have back," Chamblee said after his errant delivery at 17.
The year can't end soon enough for Furyk, who has not experienced another like it in a PGA Tour career that spans 19 years. He once won tournaments in six straight years and nine of 10, but 2012 has produced only a series of disappointments that are at odds with his renown as a ruthless competitor. A recap shows four 54-hole leads (or a share of the lead, as was the case at the McGladrey) squandered on Sunday this year, including one at the U.S. Open.
Then there was the Ryder Cup debacle, when he was one-up on Sergio Garcia with two to play in Sunday singles, finished with consecutive bogeys and lost.
There is an upside to his year. It's almost over. Then there's this: Though 42, he has retained the ability to compete with the best players in the world (his eight top 10s ranked him tied for sixth on the PGA Tour.
The issue is beating them.
A swing that inexplicably made him a star has inexplicably begun to desert him when he has needed it most.