Courses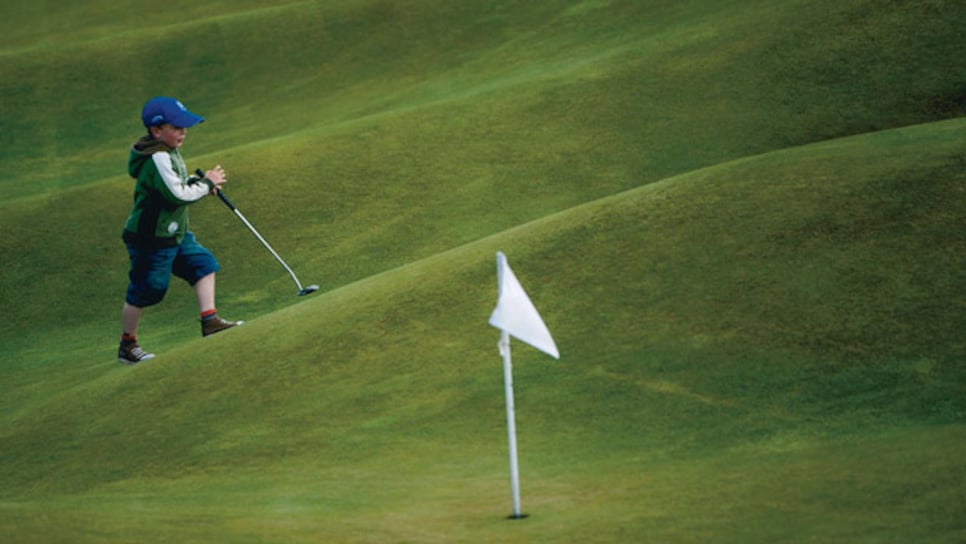 A round on the Himalayas putting course costs just £2. Tee times are not required.
My destination is the diminutive Jigger Inn, where I will interview Darren Clarke
(a European vice-captain at Celtic Manor) for a newspaper piece.
Halfway there, I chance upon the Himalayas putting course that sits to the right of the second tee on the Old Course.
The Himalayas, two acres of the humpiest, bumpiest and "funnest" putting experience on the planet, is all but deserted. The only people putting are two youngsters, 10-year-old Willie and his pal Jim, 9. I stop to watch them in action. And it is an education. In the absence of tees and flagsticks, the pair create holes from their imaginations, putting up hill and down dale--and more often than not, up hill again. "Dead elephants" are buried seemingly everywhere.
The journeys traveled by the putts are hugely entertaining. Most take big, exaggerated breaks before plummeting into valleys where the cups are located. Some require judging curves off as many as four sizable humps and bumps. The most diverting and interesting involve the ball traveling yards past the cup, then reversing back down the slope. This is a test of inventiveness as much as anything.
Best of all, however, are the whoops, hollers and childish giggles emanating from the two participants as the balls make their convoluted ways from putter to hole. This is innocent fun and laughter at its most enchanting. And on a "golf course" with no dress code (other than flat footwear), not even a hint of stuffiness and no gender restrictions. I see no sign of either a bag drop or valet parking. There's a lesson in that for all of us, surely.
More good news is that the Himalayas course, run by the St. Andrews Ladies' Putting Club, is open from April 1 to Sept. 30 to all who are at least 6 years old. The cost is £2 for adults (about $3), £1 for children under 16 and seniors. Even at the busiest times, an 18-hole round typically takes no more than 45 minutes. Walking on, the high-pitched voices of the two children follow me across the ancient links. It is a magical moment and provokes the obvious thought: Does golf get any better, or purer--or more fun--than this?