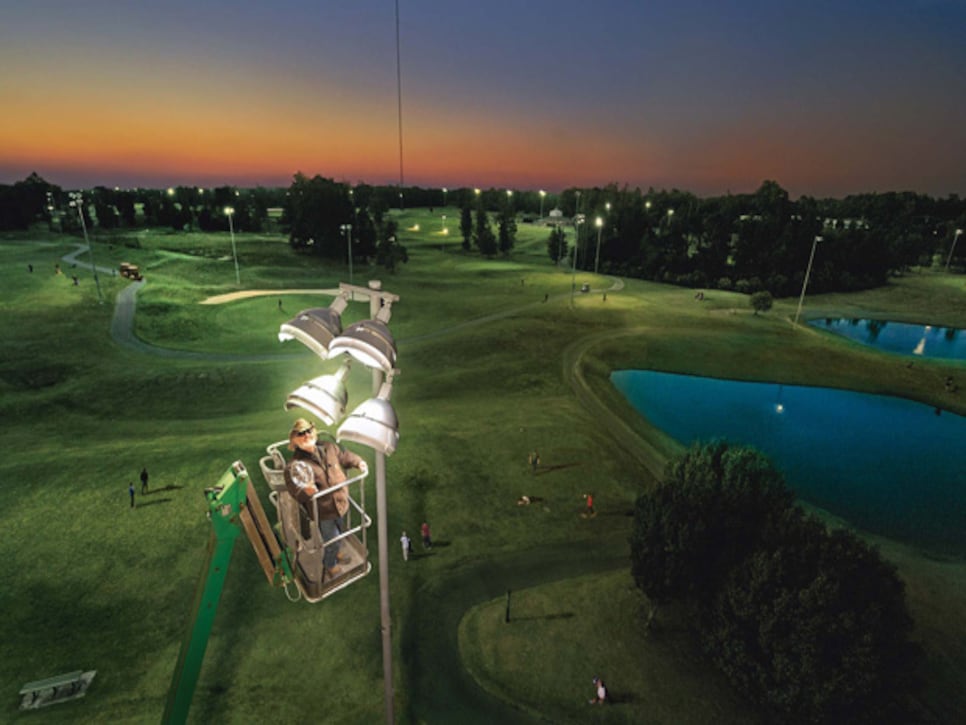 Co-owner David Postlethwait does it all at Knight's Play, including changing the lights.
Nothing tickled me more last summer than pulling into the parking lot of Knight's Play Golf Center, the 27-hole lighted par 3 near Raleigh, N.C.
and finding it so crowded that I had to park in a far corner. Here was a golf facility that was actually busy, doing 100,000 rounds a year. Soon after the lights came on a half hour later, the lot was overflowing. By 8:30, all three nines were packed with golfers: teenagers on dates, middle-age couples, parents and grandparents with kids, senior citizens. On a Tuesday night, no less. There was even a line waiting for a spot on the practice range, which has scattered spotlights pointed in the air so golf balls look like tracer bullets as they sail into the distance.
Why so popular? It's cheap: $12 for 18 holes on weekdays, $15 on weekends; $8 for nine holes on weekdays, $10 on weekends. Buckets of balls cost $5 and $9. The lights at night let golfers escape the heat. It's well-located, beneath a huge, landmark TV tower. It's real golf, with real grass (including bent-grass greens), real bunkers, real lakes (even an island green), but manageable for young and old. It doesn't take all day (or night) to play. Playing nine holes usually takes around an hour.
The genius behind Knight's Play is veteran architect David Postlethwait, who designed and built the place and has co-owned and managed it since it opened in 1998. He'll do anything -- mow the greens, wash the carts, replace the light bulbs -- because he loves golf and loves seeing others enjoy it.
Postlethwait knows his market. Even though the course is a par 3, he offers power carts at just $5 for nine holes and $10 for 18. He offers lunch specials in his snack bar, like a burger and a bucket of balls for $7.50. His most popular night is Thursday, when women play for half price. A lot of men show up that night, too -- real swingers of one kind or another.