The Loop
Fun, friendship and talent propel Woods and Kuchar
DUBLIN, Ohio -- Apparently the needle is the weapon of choice for Presidents Cup partners Matt Kuchar and Tiger Woods. They reportedly have employed it liberally against one another inside the team room, but outside the team room is where its impact is evident. They've been stitching up their opponents.
Woods and Kuchar are the only unbeaten players in the Presidents Cup, teaming to win each of their three matches and helping stake the U.S. to a five-point lead at the end of play on Saturday.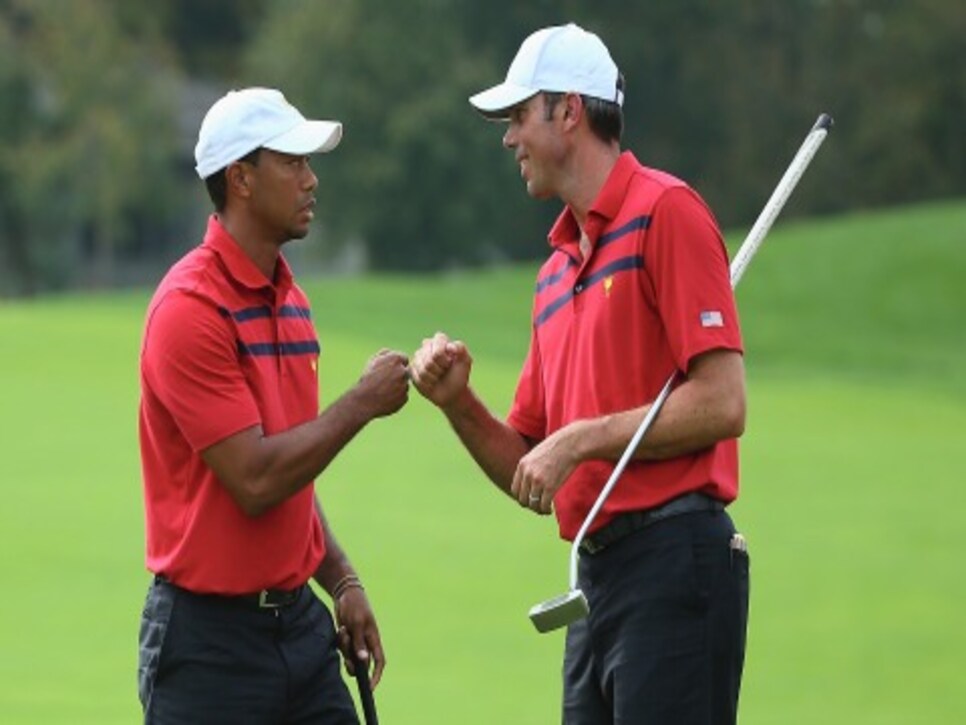 "This guy's a horse, holy cow," Kuchar said of Tiger. Horse, cow, Tiger, that's a melange of animals suitable for Jack Hanna and the renowned Columbus Zoo nearby.
Funny man, the one they call Kooch. As for Tiger, no one outside his tight circle would identify him similarly. Hard to imagine him wearing a colorful wig to the first tee of a Presidents Cup match, as Charl Schwartzel and Louis Oosthuizen of the International team did on Thursday.
On the course, Tiger is all game face, Kuchar all smiles, but they're in their comfort zone with one another and might be the most formidable team in Ohio, next to the Buckeyes. Their U.S. teammates Jordan Spieth and Steve Stricker would probably concur.
On Wednesday, Woods and Kuchar engaged in a 12-hole practice-round match with Spieth and Stricker and went nine-under par on them. "We absolutely dominated Stricks and Jordan," Woods said. It set the tone for the first three days of the Presidents Cup.
They opened with a 5 & 4 victory over Angel Cabrera and Marc Leishman, defeated the International's best duo, Louis Oosthuizen and Charl Schwartzel, 4 & 2, and defeated a strong team of Adam Scott and Hideki Matsuyama, 1 up, when Kuchar holed a birdie putt to halve the final hole.
"That sure was a fun way to end it," Kuchar said.
Fun is the operative word this week. Kuchar and Woods appear to be having as much as anyone in the competition, notwithstanding the two-hole deficit they'll take into the resumption of their match with Ernie Els and Brendon de Jonge on Sunday morning.
"I think most people tend to play better when they are enjoying themselves," Kuchar said the other day. "I don't know that one necessarily proceeds the other, but certainly it holds true for me. I would say that if I'm in a good mood, enjoying myself, I tend to play a little bit better golf. And maybe it kind of carries over, maybe in the team competition, helping a partner enjoy themselves, have a good time."
Muirfield Village is a playground of sorts for both of them, too. Woods has won the Memorial here five times. Kuchar won it earlier this year. "We both have the low stroke averages in this tournament's history," Woods said. "Put us together and we feel very comfortable on how to play this golf course."