Courses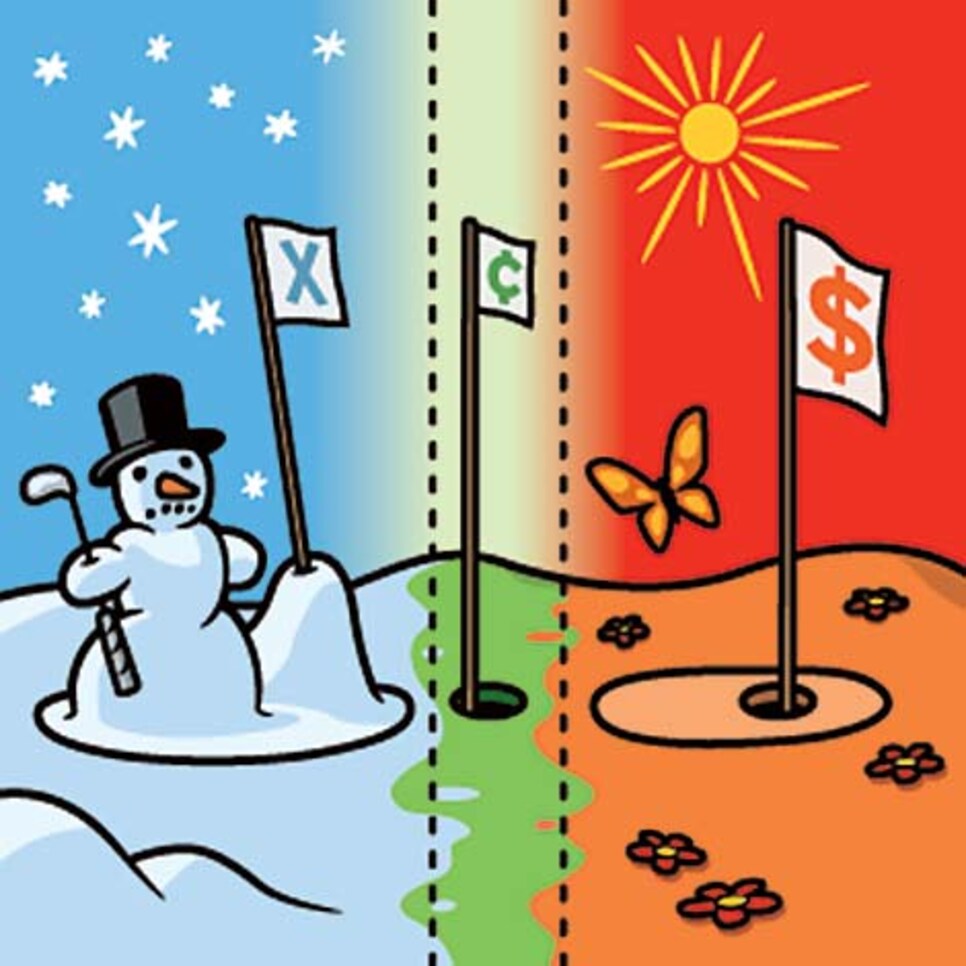 Even though I'm frugal, I do enjoy the finer things in life. On more than one occasion I've combined world-class golf with five-star resorts--and suffered no buyer's remorse. In fact, I'm planning my next extravagant getaway as you're reading this article.
My secret? Two words: shoulder season.
Although the weather can be an issue, taking a golf vacation during the weeks before or after peak season (aka shoulder season) can save you travel bags of money. Let me give you some examples.
The shoulder season in the Northwest occurs during March, April and November. So when I play Bandon Dunes, I head out in November. The temperatures are usually in the low 60s, which requires merely an addi-tional long-sleeve shirt. When a buddy and I stayed there for one night and played three rounds (one round on the day we arrived and two the next day), we each paid $200 for a room and $325 for all three rounds. (The green fee is $130 per round, but we took advantage of the same-day replay fee on the second day, so our second round cost only $65.) A stay during peak season, which lasts from May through October, would have cost $300 for the room and $550 for three rounds. So booking our trip just a few weeks after peak season saved us each $325.
Hunting for bargains in the weeks before and after peak season.'
May is a great time to head to the Midwest. I've played Whistling Straits, site of the 2004 and 2010 PGA Championships, for $104, down from the $165 summer rate. Temperatures hovered at a comfortable 70 degrees. Rather than staying at the American Club, which can cost up to $410 per night, I opted for the Inn on Woodlake, which is half the price and has the feel of a more intimate, boutique-like version of its more expensive counterpart.
The shoulder season at Pinehurst runs from June through August. But here I've enjoyed even bigger savings by waiting until the off-season, which starts in November. Temperatures at the beginning of the off-season are usually in the mid-60s, and the chance of rain is less than at other times. During peak season, a one-night stay costs $602 and includes breakfast, dinner and a round of golf on Pinehurst No. 2. But in November, I pay $404, a savings of 33 percent.
If you can't wait until November to visit, then the summer months still offer some good savings. You'll pay $510 for that same package, which is almost $100 less than the peak price.
Ultimately, playing in the shoulder season has brought this Frugal Golfer to places I wouldn't otherwise go. Can you think of any reason to pay full price?
Win your planner a trip to Pinehurst
They're selfless, dedicated, creative, organized, tireless and they can be a little freaky when it comes to control. They're Type-A buddies-trip planners, and we take them for granted.
Golf Digest, with your help, is giving back to the givers. In 100 words or less, tell us why the buddy who plans your regular golf vacation is deserving of a three-day, all-expenses-paid pampering at Pinehurst this summer. (Yes, you can nominate yourself.) We'll pick six winners from your essays and treat them to three rounds of golf, spa treatments and meals at the storied resort.