Courses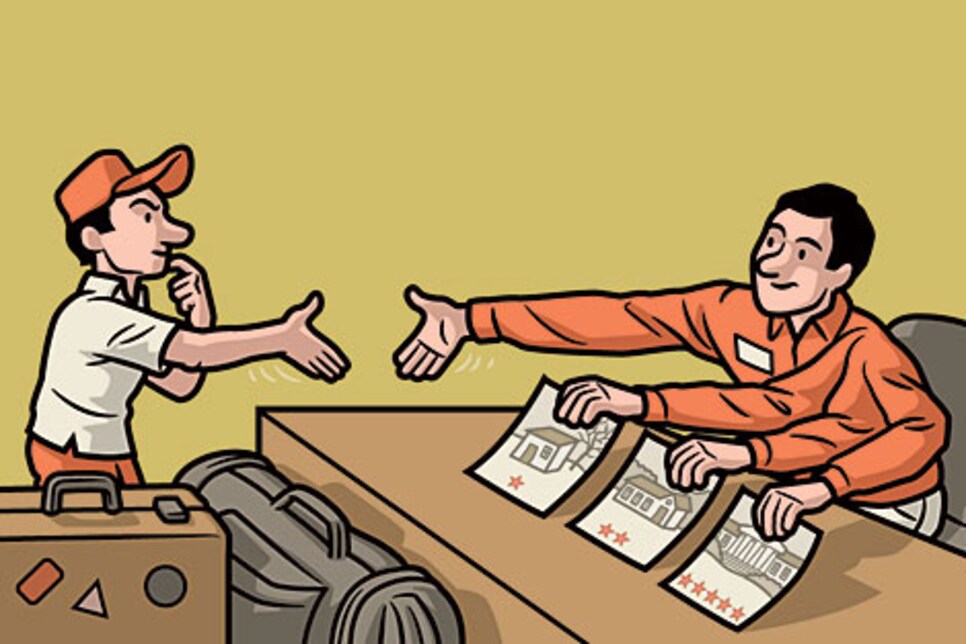 Gloomy as the U.S. economic outlook appears, there is one bit of good news about your annual buddies golf trip: It might cost less this year.
Price breaks abound. You'll see what I mean if you Google the name of a golf destination and "discount" or "special offer." The website for Hawaii's tourism department has a page where companies can pitch reduced-rate trips: gohawaii.com/value. ("Packages now less than 2007 prices!" is a common theme.) The Bahamas government has been offering $250 rebates to travelers who book pack- ages with three- to six-night stays and $500 rebates for seven-night stays. Resorts in several golf destinations have been promising guests $50 gas coupons.
Travelers willing to put in a little extra effort can often cut costs further. In an unscientific survey, your Frugal Golfer recently called 10 well-known resorts and asked about package deals for a group of eight golfers staying two nights and playing four rounds. I didn't say I was calling from Golf Digest. By (gently) haggling, I got the resorts to reduce their original quoted price half the time.
My strategy: When a reservations operator gave me a dollar figure for my package deal, no matter the amount, I pushed back. "That's more than I wanted to spend. Can you do any better?"
' operators can't always negotiate, but they often can help you find a better deal.'
At one destination—rated among Golf Digest's top 75 resorts—I got an immediate 10 percent off the first price just for asking. "That's still higher than we would like, considering the economy," I replied. The operator put me on hold to speak with her manager, coming back a few minutes later with 20 percent off the original price.
Resort operators can't always negotiate, but they often can help you find a better deal. In three cases, operators gave me a number but then, as I explained my need for a lower price, helped me slightly adjust my itinerary to save money. At a popular Southern resort, the operator tried five or six lodging configurations before finding one that would save me nearly 8 percent. One Western hotel suggested we play our first rounds starting between 7 and 8 a.m., a move that reduced my total price by more than 20 percent.
Return Of The Frugal Golfer
Longtime Golf Digest readers might remember my regular column from the early '90s. Well, I'm back—and determined as ever to help you save money on our favorite game. I'm not a skinflint, always looking to do things on the cheap, but I do operate on the principle that you ought to seek the best values wherever you can, especially in difficult economic times. Look for more of my budget-minded ideas in these pages in the months to come.