The Loop
From the looks of it, Ted Bishop's apology tour could get a little bumpy
Ted Bishop has shown during his tenure as PGA of America president he knows how to stoke the flames of controversy. With less than a month left in his two-year term, he now must demonstrate he's also capable of putting out a self-ignited fire if he wants to keep his reputation and legacy from getting torched.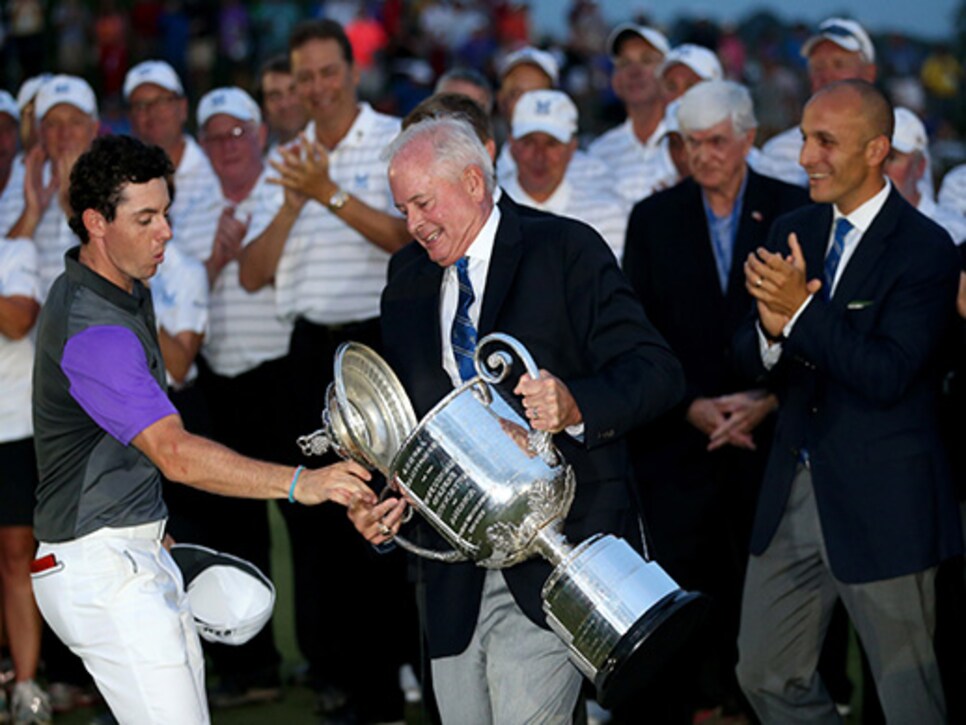 The 60-year-old director of golf at The Legends Golf Club in Franklin, Ind., tried to begin to undo the damage caused by calling out Ian Poulter with a pair of ill-advised social-media posts by offering an apology of sorts on Thursday.
"Obviously I could have selected some different ways to express my thoughts on Poulter's remarks," Bishop said. "Golf had always been a sport where respect was shown to its icons. That seems to have gone by the wayside."
Bishop originally called Poulter a "lil' girl" on Twitter after hearing that Poulter had lashed out at Nick Faldo in his just released autobiography No Limits. Similarly, via a Facebook post, Bishop claimed that Poulter, "Sounds like a little school girl squealing during recess." Both posts have subsequently been taken down.
After hearing of Bishop's comments, Poulter offered a brief, but pointed response.
"Is being called a `lil girl' meant to be derogatory or a put down?" Poulter said in the statement. "That's pretty shocking and disappointing, especially coming from the leader of the PGA of America. No further comment."
The reverberations over the incident were slowly being felt Friday. A story on SBNation took the extreme stance of suggesting Bishop should resign from his post, noting that even though his presidency ends in less than a month, he needed to be removed.
Certainly there will be more where this came from as those who already held the opinion of Bishop as having overstepped his bounds as PGA president get a chance to pile on. In all likelihood, Bishop's best course of action is to absorb the body blows, as punishing as they might be, and wait out the clock on his lame-duck term. Any more talking, or writing, is liable to only make things worse.
__Editor's Note:__Later Friday afternoon, the PGA of America Board of Directors voted to remove Bishop as the association's president.