DP World Tour
From missing a chance to play for a green jacket, to winning a green robe, Lucas Herbert's hectic April finally ends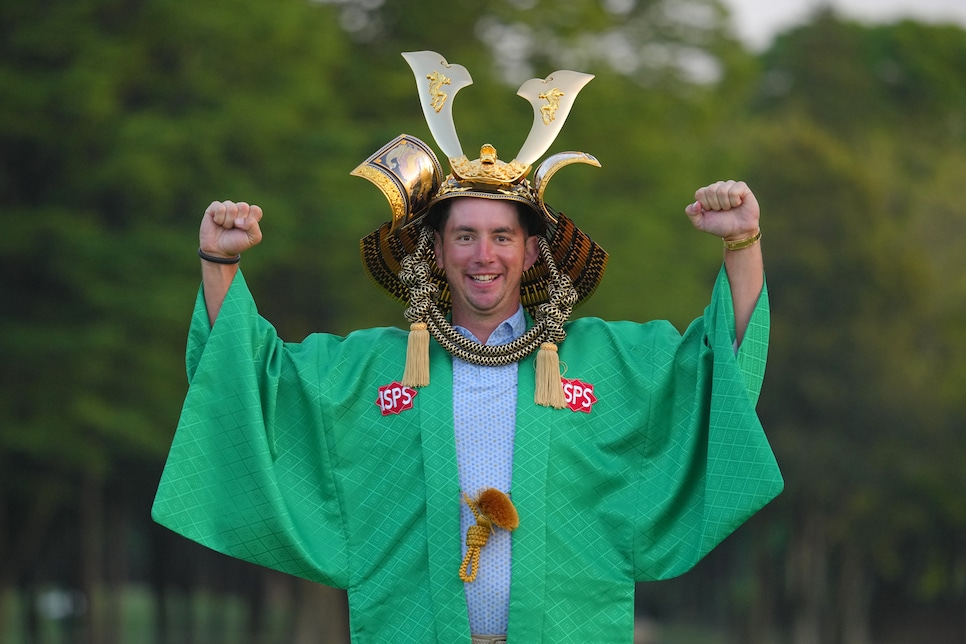 It's been a wild month for Lucas Herbert. First, he missed the Masters. That was on him for being one spot outside the top 50 on the Official World Golf Ranking for the final cutoff. Then, the Australian missed a connecting flight from New York to Japan for the DP World Tour's ISPS Handa Championship. That one was on the weather gods in Florida, who provided some chaos for Herbert when trying to make the 7,000-mile journey from the PGA Tour's RBC Heritage in South Carolina to Japan.
On top of it all, Herbert missed the Wednesday pro-am and was not able to see the Ishioka Golf Club course before the tournament. Still, somehow, Herbert found himself in a playoff at the end of the week after shooting a final-round 67. He missed the fairway, by a lot, in the second playoff hole against Canada's Aaron Cockerill, who shot a final-round 68. The pair was tied after regulation at 15 under par.
But in those trees right of Ishioka's 18th, Herbert found some luck. His ball had landed on the cart path, allowing him to take a free drop with a clear shot to the green.
After a crafty recovery, Herbert had a birdie butt from close range, which he holed to secure his third career DP World Tour title.
"It feels pretty good," Herbert said of his miraculous birdie to defeat Cockerill. "I hit that tee shot and thought that might be the end for us. To get it in close, it just felt like if I didn't take that chance, it was going to fall away and potentially hurt me later. I knew I had to take advantage when I had it."
Herbert began the final round Sunday by making birdie from a fairway bunker on the first, before bagging an eagle on the par-5 fifth. He fell back into a share of the lead with bogeys on Nos. 8 and 11 but rebounded each time with birdies. Herbert negotiated a series of testing two-putts from long-range coming home, before leaving a birdie putt short on the 72nd hole that was for victory, relegating him into the playoff.
Having not seen the course before the tournament, Herbert credited his caddie, Nick Pugh, for scouting Ishioka, since he was able to arrive in Japan before Herbert.
"He's one of the best caddies out here; he works so hard and this week is proof off that," Herbert said. "He knew exactly what line to take off every tee and where to aim my approaches. I didn't play a practice round at all. He deserves that [18th hole] flag he's got over there."
Herbert's third DP World Tour win follows victories at the 2020 Dubai Desert Classic and 2021 Irish Open. Later that year, he transitioned to the PGA Tour and won its Bermuda Championship. With the win in Japan, Herbert will rise to No. 42 on the OWGR and fourth in the Race to Dubai standings.
"It's a real honor just to be back in Japan and win as well," said Herbert, who is an ambassador for ISPS Handa, the tournament's title sponsor. "I've come here so many times and loved it so to get back here and win, it means a lot. I think it's cool to be able to win everywhere and have a lot of good memories from all the spots in the world where you have played."
It was perhaps ironic that Herbert was awarded a green robe for his victory. While it may not completely make up for missing a chance to play for a green jacket earlier in the month, it did bring his hectic April to a nice close.