The Loop
Friday stats: Big day for No. 373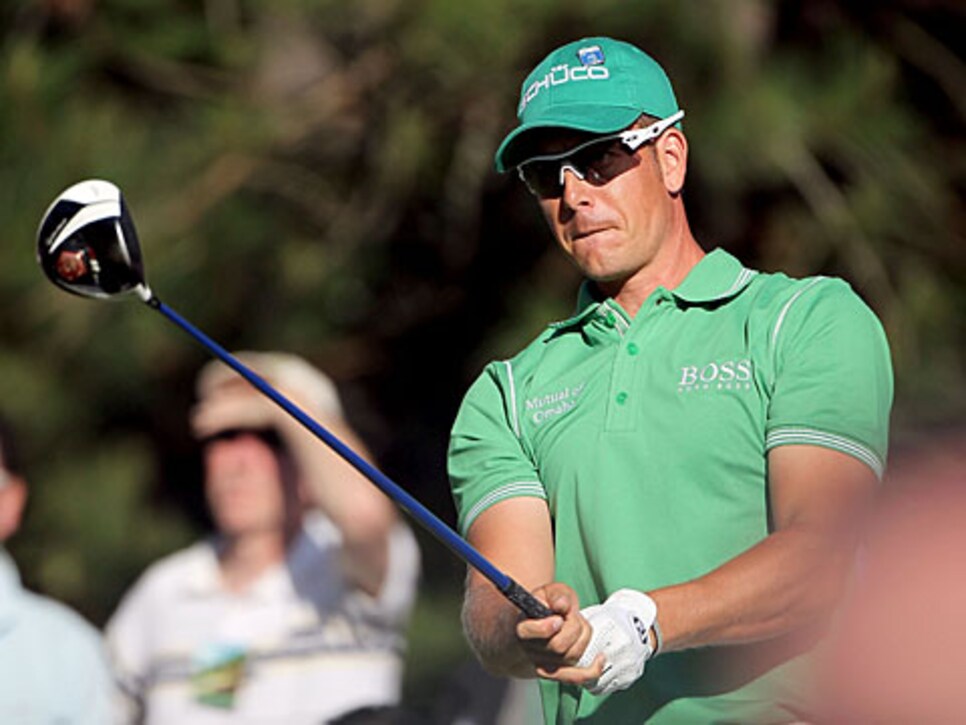 (Henrik Stenson is attempting to turn a dubious record into a positive one. Photo: Getty Images)
Ten notable second-round Masters stats from Golf World contributing writer Brett Avery, who compiles the Rank and File statistical sections for the magazine's major championship coverage.
__ 1.__ Stellar play at Augusta National by Fred Couples late in his career is anything but a surprise -- he has cracked the top 15 three times in his last six Masters, including solo sixth and T-15 the last two years. The 373rd-ranked player in the world starting the week, now age 52, became the oldest second-round Masters leader (Lee Trevino, 49 in 1989). Couples sets the pace at five-under 139 with Jason Dufner, who was 6 years old when the University of Houston product made his ANGC debut in 1983.
__ 2.__ Couples has produced 26 career top-10 finishes in major championships, 11 at Augusta National. The last time other than the Masters was T-3 in the 2005 Open Championship at St. Andrews, six shots behind Tiger Woods. Speaking of Woods, Couples has now tied the 14-time major-championship winner in most career 18-, 36- and 54-hole leads in the Masters (five apiece). Arnold Palmer is the all-time leader in that category with 14.
__ 3.__ Were he to post his first triumph in a major, Sergio Garcia (five-way tie for third at 140) would become one of the most-seasoned recipients of a green jacket. Garcia would prove victorious in his 14th Masters, matching Billy Casper in 1970 and trailing only record-holder Mark O'Meara (15th try in 1998).
__ 4.__ On the other hand, co-leader Jason Dufner would become the fourth man to win his sophomore start (Jimmy Demaret in 1940, Herman Keiser in 1946, Charl Schwartzel in 2011). And another Schwartzel win would match Horton Smith (1934, '36) for quickest to two Masters titles.
__ 5.__ The second-round -- cold and breezy early, warm and calmer in the afternoon -- resulted in a scoring average of 74.428. That was the highest on a Friday at ANGC since 2007 (75.628). The ninth was the day's toughest at 4.521, followed by the 18th (4.394), first (4.379) and 11th (4.372). In a mathematical quirk, the first hole has averaged the same score both days. The course's two-day average was 73.893.
__ 6.__ Henrik Stenson of Sweden is attempting to become only the fourth player to set or tie a Masters single-hole high scoring record and place in the top 10. He made a quadruple-bogey 8 at the 18th in the first round yet stood at two-under-par 142. Jose Maria Olazabal was solo second in 1991, a shot behind Ian Woosnam, despite a quad 7 at the sixth hole; Darren Clarke was solo eighth in 1998 after a triple-bogey 7 at the 17th; Stuart Appleby was T-7 in 2007 after a 7 at the 17th. PS: Stenson birdied the 18th in the second round.
__ 7.__ In the 56 instances of players setting or tying high-score records, only 20 competitors made the cut that week.
__ 8.__ An addendum from first-round stats item No. 2: Stenson actually became the fourth man to set or tie record high scores at multiple holes when he made that 8. Arnold Palmer (sixth, 18th) and Masashi (Jumbo) Ozaki (15th, 18th) were mentioned with Stenson. But the item did not cite William C. Campbell (fifth, 17th), one of 17 players with a 7 at the 17th (and saved from embarrassment because the Masters media guide does not list everyone at that hole).
__ 9.__ This is the first time three amateurs have made the cut since 2003: Hideki Matsuyama (145, T-31), Patrick Cantlay (149, T-57) and Kelly Kraft (149, T-57). Back in 2003 the trio was Ricky Barnes (291, solo 21st), Hunter Mahan (294, T-28) and Ryan Moore (301, T-45). In fact, in the last six years a combined two amateurs survived the cut (Matteo Manasero, T-36 in 2010; Matsuyama, T-27 last year). And Matsuyama becomes the first making consecutive cuts since Matt Kuchar in 1998-99.
__ 10.__ The 75 by Tiger Woods was his highest second round in a major since the 2006 U.S. Open, shortly after the death of his father Earl, when he went 76-76 to miss the cut. It was only the third time in 66 competitive rounds at Augusta National that Woods did not birdie a par-5 hole. He is tied for 40th. No Masters winner has ever come from further back than T-25 at the midway point (Bernhard Langer, 1985).
For more numbers throughout each round, follow Brett on Twitter.