News
Friday Morning's Pairings
SUGAR GROVE, Ill., -- The 2009 Solheim Cup is officially underway. Before the opening ceremony started, captains Beth Daniel and Alison Nicholas announced the pairings for Friday morning's four-ball matches (embargoed until now). Both team leaders sounded equally confident when they rattled off their teams' line-ups* (All times **CDT)*:
8:05 a.m.: Sophie Gustafson and Suzann Pettersen vs. Paula Creamer and Cristie Kerr
8:20 a.m.: Helen Alfredsson and Tania Elosegui vs. Angela Stanford and Juli Inkster
8:35 a.m.: Laura Davies and Becky Brewerton vs. Brittany Lincicome and Brittany Lang
8:50 a.m.: Catriona Matthew and Maria Hjorth vs. Morgan Pressel and Michelle Wie
Daniel said she wanted to kick off the competition in the strongest possible way, so she's sending out the two top-ranked Americans in the first group. When asked about her thinking behind starting both of her captain's picks in the Friday morning matches, Daniel's response was, "Am I? I guess so," and continued to explain that once she had her 12 players, she stopped thinking about them as points-winners and captains picks, and simply considered them all equals.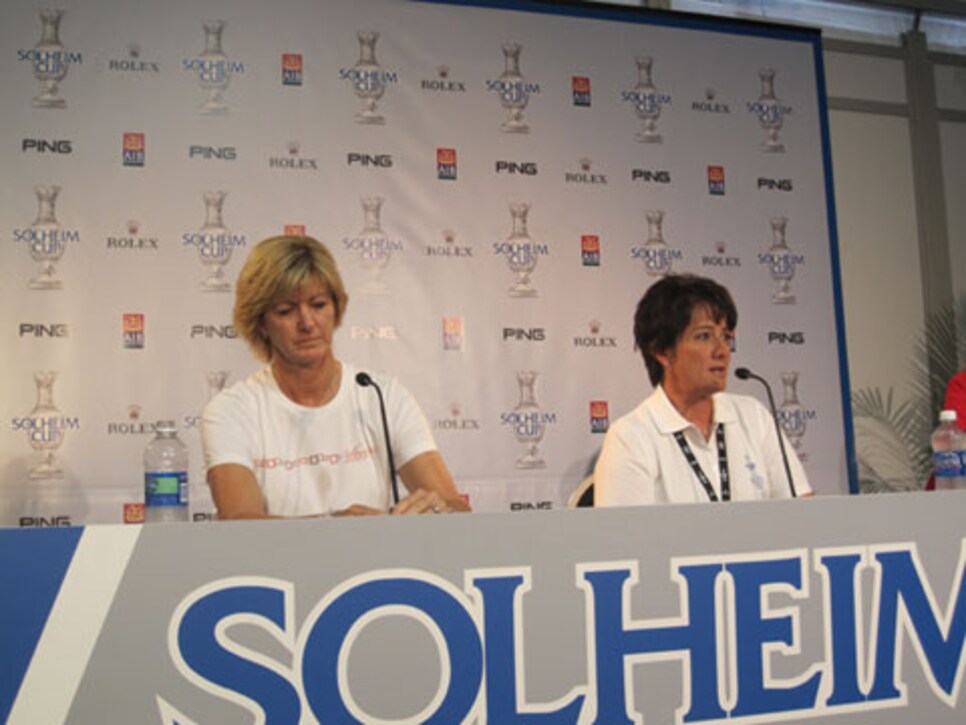 U.S Captain Beth Daniel and European captain Alison Nicholas announce the pairings to the media. (Photo: S. Sternberg)
Both Nicholas and Daniel said they chose their pairings mainly based on who the players had expressed desire to partner with. There are a lot of good friends teeing it up together Friday morning: Pressel and Wie, the two Brittanys, Gustafson and Pettersen, and Davies and Brewerton. Daniel's starting line-up is full of youngsters while Nicholas is leaning on her experienced players and keeping two of her rookies, Diana Luna and Anna Nordquist, on the bench.
The most interesting group of the morning is undoubtedly the last one out. Pressel and Wie's combined age is the same as that of only one of their opponents, recent British Open winner Catriona Matthew, and close to that of their other opponent, Maria Hjorth. You couldn't ask for two more different duos. In a way, they perfectly represent the teams vying for the cup in 2009.
Will fearless, exuberant youth trump quiet, confident experience? We're about to find out.