News
Fred Couples races off with the title at the American Family Insurance Championship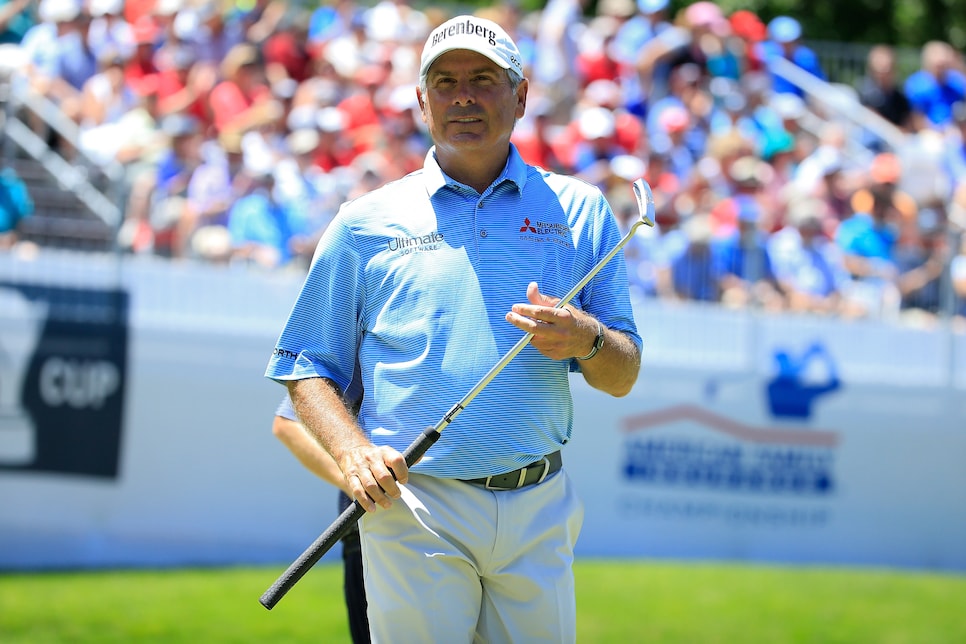 It's days like Sunday when you wonder what might have been for Fred Couples. Had a balky back not deprived the 57-year-old fan favorite the chance to compete full time on the PGA Tour Champions, who knows how many wins Boom Boom would have claimed. 20? 30?
With a two-stroke victory at the American Family Insurance Championship, Couples upped his actual total to 13 thanks to a final-round six-under 66 at University Ridge Golf Course in Madison, Wis., for a 15-under 201 total.
Playing for the first time since early May due to his back woes, Couples started the day trailing Paul Broadhurst by three strokes, but birdies on his six of his first 11 holes let turn the tables and take a four-stroke lead. Couples then hung on as Scott Verplank, Joe Durant and local hero Steve Stricker wouldn't let Freddie runaway with the title.
"Well, I honestly, on this tour I feel like I can still win," Couples said. "But we've got guys that practice really, really hard out here and they're 52, 55, 60. I just don't have the body to do that. So where I miss is when I get on a little roll, I don't know how long it will really last."
The win was Couples second in seven senior starts in 2017 as well as his sixth top-six finish as he gets ready for next week's U.S. Senior Open, the first senior major he'll compete after missing last month's Regions Tradition and Senior PGA Championship.
While his length off the tee still lets him beat up on par 5s—of which there were five on the 7,056-yard Robert Trent Jones course—it was Couples' putter that was the difference on Sunday as he rolled in several length birdie putts.
Even his bad strokes managed to find the bottom of the hole. On the par-5 11th, Couples had five feet for birdie. Despite pulling the putt, the ball still fell in the side door, leaving Couples will his usual slap-happy grin.
As Couples parred his final seven holes for his 66, Verplank made a pair of birdies on the 11th and 14th holes to cut the lead to two strokes. But on the short par-5 16th, Verplank could only manage a par after hitting a poor second shot while going for the green in two. Pars on the last two holes gave him a closing 69 to finish second, his best performance in 43 starts since joining the tour in 2014.
Durant also eventually ran out of holes on Sunday, finishing with a 67 to finish tied for third, three back.
Stricker, a senior rookie playing alongside Couples, made three back-nine birdies to get the locals excited that he might pull off the upset (how many times does a gallery root for somebody other than Couples?). But the Wisconsin native had too much ground to make up as he finished T-3.
Despite his limited play, Couples actually is first on the tour in stroke average (67.47). Taking out the two-man Legends of Golf team event, Couples has broke par in all 17 rounds he's played on the PGA Tour Champions in 2017, with his worst score being a 71.
Broadhurst, the reigning Senior British Open champion, was the only player in the top 10 to post an over-par score on Sunday, shooting a 73 to finish solo fifth.
"I can take time off and hit the ball, that's not really the problem," said Couples of his ability to jump in after a long layoff and perform. "It's the scoring part. I was a little edgy today playing, and I felt like the reason being is because I knew I could shoot a good score. But if Paul shot a decent score, no one was really going to catch him. And it played hard. With that wind, and the way the course played and you're leading, it's not easy to shoot 68 or 69, and I was lucky enough to make a lot of birdies through the first 11 holes."