News
Fred Couples, ambling (painfully) toward the career finish line: 'I think my time's running out'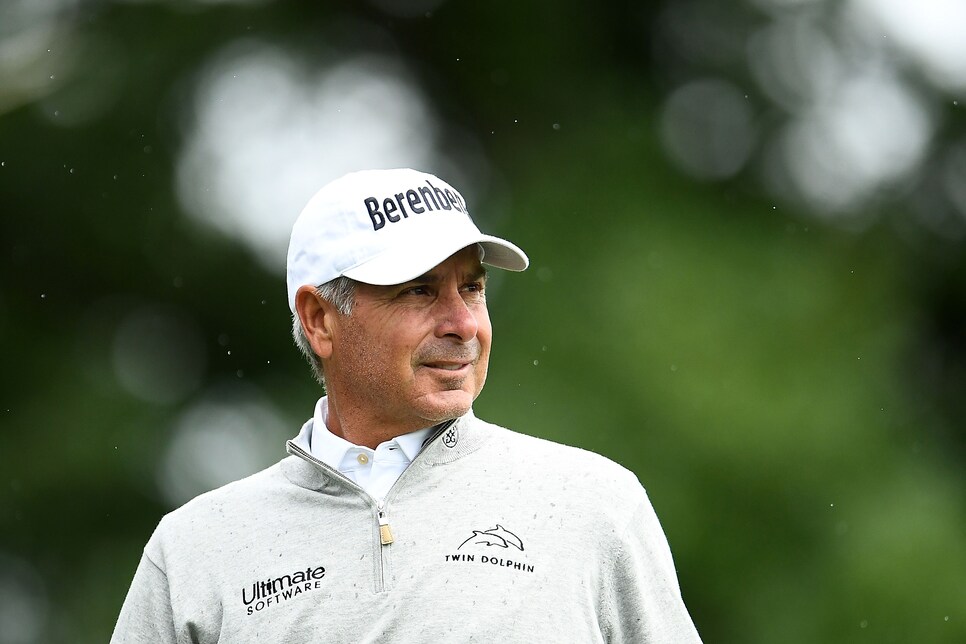 Photo By: Stacy Revere/Getty Images
Fred Couples still ambles—when he's ambulatory—as he has always done, trailing an aura of cool, the word that has come to define him. But these days, he ambles not so much toward his golf ball, but toward retirement. Not cool, for those who revere him.
The end is near, maybe not this week or this year, but sooner is the prohibitive favorite, later a long shot.
One of the inherent strengths of the PGA Tour Champions is that its stars generally have no shelf life. Even as their skills diminish, they play on, sometimes into their 70s, their choice, until one day they're no longer there.
Couples, closing on 59, is unlikely to have that choice. His chronic back ailments apparently aren't going to allow him to ease into retirement. They will demand it.
"I'm 58, and I've said I'll play as long as I can," Couples said at the American Family Insurance Championship last week in Madison, Wis. "And I think my time's running out."
The senior event was only his third professional tournament this year. He played in the Mitsubishi Electric Championship in Hawaii in January and the Masters in April. This week's U.S. Senior Open at the Broadmoor in Colorado Springs, Colo., will be his fourth, provided he reaches the starting gate.
It might not be a last hurrah, but then again …
Couples played the Hawaii event in obvious pain, notably on Sunday. "I kept playing and then it was just, I couldn't bend over," he said.
He did not play again until two days before leaving for Augusta. "I felt like I won the tournament by making the cut," he said of his time at the Masters, where he finished T-38. "Augusta, I played because I told myself if I had to crawl around, I would."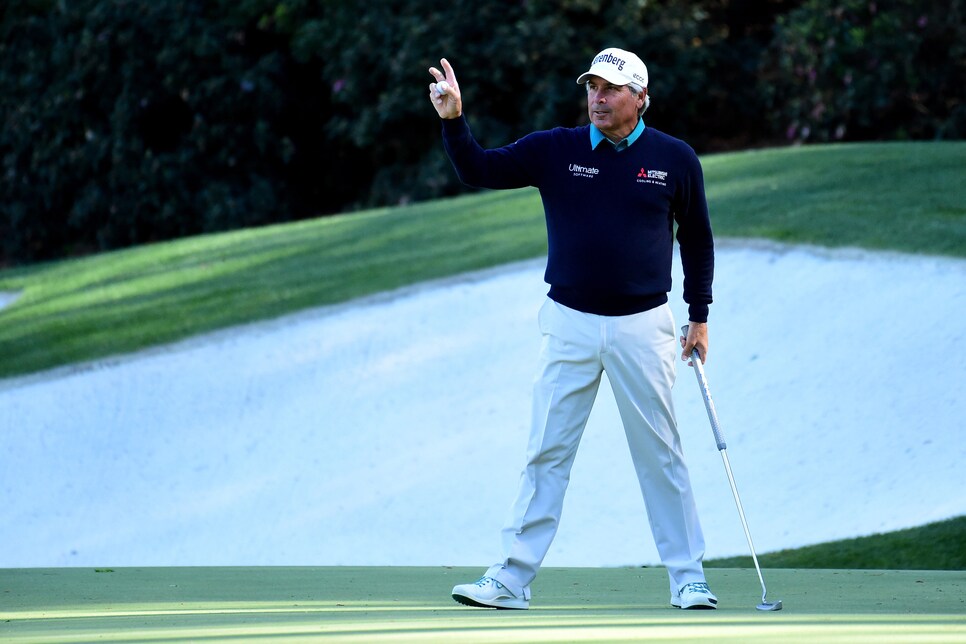 As for Madison, Couples played because his good friend Steve Stricker is the tournament host. "If this was maybe any other tournament I might not have come, even though I won last year.
"It's really just bending, and in golf you bend a lot. As I got to 57 and 58, it's become not much fun. [So] I don't play."
The trials of bending are evident in the makeup of his golf clubs. The longest iron in his bag is a 5-iron, for now. "I no longer have a 4-iron," he said. "I have five woods in my bag [three of them hybrids] and the next one to go out will probably be my 5-iron, because [hybrids] are just a little longer and they're easier to hit and I don't have to bend down."
To test his back, "to see if I could play," in advance of the senior event last week, Couples played in the member-guest at his home club, Big Canyon Country Club in Newport Beach, Calif. "I played a practice round and three days, and I didn't move very well Sunday or Monday.
"To be honest with you, the last couple years my back has been not so good. In Hawaii, it was mostly putting. Every time I putted the ball and I straightened up [he felt pain]. I told myself I would never do that ever again unless it was at Augusta. And at Augusta, it kind of flared up a few time.
"I just saw another [doctor] when I was playing in this member-guest. He came in from Toronto, very nice guy and, you know, I don't feel much better now than I did after a couple treatments. It just kind of gets crooked pretty fast.
While he's away, Couples says he doesn't necessarily miss the game. "Do I want to play? Of course I want to play, but I refuse to play mediocre, and if my body doesn't let me do stuff, it's going to be mediocre," said Couples, who scrapped it around plenty good enough to win 13 times on the senior circuit after claiming 15 PGA Tour titles including the 1992 Masters during his PGA Tour career. "And how long do I want to do that? We're going to find out pretty fast because the more I practice, I just get really, really stiff."
Mediocrity has not yet aligned with his back to drive him from the game. He tied for sixth in Hawaii, tied for 38th in the Masters, and tied for third in the Madison event.
But the U.S. Senior Open—an event in which he finished T-4 a year ago and one that he's never finished worse than T-14 in four starts since 2010—with be his stiffest test yet, stiffest the operative word. Couples has not played events in consecutive weeks since late last summer, and he withdrew from the second one after two rounds. If you count the member-guest, the Senior Open will be his third straight tournament, and it's a 72-hole event on a USGA Open setup that he has also skipped four times since 2010.
Couples is not courting pity. He does not fill his down time lamenting his plight. He is involved in a course-design project in Cabo San Lucas, Mexico, where he's traveled a few times, and he continues to feed his passion for sports that borders on the obsessive, the fan in fanatical.
"To be honest with you, days go by really, really fast. I'm not a depressed person. I do everything and anything. I see movies, go on little two-day trips, go to soccer games, basketball games, and the next thing you know it's time to go to Wisconsin.
"Three, four weeks from now I'll go to the [Senior] British Open because we're playing St. Andrews. I do not want to miss that. So it's a teeny schedule."
The underlying message here is not that he'll miss golf. It's that golf will miss him, that every time he plays, watch him as though you're watching him for the last time, because you never know.
It just might be the last time.