Obituary
Frank Thomas, USGA technical director for a quarter century, dies at 81
With a 'brilliant mind,' the USGA chief equipment regulator walked the line between a love for golf innovation and protecting the game's traditions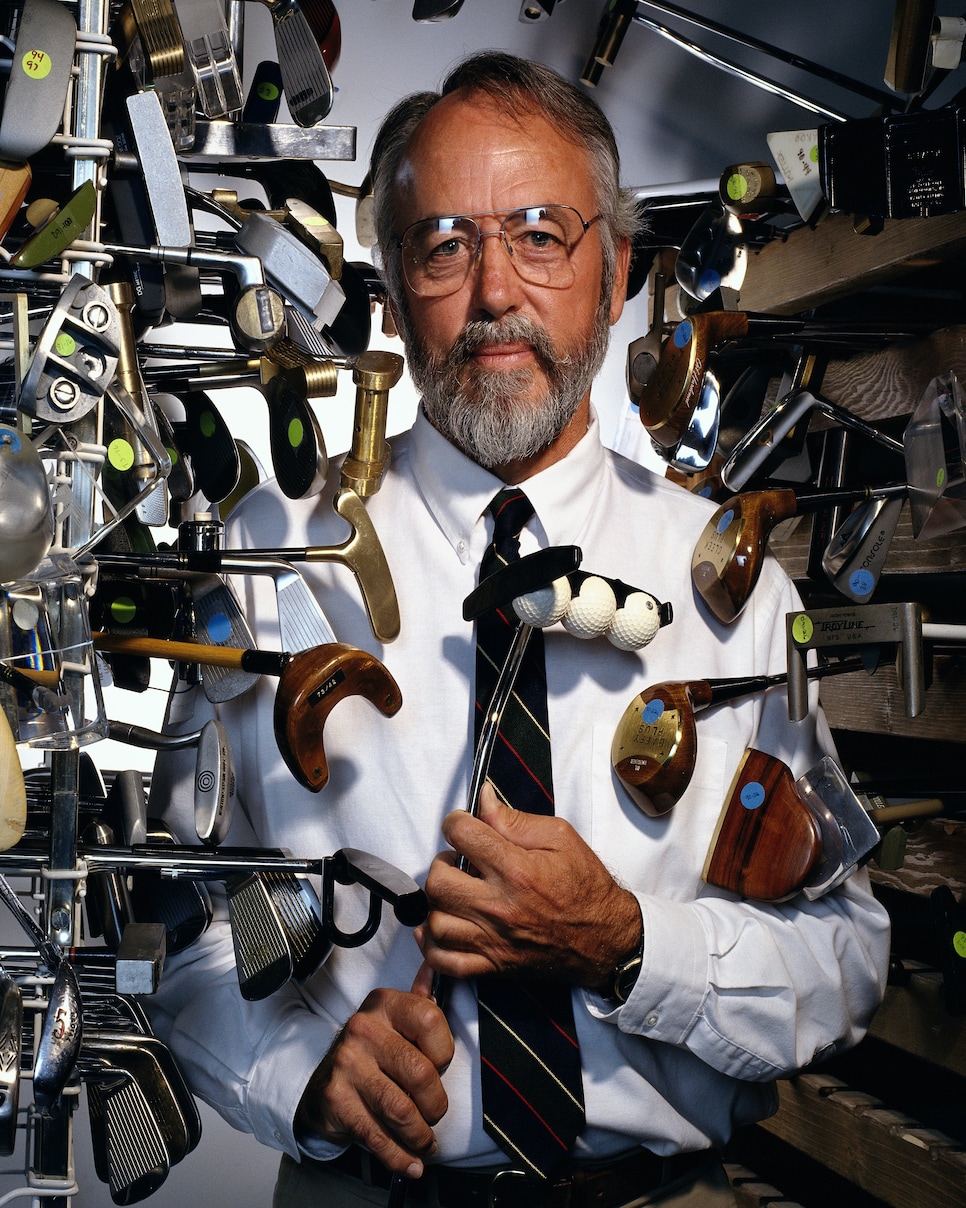 Frank Thomas, technical director of the United States Golf Association, poses with clubs in 1995.
John B. Carnett
Frank Thomas, the long-time senior technical director of the United States Golf Association whose carefully measured influence over the game's equipment stretched across half a century, has died. He was 81.
Thomas led the USGA's equipment rules-making efforts from 1974 to 2000 and contributed mightily to the way the game is enjoyed today by developing the graphite shaft in 1969, a component that is part of clubs in the bag of nearly every golfer. Its lighter weight enabled golfers to start the game earlier, play the game longer and swing the club faster than they ever had before.
Prior to coming to the USGA, Thomas earned an engineering degree from Western Michigan University and was working for Shakespeare Sporting Goods. He developed the filament winding technique for graphite fibers around a mandrel to control the demanding torsional bending properties of a golf shaft.
But it was at the USGA where Thomas' influence defined the limits of equipment performance for a generation. It was an era of more equipment upheaval than is likely appreciated today, yet Thomas maintained a respect for tradition with a concerted focus on science for solutions. Under his guidance, there were new methodologies for testing golf-ball flight that came to be the Overall Distance Standard, and he developed the concept that limited the spring-like effect in driver faces. He also wrote rules about the shape of grips, holes in the heads of irons, woods and wedges and made clear the "plain in shape" rule, an interpretation that added broad but clearer limits on what equipment should look like in the interest of keeping the implements of the game of tomorrow recognizable with those of yesterday.
He also helped to conceive the USGA's Slope system for rating golf courses so handicaps were tied more directly to the relative difficulty of the course.
Thomas earned the respect of both those who worked with him at the USGA and those whose products he ruled on sometimes negatively. "Frank was such an important part of the USGA and the game," said Mike Davis, CEO of the USGA. "He was an innovator who created golf's first graphite shaft and played an integral role in creating the Slope System for golf course rating, among many of his incredible achievements. Most importantly, he was a friend of so many in our game. He will be sorely missed."
His native South African accent, neatly cropped beard that was equal parts professor and ship captain and 6-foot-3 stature gave his equipment decisions a kind of knowing grandeur, but their worth was in their rigor.
"Frank Thomas was a brilliant mind and tireless contributor to golf's commercial landscape," said Wally Uihlein, former Acushnet Golf CEO, in an email. "His tenure at the USGA was seminal. For more than a quarter of a century, he was the absolute voice regarding conformity to the equipment rules and test procedures. While one may not have always agreed with Frank, his decisions and explanations were consistent. It was not an easy job, but he was more than equal to the task. The industry has lost one of the most important figures from maybe the most turbulent period in the 100-plus year history of the commerce of golf.
"Frank was an intellectual and analytical giant. To do what he did and to fulfill that job description, with limited resources, during that period, a period unlikely ever to be repeated, was a Herculean effort."
Thomas, who with his counterpart and friend R&A technical expert Alastair Cochran kept an academic's focus on equipment guidelines, confessed that while he oversaw more than 6,000 equipment decisions in his time at the USGA, he enjoyed it very little because each one involved nettlesome record-keeping, paperwork and occasionally lawyers.
"Fortunately I had good people working with me, which made the task bearable," he wrote in his memoir Just Hit It, "but I knew I had to be excruciatingly thorough because I did not want to do something wrong or make a decision that I couldn't defend later."
There were notable vexing moments in Thomas's quarter-century steering the equipment ship. Among them was a decision outlawing the Polara ball, which was designed to self-correct hooks and slices with its pattern of six rows of full dimples around the equator of the ball and extremely shallow ones on either end. Thomas disallowed the ball under a broad interpretation of the rules prohibiting artificial devices that might assist the player making a stroke. Thomas also employed a stipulation that reserved the right of the USGA to change club and ball rules at any time, left the Polara off the list of conforming balls and then added a rule about golf ball symmetry. But the USGA later had to settle out of court with the maker for a reported $1.375 million.
Thomas wanted to stay ahead of a future in equipment in innovation he couldn't always clearly see by defending the game's enduring challenge, said Jerry Tarde, Editor-in-Chief of Golf Digest and global head of strategy & content for Discovery Golf/Golf Digest. "Frank symbolized golf equipment innovation for 30 years and gave terms like 'coefficient of restitution' a popular following to the extent that he became known as 'Dr. Strangeclub,' " Tarde said. "The words that I always associate with him are 'We don't want to put a ladder up the Matterhorn,' which perfectly encapsulated his goal to preserve the challenge while promoting the mountain-climbing spirit of the game."
But it was the USGA's knockdown-drag-out fight with Ping and its founder Karsten Solheim over the "square grooves" in his Eye2 irons that was a kind of Cuban Missile Crisis event for equipment rulemaking. It led to a $300 million antitrust lawsuit in 1985 that named Thomas personally and hinged on the interpretation of the measurement of a groove, a measurement that for all intents and purposes constituted the width of a human hair. Thomas initiated a change in the rules that provided updated and practical guidelines that in essence prevented more than half the irons on the market at the time from being ruled non-conforming. But the new specifics on groove width and spacing ran into measurement challenges, and the ruling bodies eventually blinked—albeit with no money changing hands and, perhaps most importantly, the USGA's authority to make equipment rules was upheld.
Thomas called Solheim a friend, writing, "His tenacity and stubbornness impressed me and made Karsten one of the most successful innovators in the game," Thomas wrote, remembering fondly how Solheim bought a Thomas self-portrait as part of a Golf Digest charity auction. "I shed more than a few tears at his posthumous—and belated—induction into the World Golf Hall of Fame."
Karsten's son, John A. Solheim, who took over the reins for his father, remembered Thomas fondly.
"I'm very saddened to hear of Frank's passing," said Solheim, Ping chairman and CEO. "He was a respected friend to both myself and my father. We were on opposite sides of the table with Frank during the 'square groove' era and a few other issues over the years, which led to countless disagreements and spirited debates, but in the end, we walked away as friends. We remained close over the years as he continued his passion for golf research and product design. He will be missed."
Of course, for a time, the grooves controversy may have tempered the ruling bodies' willingness to aggressively limit equipment companies and their innovations. At least that's how Thomas saw it. In the mid-1990s, Thomas saw the approach of thin-faced titanium drivers and realized the game was at a kind of crossroads. The thinner faces, Thomas believed, violated the earlier rule he had written to prevent metal drivers from having a spring-like effect. While he said he privately advocated the drivers be disallowed after demonstrating the spring-like effect existed, he helped develop a limit on "coefficient of restitution" in 1998 that was in line with where drivers were at the time. He wrote in Just Hit It, "I was a little upset at being asked to compromise the enforcement of a rule I had written, and especially at being told that I was not really interpreting it correctly. Perhaps I should have just accepted it and kept my mouth shut. This is not my nature."
The new enforcement procedure for the rule required a limit on spring-like effect involved a somewhat complicated air cannon test and a numerical average for coefficient of restitution that carried to the third decimal. He later wrote, "I came to realize that the rules should in most cases express principles that cover intents and purposes rather than trying to anticipate every innovation that may arise someday and specify it out of existence. The rules that do this are effective and tend to remain so; the ones that are overly specific often have unintended consequences."
Thomas stepped down from the USGA less than two years later.
After his tenure at the USGA Thomas served as an equipment expert and analyst for Golf Digest and Golf Channel, including a stint as a judge on the equipment design contest show presented by Wilson Golf, "Driver vs. Driver." He also developed his own distinctive green mallet putter, the Frankly Frog, and spent the last 15 years researching, teaching putting and writing books in Orlando.
One of those books, Banshee, detailed the daring attempt of a young Thomas and his friend Malcolm Maidwell to sail from his native Durban in South Africa to the U.S. on a 25-foot sailboat in 1962. In a very real way, the fantastic journey both set the course for the rest of Thomas's adventurous life while at the same time showed the man's legendary but practical resolve at problem-solving in the face of chaos.
"My decision was really simple," he writes of the thinking behind the seemingly impossible and ill-advised journey. "I recognized that I needed to take responsibility for my actions and decisions. I must now learn to answer to me alone for the good and bad decisions I make. … I needed to be me."
Thomas, who passed away on Wednesday a few days after a sudden heart attack on his daily walk, is survived by his wife and Frankly Golf co-founder Valerie Melvin, also his children from his first marriage to Wendy Thomas: Joanne Thomas, Ginny Zimmerman, Will Thomas; and his grandchildren Colin and Jordan Zimmerman and Alli and Ryan White.