The Loop
Fox Sports' second U.S. Open off to promising start, despite weather delay
Four minutes into the start of Fox Sports' second year televising the U.S. Open, the horn sounded, suspending play, before it had showed a single live shot.
It was an inauspicious start, through no fault of its own, for a network widely criticized for its debut performance at Chambers Bay a year ago.
That said, it provided an early opportunity to showcase its studio personnel, Gil Hanse, a course architect who was among Fox' bright spots last year, and Oakmont County Club host pro Bob Ford. They did not disappoint.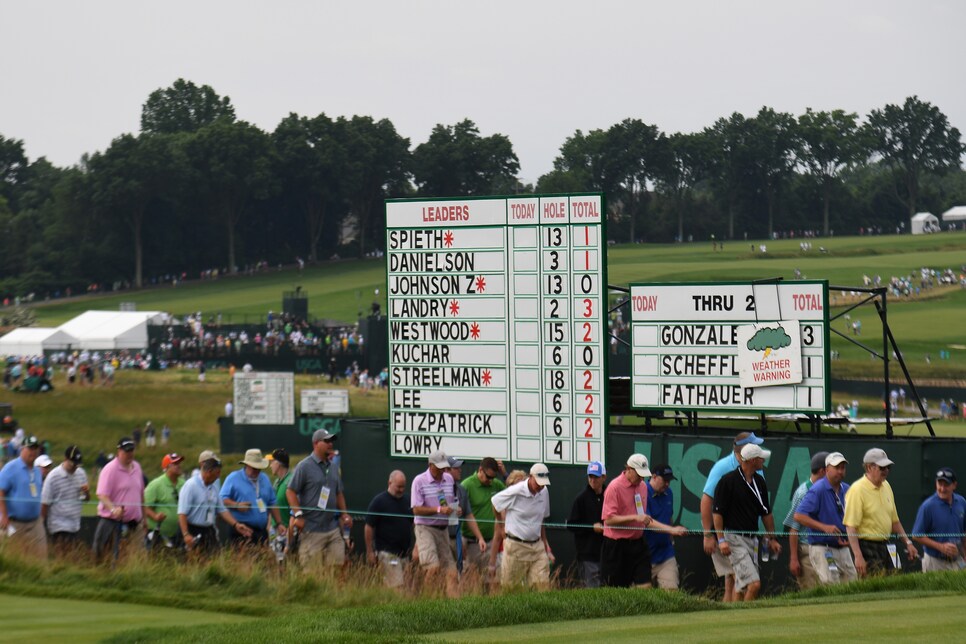 They were talking about the storied tree removal from Oakmont — 7,000 of them removed before the 2007 Open, at least that many gone since — and began addressing the approach to the 17th green.
"It's one of those greens, before when there were trees behind this green, it really wasn't as fearsome," Hanse said. "Now when you look at it it's sitting up there, a plateau, horizon behind it, really no sort of a blanket behind there making you feel comfortable over that shot. I think that adds greatly to the character of this hole."
Ford noted that Curtis Strange, another Fox analyst, had called him to ask why the winning score in 2007 was so high (Angel Cabrera at five-over par), when in previous championships there it was under par.
"Just what you said. They took the backboards away from behind the greens," Ford said. "It's like shooting hoops without a backboard and it really got hard."
The delay also allowed it time to show a promising new feature, "Brownie Points," hosted by Ken Brown, a former European Tour player turned broadcaster. The segment had Brown showing the cerebral Bryson DeChambeau, a former physics major at SMU, the original Stimpmeter.
"They say you're hypertechnical," Brown said to DeChambeau, the reigning U.S. Amateur champion, now a professional, whose irons are all the same length.
DeChambeau was mesmerized and began throwing out terms like "mgh" (mass, acceleration from gravity, and height), "linear distance," "cosign factor," "deviation and the extraction right or left, essentially, for each five, 10, 15 feet, 20 feet, 25 feet."
"And how does that help you?" Brown asked.
"It helps me understand that not every putt is going to go in," DeChambeau said.