The Loop
Fox Sports' golf properties grow with addition of Franklin Templeton Shootout
For a network that has never televised golf in the United States, Fox Sports is already proving to be one shrewd customer, but I guess we already knew that.
The plan seems to be that when there aren't a lot of big-name events to get, get a big name -- and in Greg Norman it lassoed one of the biggest. Now that relationship has produced its first reward.
Almost a year before it televises its first USGA national championship, the U.S. Amateur Four-Ball at The Olympic Club May 2-6, 2015, Fox Sports said Wednesday it will air this year's Franklin Templeton Shootout, a 25-year-old unofficial stop hosted by Norman in December at Tiburon G.C. in Naples, Fla.
Earlier this month, Fox said Norman would work as its lead analyst along side play-by-play man Joe Buck at four of the 15 USGA championships next year when the 12-year, $1.1 billion contract kicks in. Now it has one of the oldest and most prestigious Challenge Season events on its broadcast roster.
"From my perspective, this is a dynamic move for us," Norman said in making the announcement. "This is the most exciting announcement we have had in the 26 years I have been running this event."
Fox also showed its willingness to innovate, moving the finish of the shootout from Sunday to Saturday, away from its NFL programming.
"They say good things come in bunches," said Fox Sports Co-COO Eric Shanks. "We were able to further out relationship with Greg Norman and will have the Franklin Templeton Shootout on Fox Sports1 and on Fox for three years. It will be Joe and Greg's first tournament together on FOX."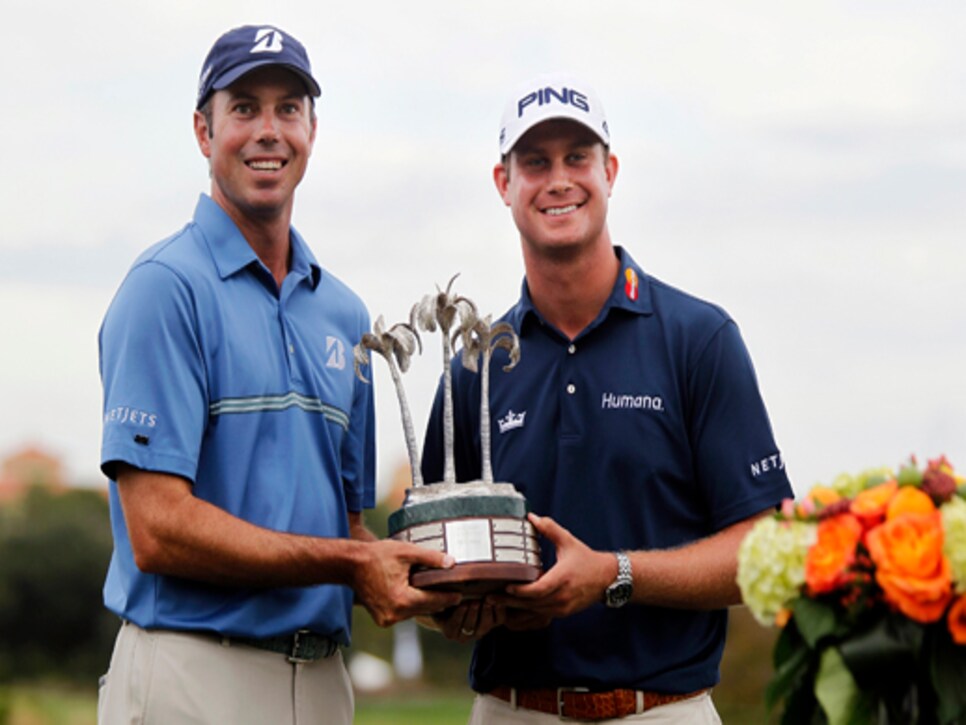 The Shootout, a 54-hole team event, has been around since 1989 with Harris English and Matt Kuchar (above) claiming last year's title. The first round is modified alternate shot; the second 18 holes is better ball and thefinal round is played as a scramble. Over the years, the tournament has been broadcast by CBS, USA Network and, most recently, Golf Channel and NBC.
Getting the Franklin Templeton Shootout is an important step for Fox as it begins to develop its golf coverage. The network's issue as it attempts to gain a foothold in the sport is that there simply aren't going to be that many available golf properties for a while.
The PGA Tour is signed with NBC, CBS and Golf Channel through 2021. CBS has the PGA Championship through 2019, and ESPN has the British Open through 2017. The LPGA signed a 10-year deal with Golf Channel in 2009.
And soon after NBC, which has televised USGA events for 20 years, lost the TV contract to Fox it locked up the Ryder Cup, a lucrative property co-owned by the PGA of America, through 2030.
The interesting prize out there is the big one: the Masters. Augusta National has operated on a series of one-year agreements with CBS since 1956, and likes it that way, leaving money on the table to have yearly leverage on the telecast. The Masters early round coverage with ESPN is also on a one-year basis.
Aside from the Franklin Templeton Shootout, Fox will get its game in shape for the USGA's flagship event, the U.S. Open, by first televising the Four-Ball and then the U.S. Women's Amateur Four-Ball at Bandon Dunes Resort May 9-13.
Then comes the big kahuna. Next year's U.S. Open, the first real test for Fox golf coverage, is June 18-21 at Chambers Bay in Washington.
Still at question is whether the Franklin Templeton event will be the debut tournament for Fox Sports or whether it will try to stage another event sooner, perhaps even at Chambers Bay.
"They will get as much time in rehearsal as we can not for broadcast before and after the shootout," Shanks said. "Will be have all the bells and whistles ready by December? No. But we will be ready next June."
Clearly, though, the pieces to this puzzle are staring to take shape. Fox still needs to hire more golf broadcasters and perhaps get some more events but, if there was ever any doubt, this much is clear: Fox is here as a major player in the game.
And in Norman they have more than a broadcast employee; they have a business partner.