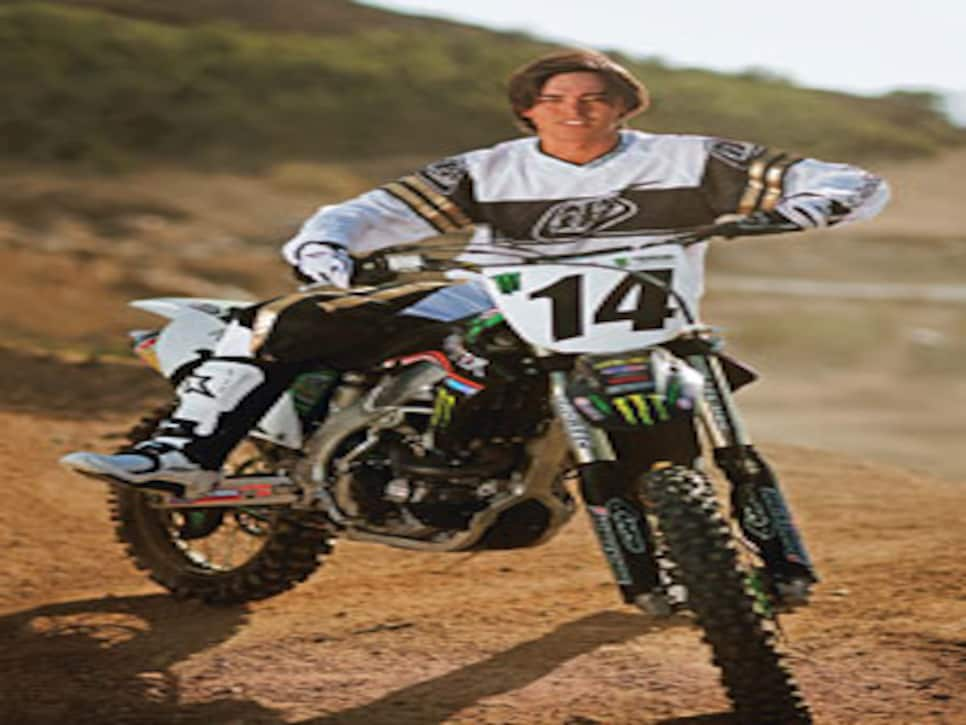 'Motocross made me a bit fearless on the course.'
We get it. Your faith in the young guys has been shaken. From Charles Howell III to Adam Scott to Anthony Kim, so many potential stars remain more potential than stars. Now, along comes Rickie Fowler, tagged as golf's next hot item. So what's different about Fowler beyond the Dutch Boy hairstyle? For starters, he spent much of his California youth airborne on dirt bikes, and in golf he leaned on an old driving-range pro for advice and never used video to analyze his swing. Perhaps best of all, in this era of the slow, dull grind, this kid plays fast and loose. Just 21, Fowler is fearless.
You lost in playoffs at Nationwide and PGA tour events last year and won more than half a million bucks in four events after turning pro in September. Do you say, Hey, I'm not going to wait until I'm 24 to win?
Obviously it's going to take a great week, but that loss in the Nationwide Tour playoff gave me more confidence that I can win out here.
What are the parallels between motocross and golf?
Motocross made me a bit fearless on the course. I've taken the more conservative route on the bike now, but I'm still taking risks and having fun on the golf course.
__When you were revving up your dirt bike to fly off jumps, did you have an innate sense of This is going to be fun! So your thinking was less fear-based and less rooted in Boy, I hope I don't fall!? __
Definitely. I mean, on a dirt bike, when you're sizing up a jump you can't have any second thoughts. You have to fully commit. If you don't, a lot of things can go wrong. And when things go wrong on a bike, it's a lot worse than when they go wrong on the golf course. Once you commit, you just go. Same goes for a golf shot.
Your dad, Rod, was into motocross, right?
He's still at the track two to three times a week. He got me started riding when I was 3. He owns a sand-and-gravel/truck-and-transfer business that he started right out of high school, so he's able to spend a good bit of time with me.
But you travel mostly with your mom.
She's kind of like my manager. Mom always got me to school and the driving range while Dad was working. She also kept me quiet and humble. Both of them taught me to let my golf do the talking.
How would you describe your upbringing?
I'd say middle class. We weren't members at a club I grew up at a driving range.
Barry McDonnell is the only golf instructor you've worked with, and he's in his 70s now.
We started working when I was 7. We'd go to the end of the range, he'd smoke his cigar, and I'd be hitting away. We never laid sticks on the ground for alignment, and we never used a video camera. I don't think he knows how to operate one. He just taught me my own swing and how to know where the clubface is. We worked more on ball flight and making sure the ball was starting where I wanted it to.
What advice from him sticks with you? Beat Old Man Par.
You were swinging your dad's driver when you were 3. How did that shape your swing?
As a little kid I used to start the backswing way to the outside, and then I had a big loop where I'd lay it off and drop it way under. Now you could talk to some of the guys I've played with through the years, like Colt Knost, and they'd say I go straight back and straight through compared to the way I used to swing. I take it back a little shut and a little out and get to the top fairly square, and then I have a little hitch layoff. It's definitely nontraditional. It's my own. I didn't really try to model it after anyone.
It's on the quicker side in terms of tempo. Definitely. There are times when my playing partner's on his backswing and I feel like I could make impact 10 times.
You play fast, too, which is refreshing.
That goes back to my motocross days. Get the number, decide on the shot I want to hit and go. I usually have everything figured out before the other guys hit.
What's the coolest day you've had so far in golf?
At the 2008 U.S. Open at Torrey Pines I knocked it on 18 in two on Sunday. To walk up in that atmosphere was cool.
Any brush with greatness yet?
Well, I'm good friends with Phil Mickelson's brother, Tim. I ended up in a match where Tom Pernice and I played Phil and Tim.
I think we won the match, but Phil beat me. He shot 68. I shot 69.
[Laughs.] No, Phil and Tim were hitting it by me.
Phil give you any advice?
Don't change anything. Keep doing what you're doing. That's what a lot of the guys tell me.
Did you spend much of that 500 grand you made last fall?
I bought my sister a car -- a Lexus IS 350. I'm thinking I'm getting paid back, but I haven't seen any of that money yet. [Laughs.] We also bought some hours with Marquis Jet, so that was kind of cool.
Are you a night-life guy?
No, I'm pretty boring. I just kind of hang out, watch movies and play golf. You won't find me in the clubs or out partying or drinking.
Some people say you look like Leonardo DiCaprio; others say Johnny Depp and Zac Efron. What do you think?
The one I get most off the course is Zac Efron. If you see my hair without a hat, it's basically styled just like his, where it lays over my face. I've heard Leonardo DiCaprio second most.
What's your recurring dream?
Walking up 18 at Augusta.
With a good lead. But first I have to get in the Masters.
__ Hometown__ Murrieta, Calif.
__ College __ Oklahoma State University
Career Highlights Won 2005 Western Junior Amateur, '07 and '08 Sunnehanna Amateur. Played on victorious Walker Cup teams in '07 and '09, winning seven of eight matches.
On his iPOD "A little bit of everything, from alternative to country to rock to rap -- Kings of Leon, O.A.R., T.I., Lil Wayne."
Top Three Movies "Dumb and Dumber," "Tin Cup," The Hangover."
Rich Lerner is a commentator and essayist for the Golf Channel, where he has worked since 1997.