OAKMONT, Pa. – As a handful of newspaper reporters, TV types and other inquisitors waited for Rickie Fowler to come down the stairs from the Oakmont Country Club locker room, Rory McIlroy walked past the gathering.
He carried a long, rectangular cardboard box. In the box, perhaps there was a new driver to replace the miscreant that sent his tee shot into a fairway bunker on the ninth hole (his 18th), the beginning of a double bogey that caused him to miss the cut in the U.S. Open by two shots.
We hear the door of history closing against Phil. So does he, and he is annoyed by its squeaking hinges.
When you've grown accustomed to winning big-deal tournaments – McIlroy has won both Opens and the PGA Championship twice – it's no fun to talk about an ugly double that sends you packing. So he walked briskly to the nearest exit, choosing not to relive the calamity that turned dark a round that until then had him one under par.
It was news, McIlroy's double and his running silent, for he is a great player who loves to deal with the press. The more intriguing news, though, came from two other stars who threw their clubs in the trunk and got out of town: Fowler and Phil Mickelson.
Those two, we now can hang 0-for-26 signs on them.
Mickelson, at age 46 already older by a year than any Open winner ever, is now 0-for-26 in the only major that he has not won. We hear the door of history closing against him. So does he, and he is annoyed by its squeaking hinges. He said early this week, "I think about it all the time." Rounds of 74 and 73 left him one shot over the cut line.
Fowler is now 0-for-26 in the four majors. He is there with Dustin Johnson, Lee Westwood and Sergio Garcia on any list of the best players yet to win one of the trophies that carries names such as Nicklaus and Jones, Palmer and Watson. Asked after rounds of 76 and 75 what a major means to him, Fowler said, "That's kind of the main goal."
Diabolical, the way golf drives its players mad. Oakmont's rolling pasture land has neither trees nor water. But its greens are the devil's work. They are tilted this way and that with surfaces that rise and fall, ocean waves under a man's feet.
Then, for its national tournament, the USGA demands that 1) fairways be no wider than a fat man's pants, and 2) the rough be so tall and thick as to hide small animals.
All those elements conspire to tell players they must drop a shot in a safe place on a green, which can be done only by first landing a drive on a safe place in a fairway.
Which explains Fowler's poor week. He hit only 14 of 28 fairways. Bye-bye, Rickie. But wait. Mickelson drove it well, 21 of 28 fairways. He's gone, too.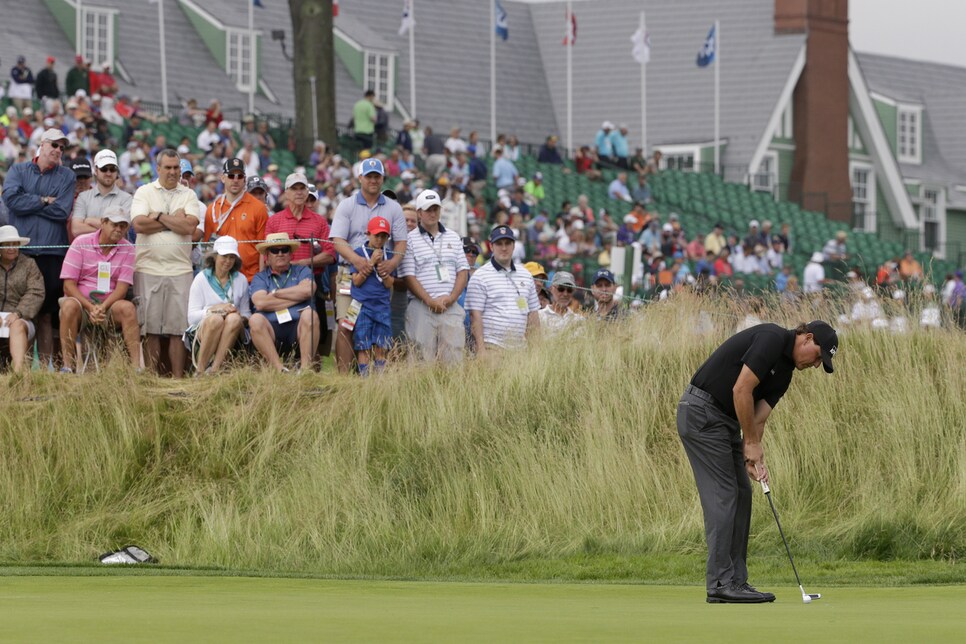 As McIlroy exited stage left — perhaps to a secluded spot along the Allegheny where he would frighten no one with a primal scream — Fowler stood in a shady spot outside the locker room and participated in a journalistic autopsy. His report: bad driving.
"I didn't drive the ball well. I mean, you look at Dustin. He's probably driven it the best, and he's out front. You don't have to putt very well here. You're not necessarily having to make a lot of putts just because of how tough the greens are. But if you drive the ball well, you're able to give yourself more looks than anyone else, and you're bound to make something."
And why did he drive it poorly?
"Mainly just not trusting it."
And here lies the way to madness: "You know, I've been driving it well. I've been driving it well at home, having great sessions on the range. I felt like I drove it well in the practice rounds."
"Yeah, just struggled to get the confidence built up and just go out there and trust it."
Fowler has won six PGA Tour events, including the Players. In 2014, he made a spectacular run in the majors, going T-5, T-2, T-2, T-3. We saw a star rising. But last season, he went T-12, MC, T-30, T-30, followed this year by missed cuts at both the Masters and Open.
For all that, Fowler remained upbeat.
"Maybe I'll go practice this afternoon," he said.
He also has time on his side. He's 27. Mickelson once was one of those guys wearing the best-who-never albatross. He won his first major at 33.