News
Four subplots from Friday at the Evian Championship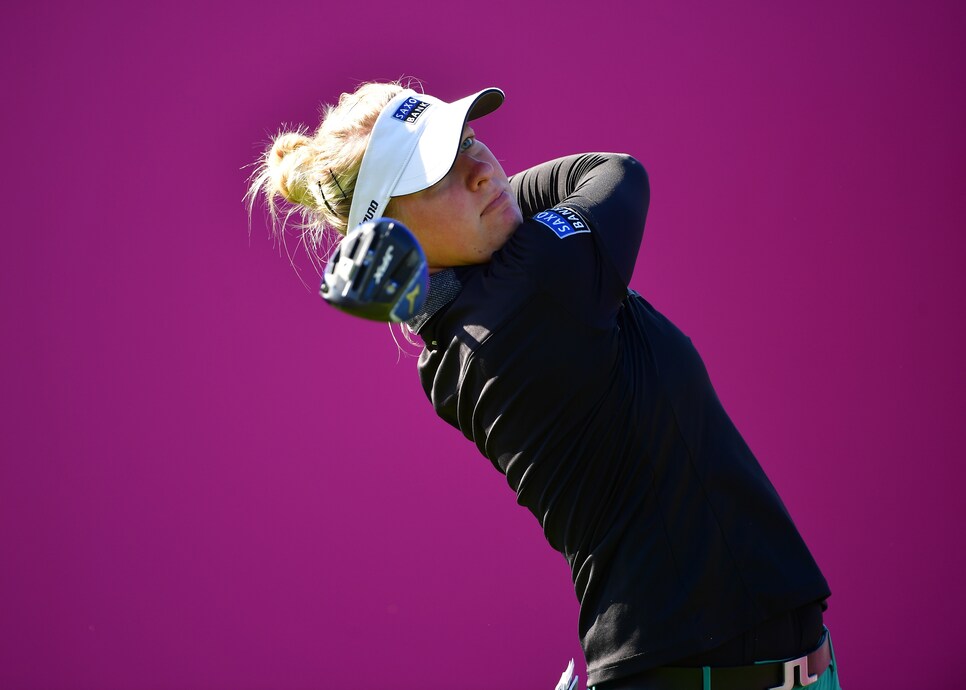 After an unusual restart to the Evian Championship, play resumed—er, began—on Friday. Sung Hyun Park used her first-round mulligan to supplant a six-over start that included a nightmarish 9 on her second hole of the day, with an eight-under finish to take the lead. However, the 23-year-old's turnaround isn't the only storyline to keep an eye on going into the weekend.
Erased first-round lead leaves Jessica Korda "Pumped" and So Yeon Ryu below projected cut line
While the resetting of scores was beneficial for some, the early leaders Thursday felt the opposite effect.
Jessica Korda and So Yeon Ryu shared the lead at two under, playing under difficult soggy and windblown conditions. In the sunny new first round, Korda fell to T-5 while Ryu's four-over score plummeted her to T-86 that included four bogeys and two double bogeys.
Ryu is currently World No. 1 in the Rolex rankings and has two wins under her belt this season. Her first-round 75 is tied for the highest score she's posted this year.
Korda, who's been battling a forearm injury all season that forced her to withdraw from the Women's British Open and Solheim Cup, gained new fans after sarcastically tweeting her "excited" response to the LPGA scraping first round scores.
"It sucked because I was playing so well yesterday, and some people weren't playing so well yesterday that are playing well today, and there's nothing I can do about that," Korda said. "I was annoyed until about 9:00 p.m. last night, and then I was like, all right, screw it; when I wake up, it's a new day. What's done is done."
Korda's frustration after seeing Sung Hyun Park's reversal and Katherine Kirk's comeback from a five-over Thursday start after a nasty run in with a hazard on No. 9 was clear.
"I wish it wasn't scrapped, but welcome to golf," Korda said.
Miyazato's not leaving quietly
You'll want to pay attention to Ai Miyazato this week because it'll be the last time to see her in action. The nine-time LPGA winner announced earlier this year that the Evian Championship would be her final tournament before retiring from the game. The 32-year-old won her first title at Evian Resort Golf Club in 2009, and won the event again in 2011.
Miyazato's first-round 68 landed her tied for eighth going into the weekend. Her highest finish this season came on her last start—a T-5 at the Cambia Portland Classic in August.
"It actually feels good," Miyazato said after the first round. "Right now, nothing to lose, and no fear and just feel joy of my game, and that's definitely helping."
Nordqvist pushes through illness into contention
Anna Nordqvist yet again posted an impressive performance despite battling mononucleosis.
The Swede is tied for third at five under after a round that included six birdies and an eagle on the par-5 15th.
"I feel pretty good this week," Nordqvist said. "I haven't played much the last couple months, so definitely feel like I need some more tournament play, but obviously excited to put up a good number today,"
The illness hit her hardest around the U.S. Open, where she finished T-33. The seven-time winner fought through for a T-7 at the British Open, went 3-0-1 at the Solheim Cup but missed the cut last week at the Indy Women in Tech Championship.
Paula Creamer withdrew from the tournament midway through the round, citing a sprained tendon in her left wrist and calling the pain "excruciating."
Creamer hasn't had a strong season—only one top ten in 18 starts— but this tournament has sentimental value as she was playing with good friend Ai Miyazato in Miyazato's final tournament before retirement.
Miyazato selected Creamer and Yani Tseng as her playing partners.
"I want to play and I want to contend and I want to win," Creamer said. "But then when one of your best friends, it's her last event, it's kind of hard, too…I wanted to be there for her"
Adding to the emotional withdrawal was a teary interaction with a young fan, dressed in pink following Creamer throughout the round, carrying a hand-drawn Pink Panther, Creamer's on-course moniker.