The Loop
Forward Press: Who are these caddies and why are they talking to us?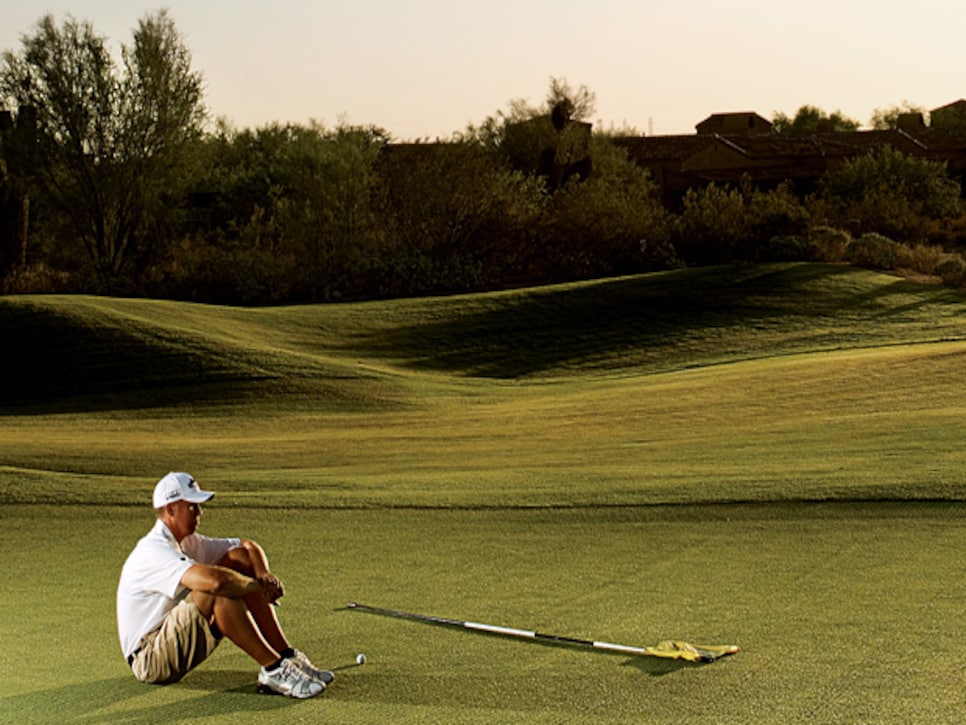 There are two ways of looking at the addition of caddies to this week's RSM Classic broadcast team. Either we viewers are not particularly taken by the LPGA Tour and European Tour's "races" coming to a conclusion and need a diversion, or we are just that eager to hear some new blood talking golf.
The answer probably lies somewhere in between.
No sane person should be studying the Race to Dubai's conclusion with a shred of interest unless you are Danny Willett's accountant. The LPGA on the other hand, has multiple cool storylines worth tracking and a dream battle for various titles between a on-the-cusp Hall of Famer and a once-in-a-lifetime teenager. But first, about those loopers lugging around a microphone instead of a bag.
Move Over Rossy, Here Come Woody And Bones!
Golf announcing will introduce a fresh perspective this week when two of the PGA Tour's most introspective and savvy caddies work parts of the RSM Classic broadcast. While former players are generally the go-to for networks looking to introduce viewers to new voices, the addition of veteran loopers as on-course reporters should give us fun insights into player-caddie thinking and a better sense of those delicate on-course moments.
Jim (Bones) Mackay, the longtime caddie for Phil Mickelson, and John Woods, soon to be picking up Matt Kuchar's bag, have been hired by Golf Channel to work Friday's and Saturday's RSM Classic telecasts from St. Simons Island. (Why not all four days, who knows.)
Both are favorites of media for their insights into the game and as consumers of information outside of the caddie-yard gossip. There will undoubtedly be bumps in the road as they learn a new profession, particularly the tricky task of on-course reporting, where knowing when to talk and not talk is an acquired talent.
The difficulty of the task has not discouraged NBC's longtime golf producer from giving them a shot. "Mackay and Wood are both excellent communicators and have helped guide their players to multiple PGA Tour victories and major championships," said Tommy Roy, NBC's executive producer for golf. "We look forward to them contributing their unique perspective and knowledge to our coverage."
So do we. The RSM coverage starts Thursday at 1 p.m. ET, Bones and Woody work both 1 p.m. telecasts Friday and Saturday.
P.S. For those of you born after 1990 who are wondering who Rossy is, check out the three-minute mark of this 1994 U.S. Senior Open broadcast posted to YouTube. It's a reminder that in ABC's heyday, they did golf better than anyone. And that Bob Rosburg dude sure called it like he saw it.
The Only Race Worth Watching
Thanks to Lydia Ko taking an unplanned week off for rest and Inbee Park healing from a hand issue that allowed her to win last week's Lorena Ochoa Invitational, the LPGA's $2 million CME Group Tour Championship offers a fun showdown between old and new blood.
Old being 27 on the LPGA Tour.
Both Ko (all of 18) and Park are old souls, way ahead of their time and shockingly consistent, making a possible CME showdown great fun. On the line are the LPGA's player-of-the-year award, the Race to the CME Globe (and its $1 million bonus), the Vare Trophy for low scoring average, the money title and maybe the top spot in the Rolex Rankings.
Do note that Golf Channel carries the first three days with their talent. The (hopefully) exciting finale turns up on ABC Sunday at 2 p.m. ET.
Tom Rinaldi will call the play on ABC, joined by Dottie Pepper, Judy Rankin, Andy North and Billy Kratzert and led by longtime coordinating producer for golf, Mike McQuade. The move is part of CME's desire to be on network television and scheduling issues. Insiders say this is not a long-term statement about ABC wanting to jump back into televising golf in large part due to its NBA obligations.
The Race To Dubai As We Hope To Never See It Again
The combination of a long season, Rory McIlroy's kickabout injury and a format needing tweaking has led to this: the end of the Race To Dubai as we've barely noticed it.
The red-hot Danny Willett somehow still trails McIlroy in the points race even though young Rory passed on last week's BMW Masters. That and a few highlights from last week in Shanghai can be seen in the always-entertaining European Tour "Season Pass" hosted by Tom Greaves.
The Race To Dubai airs live on Golf Channel from 3-8 a.m. ET Thursday through Saturday, with a special 2:30 a.m. ET start Sunday. Replays for the non-sleep impaired start each day at 10 a.m. ET, with Sunday's replay commencing at 9:30 a.m. ET.
Down Under's (Golf) Season Is Upon Us
Maybe it's a West Coast thing, but there is something enchanting about watching pro golfers bask in the warmth of Australia as we begin to experience chilly nights. Or maybe it's the cool sandbelt bunkering, sandy roughs and relaxed broadcasts.
Either way the first of Australia's major events kicks off this week with the Australian Masters, this year known as the Uniqlo Masters. Golf Channel coverage starts Wednesday night at 8 p.m. ET, with Thursday-Saturday night coverage kicking off at 10 p.m. ET.
Adam Scott bids for a third one of those hideous burnt-gold jackets at Huntingdale Golf Club. He is joined by many top Aussies like Steven Bowditch, John Senden and the always remarkable 56-year-old Peter Senior.
Huntingdale was host to the inaugural Australian Masters Golf Tournament in 1979 and many times since. Past winners there include Greg Norman (six times!) and Tiger Woods. The club has a photo gallery of past Masters there. This YouTube overview of the club and course should whet your appetite.