The Loop
Forward Press: Wasted in the Hall of Fame and living in Golden Ocala
I was thinking this might be the one where golf stops debating whether the Waste Management Open is good for the PGA Tour. You know, the year where we, as a sport, accept the injection of energy and zaniness without feeling guilty for saving a different tournament.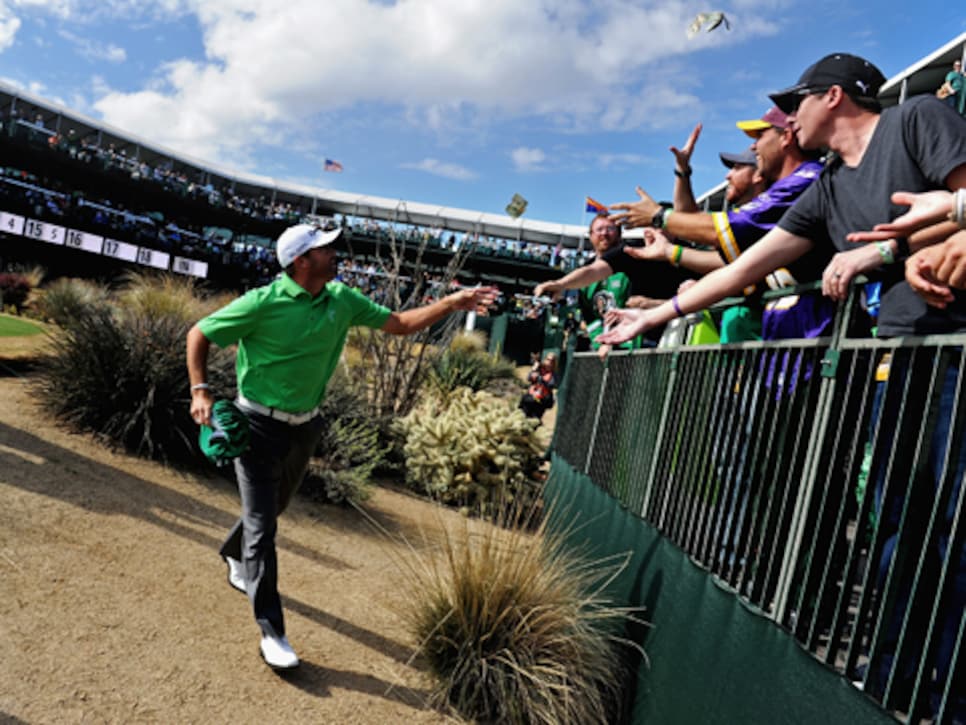 Perhaps the annual gladiatorial 16th hole setting will be made more palatable by the coverage from Golf Channel. The network will be hosting pre and postgame shows along with Golf Central's desk at the 16th hole's mini-arena, perhaps legitimizing the annual tour event in Scottsdale best known for shaking things up.
Actually, why does this need to be legitimized?
If you're a traditionalist and hate it all, the answer is pretty simple: Don't watch.
If you're a player and you don't want to high-five frat boys and hit shots with a steady stream of mindless corporate hospitality banter? Don't enter the Waste Management Open.
Some of the PGA Tour's uber-uptight brass has struggled to embrace the event despite what the "Wasted" does to help golf's image with the younger audience they are (otherwise) eager to attract. Merely debating the merits of golf's loudest annual party gives average sports fans Example A of golf taking itself too seriously.
Either way, it's NBC's job this year to capture the proceedings while CBS handles the Super Bowl in Santa Clara. For Arizona native Tommy Roy, producing the Waste Management every three years is a highlight on the calendar in large part thanks to the 16th hole offering similar dynamics to TPC Sawgrass' island green 17th.
"It's very similar to doing The Players," Roy tells GolfDigest.com, after a Sunday game at Marsh Landing in Ponte Vedra before he heads west. "When producing golf you're always looking for ways to show action when the leaders are just walking or not doing anything. At The Players where we can always go to 17, Phoenix very similar because it doesn't matter whose on that tee. It's just fun."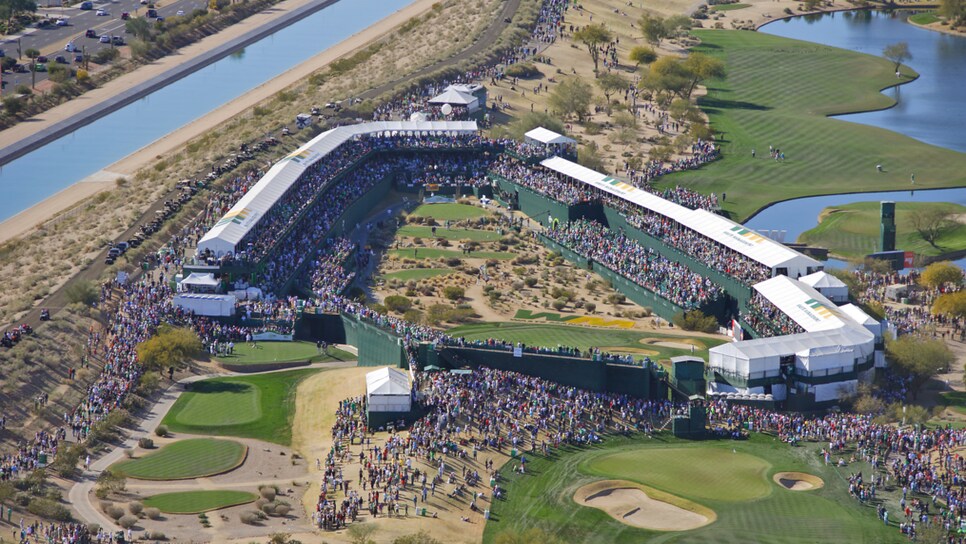 Roy's veteran team has installed a cable-mounted Sky Cam to capture the 16th hole's fan setting along with the "speed cam" that he usually employs to make driveable par-4s more exciting. There is one of the best short par-4s in tournament golf at TPC Scottsdale, not that anyone noticed. If there is one mistake in playing up the "Wasted" Management Open theme, it's that such a dynamic driveable short par-4 gets overlooked by the fan theatrics.
Roy is excited for fans to hear Feherty as lead analyst on Thursday and Friday's telecast, before the beloved Irishman works as a "co-number 1" on course reporter with Roger Maltbie. Depending on the leaderboard, Roy says we may see something never tried before. If the only group that matters is the last one, Roy will deploy both Feherty and Maltbie and they will be encouraged to banter between themselves.
Fingers crossed for a three-man battle!
It's just the kind of tweak to the golf broadcasting model that Roy feels keeps the NBC telecast fresh enough without looking too desperate to mix things up.
"Status quo is never good enough," Roy says. "After every event, I put a note in the file for something I want to do different or better the next year."
Those notes have inspired Roy's team of veteran tech craftsman to come up with many technological upgrades in sound and picture, but he also will keep guarding against turning the screen over to a flood of graphics.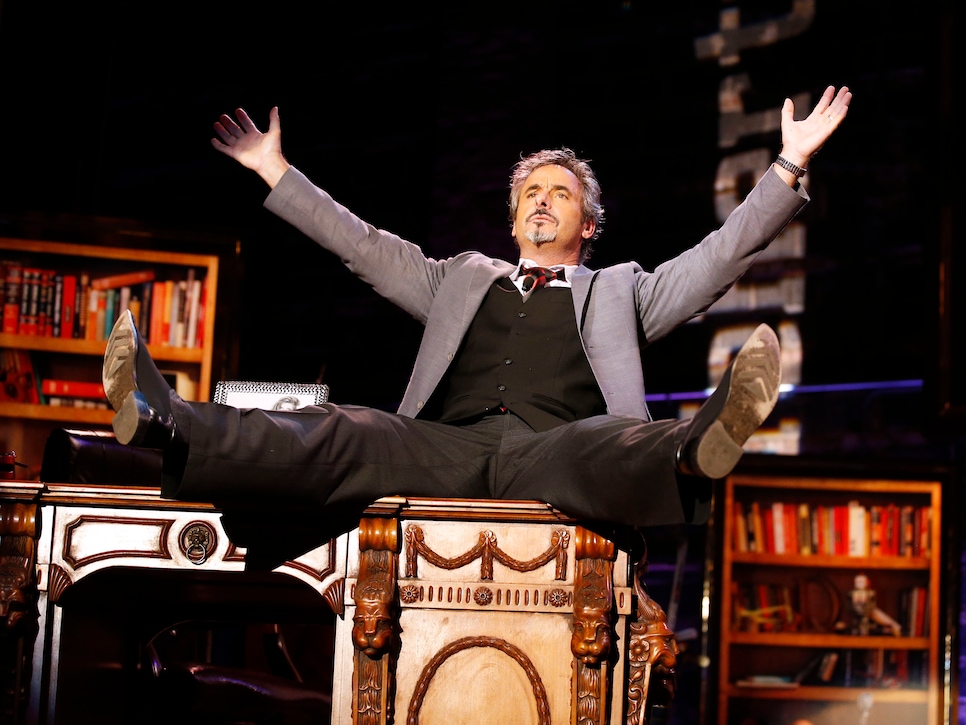 "In this day and age of short attention spans, watching Jim Furyk spend a minute line up putts isn't acceptable. You have to be ready with replays, graphics, stories and that's what has changed the most the last 10 to 15 years. But we also can't go overboard with technology as a driving factor."
For those of us who would like to see more graphics, particularly a running scoreboard or more Shotlink data, Roy says he will continue to limit a move in that direction.
"We just don't want to do that constantly," he says. "The courses are the greatest attribute of our game and scores up there all the time takes away from something that's so important to why people watch golf."
Four hours of Waste Management Open coverage begins on Thursday at 3 pm ET, before continuing Friday in the same window.
The weekend coverage starts at 1 pm ET on Golf Channel each day, with NBC taking over at 3 pm ET.
Caddie races, banned by the PGA Tour, will not be part of the coverage.
In loving memory of the last time NBC televised the Waste Management Open:
Dubai…Living In The Hall Of Fame!
Back to where it all started?
You think I'm referring to a staple of the European Tour, Middle East golf in the winter with star appearances?
Come on. You know what I mean. You've missed it.
So just hit play because your soul needs to hear Will.i.am wailing one more time!
That's right, it's been two years since Rory McIlroy filmed that hilariously overplayed torture device also known as an Omega advertisement.
Mercifully, McIlroy's title defense this week at the Omega Dubai Desert Classic will likely not be matched with more playings of the most overplayed ad in the history of television.
Wait, Omega is this week's sponsor. I make no promises.
What I can promise is a strong field. McIlroy will be joined by Henrik Stenson, Louis Oosthuizen, Danny Willett, Martin Kaymer, Jamie Donaldson, Lee Westwood, Ernie Els, Graeme McDowell, Thomas Pieters, Miguel Angel Jimenez and amateur stud Bryson DeChambeau.
Coverage begins Wednesday night at 11 pm ET on Golf Channel. Then it gets messy: Live coverage the final three days from Dubai commences at 5:30 am ET Friday, 4 am ET Saturday and 3:30 am ET Sunday.
The LPGA Wisely Wants No Part Of The Super Bowl
In last week's Forward Press, LPGA Commish Mike Whan explained why his tour still sticks with Sunday finishes even though common sense suggests final rounds on different days would give the LPGA more visibility.
This week his tour wisely avoids Super Bowl Sunday for the Coates Championship at Golden Ocala, the theme course featuring "replica" holes from famous courses, including the Road hole and Augusta National's 13th.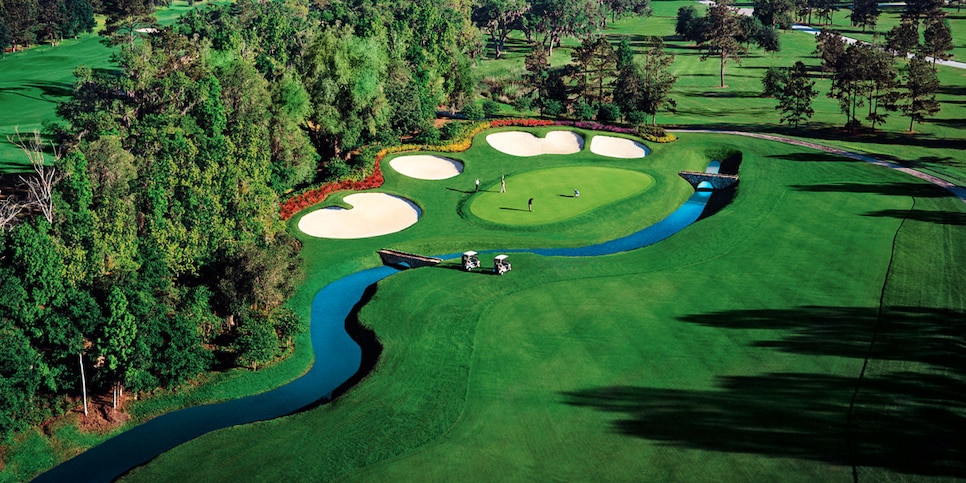 If you know my views on architecture, you know that the worst replica course is still better than nearly every "original" design by so-so architects. As we saw at last year's inaugural Coates won by Na Yeon Choi, the injection of strategy, interest and a little quirk adds to the tournament viewing fun.
Coverage begins Wednesday at 2 pm ET, continues Thursday at 11 am ET, moves to tape Friday at 8 pm ET, then concludes Saturday live at 3 pm ET.
Here's a quick, copyright friendly reminder of last year's inaugural Coates. Hopefully they'll have warmer weather in 2016.