The Loop
Forward Press: Tour Championship TV Times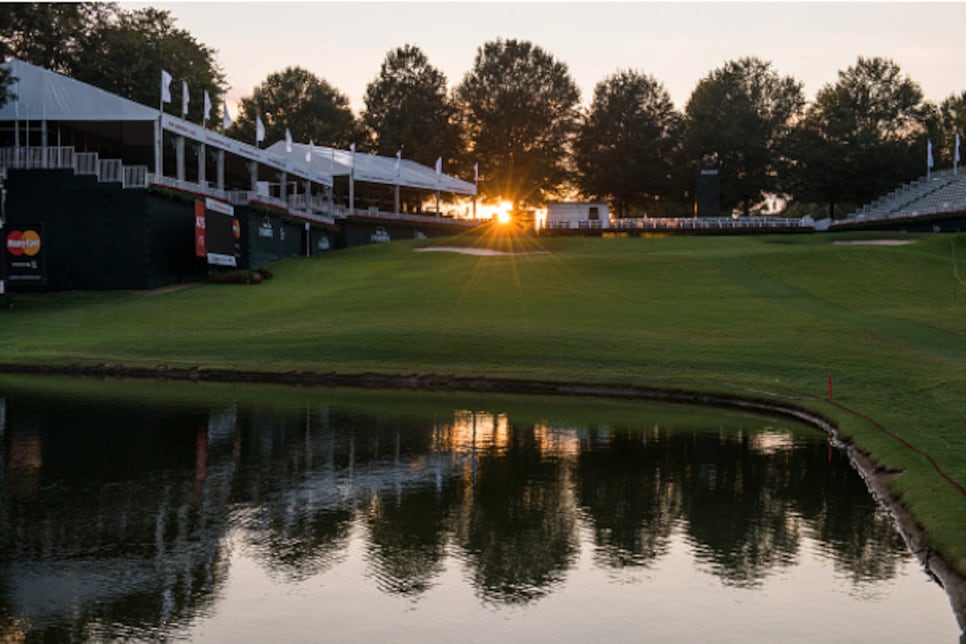 The FedExCup's final stage arrives at East Lake with intriguing possibilities galore. Too bad most of them have little to do with the points race.
The intrigue, in order of importance:
—Will Bubba Watson, Justin Thomas, Daniel Berger or some other masked man play his way onto the Ryder Cup team?
—Will switching the nines at East Lake finally deliver the sense something epically wild and crazy might happen in the Tour Championship?
—Will Dustin Johnson cap off a breakthrough player-of-the-year season that included a major and two more wins?
—Will Emiliano Grillo, Smylie Kaufman or Si Woo Kim emerge as Rookie Of The Year in one of the better freshman seasons in recent memory?
—Will all 18 greens be mown each day?
—The outcome of the FedExCup.
The actual points chase hands out massive amounts of bonus cash and in Year 10, will continue to offer the strangest, most uninspired conclusion to a sports event on earth. Family and friends may worry about the points movement, but with no cut, no fear factor for the slightest miscue and in essence, no pressure, the rest of us merely enjoy a great field with fun non-points storylines.
Sadly, the FedExCup does not have to be this way.
Given the reliance on algorithms and points resets over pure competition, the FedEx Cup will always struggle for credibility with sports fans who hear the word "playoff" only to tune in and see that no one is technically eliminated at the end when we normally expect to be rewarded with a winner and loser.
The options for better formats have been floated ad nauseum over the years, but they all entail saying goodbye to players, at some point prior to the Sunday conclusion. From aggregate stroke play over the entire playoff run to keeping everyone around, only to have some drama-inducing cuts at East Lake, there are ways to make this a more dramatic event.
Shoot, the expectations are so low at this point, anything putting some play-off into these playoffs would make next commissioner Jay Monahan look brilliant.
That this year's edition is overshadowed by Ryder Cup chatter is only partially the fault of tour executives, who agreed to a task force decision leaving one spot available the weekend prior to the matches at Hazeltine.
More directly in tour executives' hands is the wise decision to end the oddity of finishing the season on a par 3. The notion was something that seemed fascinating in concept, but has only panned out decently a few times due in large part to the difficulty and blandness of East Lake's now-ninth hole.
Here's hoping (and expecting) that the nine reversal featuring a devilish island-green par-3, and a reachable par 5 in the finishing mix will radically change the sensibilities of Tour Championship Sunday. If not, we always have some other fun storylines to follow.
Here's a flyover shot this week of the new finishing hole:
TV Times For the TOUR Championship
Thursday 1-6 p.m. (Live) / 7 p.m.-Midnight (Replay)
Friday 1-6 p.m. (Live) / 9:30 p.m.-2 a.m. (Replay)
Saturday 10 a.m.-Noon (Live) / 10 p.m.-2 a.m. (Replay)
Sunday Noon-1:30 p.m. (Live) / 10 p.m.-2 a.m. (Replay)
Saturday Noon-3:30 p.m. (Live)
Sunday 1:30-6 p.m. (Live)