The Loop
Forward Press: The scheduling oddity of the BMW Championship and the remainder of the golf season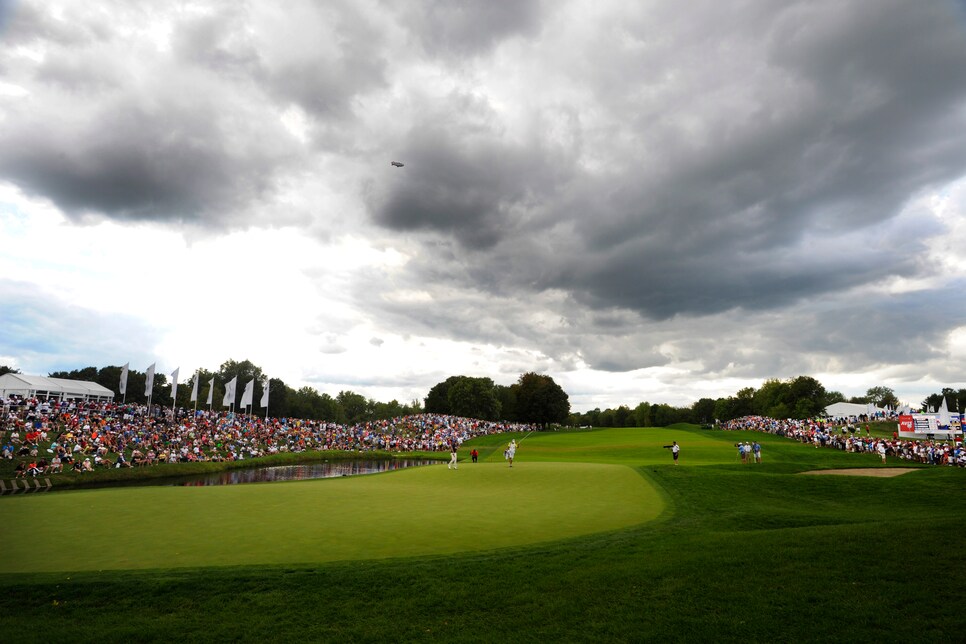 The BMW Championship brings with it a tradition unlike any other. And one we thought they said goodbye to.
No, no, not the first Golf Channel post-Labor Day airing of Tin Cup (Wednesday at 11 p.m. EST if you need to re-confirm Craig Stadler is not a method actor).
Of course, I refer to the BMW arriving after just two days off after the Deutsche Bank Championship. And to think, it might have been only one day if not for the weather Gods cooperating on Labor Day.
This oddity of almost non-stop PGA Tour golf, seemingly eliminated, is back so that players would have a few days off prior to the Tour Championship and Ryder Cup two week extravaganza. This completely awful move is a product of the PGA Tour and PGA of America's new partnership. Yippee!
The problem is, if you know anything about sports and the mood of the American viewing public right now, a phrase baring a resemblance to "anything-but-golf" might be their motto this weekend. Because this is the weekend when the NFL launches and U.S. Open tennis ends, better known as an ideal time for the PGA Tour to sit out the proceedings. Instead we have the BMW and all of the Ryder Cup…wait…Playoff pressure that comes with it.
Next Monday following the BMW, U.S. captain Davis Love will make three of his four captains picks, reserving the last for after the Tour Championship just in case someone gets hot. This last minute structure will keep some tailor and a golf bag-stitch-worker working overtime, and should give the USA squad no excuses in picking the best possible team.
Though the Ryder Cup pursuit has overshadowed the playoffs to date, the quality of the 2016 venues keeps the interest of those not drawn in by the heart-stopping thrills each time an algorithm tell us if someone is no longer on the elimination bubble. (Don't you love those on Thursday afternoons?)
Pete Dye's Crooked Stick has proven itself as a place where wild and weird things happen. Last week's winner, Rory McIlroy, captured the BMW here in 2012 and no one can ever think of Crooked Stick without contemplating John Daly's mullet, mustache and love for Diet Coke.
Highlights from that epic 1991 PGA Championship:
And here is a nice 50th Anniversary video on Crooked Stick hosted by Brian Hammons. That's right, a Pete Dye design turned 50 two years ago!
Telecast Times For The BMW Championship (all times ET):
PGA Tour Live: 10 a.m. to 7 p.m.
Golf Channel: 3-7 p.m. ET
PGA Tour Live: 10 a.m. to 7 p.m.
Golf Channel: 3-7 p.m. ET
PGA Tour Live: 10 a.m. to 7 p.m.
Golf Channel: 3:30 p.m.-6 p.m.
PGA Tour Live: 10 a.m. to 7 p.m.
The European Tour Is Throwing Every Day Golfers Into The Fire!
The tour says goodbye to H.S. Colt's classy old Kennemer Golf and Country Club and turns to the Colin Montgomerie-designed "The Dutch," which opened in 2011. Check out this glorious video where Monty confirms while driving up to the course he designed, "yeah this is good." The mounding, eh, not so much
The KLM Open will see budding start Thomas Pieters defending his first European Tour title, and he'll have to do it battling…amateurs?
The event is unveiling a "Beat the Pro" competition, where one amateur will tee up with each group Thursday and Saturday in a 14th hole closest to the pin contest with the pros.
Sponsors KLM and ING Private Banking came up with the concept, and are investing in it with an amphitheater-grandstand setup around the green to make the 14th hole a centerpiece.
Golf Channel air times for the KLM Open in Spijk, Netherands (all times ET)
Thursday: 5:30-7:30, 9:30 a.m.-12:30 p.m.
Friday: 5:30-7:30, 9:30 a.m.-12:30 p.m.
Sunday: 6:30 a.m.-11 a.m.
Talk! Emmitt Smith on Feherty, Chris Harrison on Callaway Live
The NFL's all-time leading rusher, Emmitt Smith, joins David Feherty this week, with the debut airing at 10 p.m. Tuesday and subsequent repeats to follow.
Bachelor and Who Wants To Be A Millionaire host Chris Harrison joins host Harry Arnett for Tuesday's Callaway Live, 9 pm ET (and replaying at Callaway Live's YouTube page).