The Loop
Forward Press: The King, the Founders, the Hero and more talk
A busy week sees all five major tours in action, but all eyes will be on The King.
Only, we won't see as much of golf's most royal figure as we used to. But a less visible King shouldn't diminish the Arnold Palmer Invitational.
At 86, Palmer isn't expected to be as visible at his home tournament except for some cart drives around the property and a private media session instead of his usual live, televised press conference.
While he has long embraced the spotlight and has become even more popular in retirement than in his prime, The King has put more than enough time in selling the sport he loves. Besides, the focus should be on a premier PGA Tour event just weeks before the Masters where his Bay Hill is reportedly in great shape and where the non-millennials, non-Big Three/Four/Five will be looking to keep their win streak alive!
Golf Channel is all-in with their hometown Orlando tour stop that has hosted the PGA Tour since 1979. Morning Drive, The Golf Fix and Golf Central live on-site, the full NBC broadcast team present and repeats of the Arnie documentary (Tuesday 2-6 pm ET, Wednesday 1-5 pm, 8-midnight ET) helping to keep the Tin Cup tapes well-rested for a fall run.
Adam Scott headlines the field and seeks his third straight win. Matt Every, barely a millennial, is the two-time defending champion.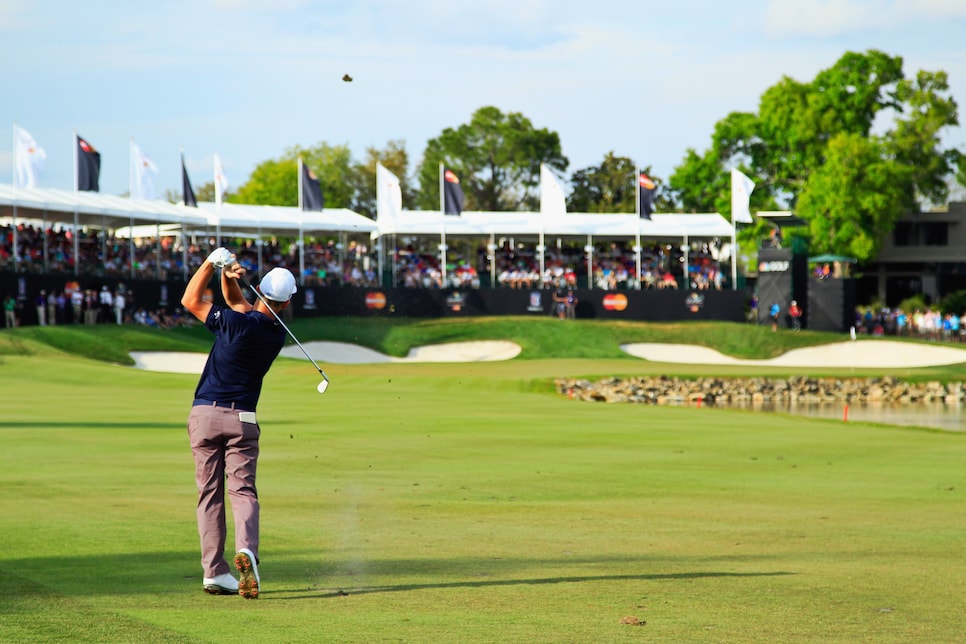 Arnold Palmer Invitational presented by MasterCard Air Times (all times Eastern):
Wednesday (Pro-Am Show) 5-6 p.m. Golf Channel
Thursday- Friday 2-6 p.m. Golf Channel
Saturday-Sunday 12:30-2:30 p.m. Golf Channel
Saturday-Sunday 2:30-6 p.m. NBC
PGA TOUR LIVE: Thursday-Friday, 7:30 a.m.-3 p.m. ET (featured groups), 3-6 p.m. (featured holes). Saturday-Sunday, 10 a.m.-6 p.m. (featured holes).
RADIO: Thursday-Friday, noon-6 p.m. Saturday-Sunday, 1-6 p.m. (PGA TOUR Radio on SiriusXM and PGATOUR.COM).
Last year's highlights where Every edges Henrik Stenson:
Attention Andre Igoudala of the Golden State Warriors: The LPGA Tour returns to the U.S. this week with the JTBC Founders Cup!
Out with a sprained ankle for a couple of weeks, the golf-addicted Warrior revealed last week to Lydia Ko that he is a big LPGA Tour fan when not propelling the Warriors to new heights.
Ko's visit to the Warriors practice and game to meet Steph Curry, coach Steve Kerr and Iguodala was well documented…
The Founders returns to the 6,538-yard Wildfire Golf Club at JW Marriott Phoenix Desert Ridge Resort & Spa
In 2015, 19-year-old Hyo Joo Kim outplayed Stacy Lewis to win by three strokes for her second LPGA Tour win.
You may recall the Founders debuted in 2011 with no purse, just a huge donation to charity in a bid to jumpstart a new event. The tournament pays tribute to the LPGA Tour founders and is now a traditional four-day event with a $1.5 million purse.
Champions Are Reunited With The Conquistadores
With the WGC Match Play gone from Tucson, Arizona's other major city gets a consolation prize: The inaugural Conquistadores Classic at the Omni Tucson National resort's Robert Van Hagge and Bruce Devlin design.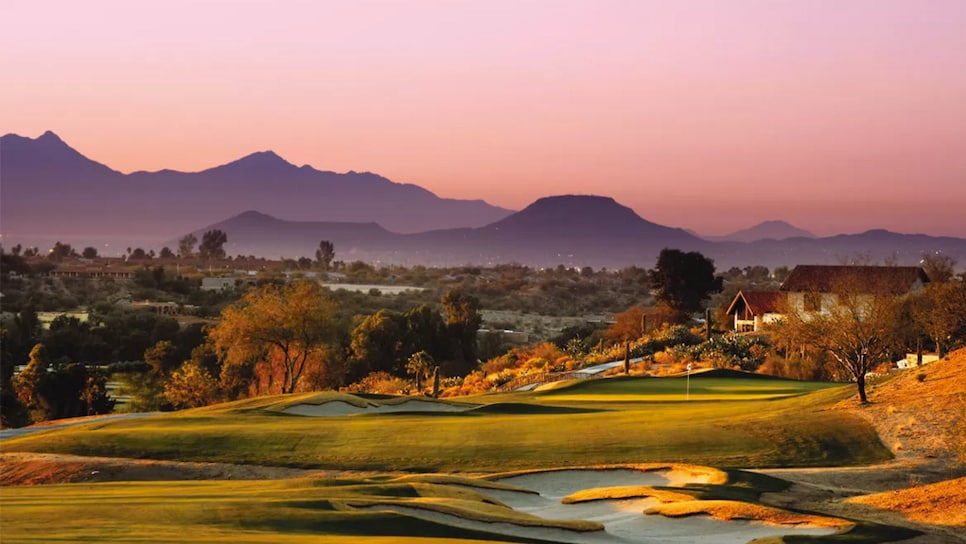 The usual suspects are there to re-inaugurate a city to pro golf after a one-year hiatus after coming to the area since 1945. When it was the Senior Tour, Gene Littler, Harold Henning and Don January were victors in events at Tucson National (1984-86).
As a PGA Tour host, Kirk Triplett was the last to claim the Conquistadore helmet in 2006's Chrysler Classic of Tucson before the switch to match play.
Current Champions Tour professionals who won in Tucson include Jim Carter (2000), Jeff Sluman (1997), Andrew Magee (1994), Larry Mize (1993), David Frost (1988), Mike Reid (1987), Jim Thorpe (1986, 1985), Tom Watson (1984, 1978), Gil Morgan (1983) and Craig Stadler (1982).
When Tiger Woods signed with Hero there were thoughts he might turn up at this event, but with Woods on the sideline the Hero Indian Open is headlined by defending champion Anirban Lahiri, Tommy Fleetwood, Marcus Fraser, Joost Luiten, Marc Warren and George Coetzee. After that, it's Padraig Harrington and no one inside the world top 100.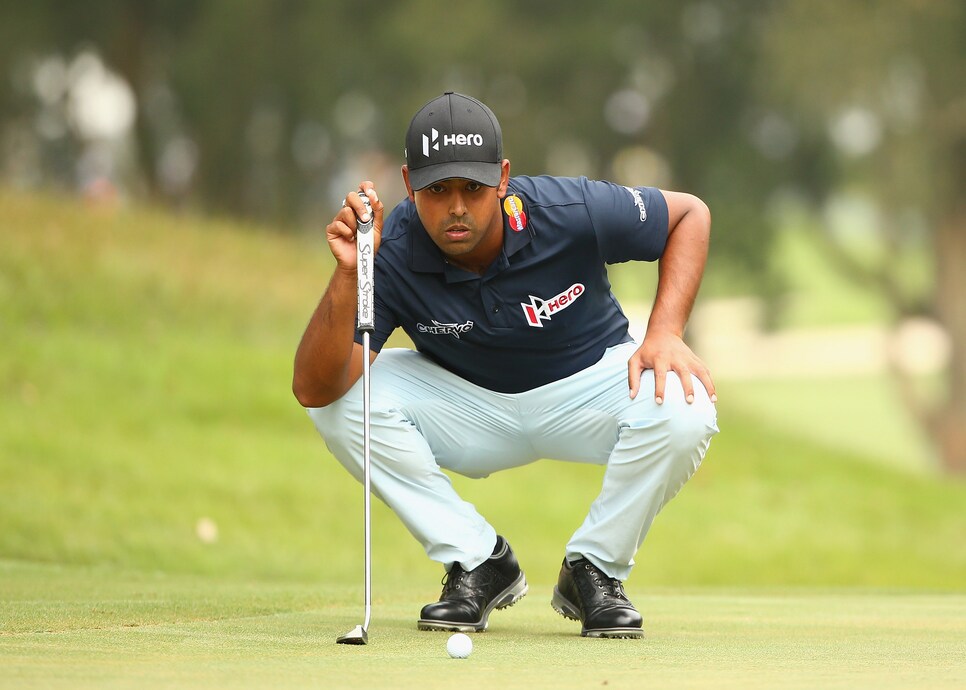 Golf Channel telecast times, if you insist:
Feherty Part 2, Callaway Live With Jimmy Dunne
After what Golf Channel has billed as the highest rated Feherty episode ever (an average of 320,000 watched the first airing plus nice numbers for the repeats), Jordan Spieth returns for part 2 of his chat at 9 pm ET Monday.
A preview of Spieth discussing Jason Day's dominating performance at Whistling Straits.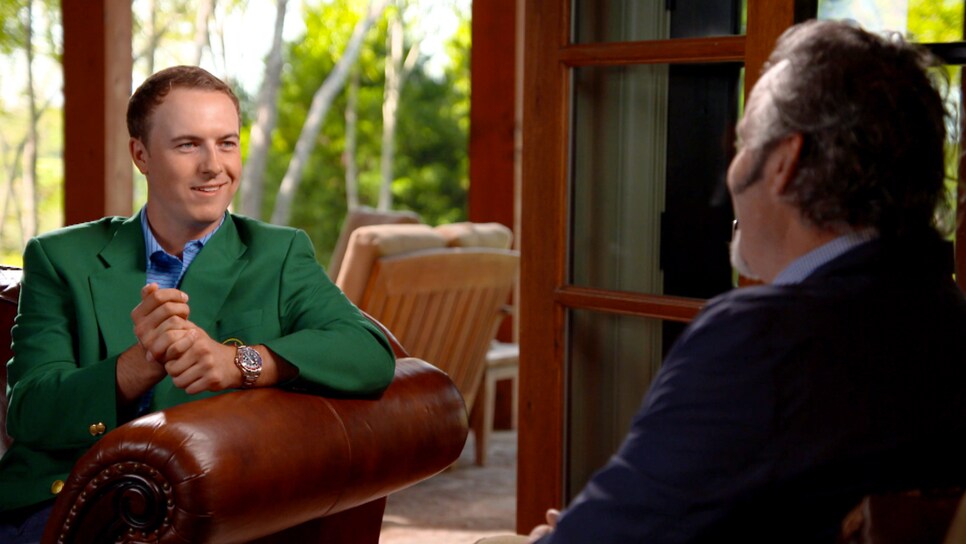 On Tuesday at 9 pm ET, Callaway Live features Jimmy Dunne. And no, not the songwriter who Hollywood turns to for catchy themes. This is the Jimmy Dunne who is a Senior Managing Principal of Sandler O'Neill + Partners, L.P., and heads the firm's Executive Committee.
He's not nearly as serious as he sounds! Except about his golf.
The investment banker is a member at Augusta National and is well known for his passionate views on the game. Sadly, he's best known for having lost 66 of 171 partners and employees under his watch on September 11, 2001 while Mr. Dunne was not in the office, playing in a U.S. Mid-Amateur qualifier in Bedford, New York.
Tim Rosaforte profiled Dunne in Golf World. You can view the show here. A.J. Voepel with the teaser: