The Loop
Forward Press: The digital revolution arrives as Riviera's 10th goes live, finally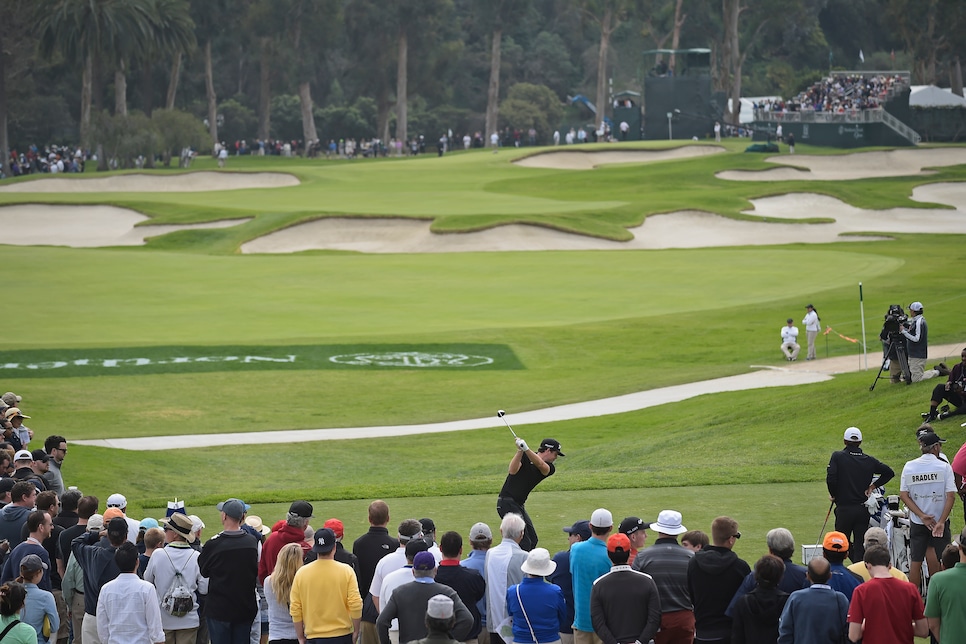 Apparently some business is best conducted in private.
Like Supreme Court hearings. Or, the antics at Riviera's short par-4 10th. At least the latter will now be televised.
After years of golf fans hearing rumblings about how fascinating Riviera's 315-yard 10th plays during the Northern Trust Open, they can finally watch it all from the comfort of their home or office. The PGA Tour's LIVE app, which debuted last year, will be streaming all of the antics via its app and a new Yahoo partnership.
Year in and year out there is no more fascinating hole on the PGA Tour to consider the different strategic approaches, and annually it has been ignored by various featured group type platforms for a variety of reasons. In partnering with Major League Baseball's widely revered digital development arm (MLB Advanced Media), the PGA Tour is accomplishing a couple of goals.
Most obvious: the Tour is bringing fans bonus coverage before Golf Channel, NBC or CBS sign on, which will come in handy when a marquee group is out early or a course record is under siege. Weeks when there is a fun hole to watch, the featured hole coverage might be more fun to watch than the actual telecast.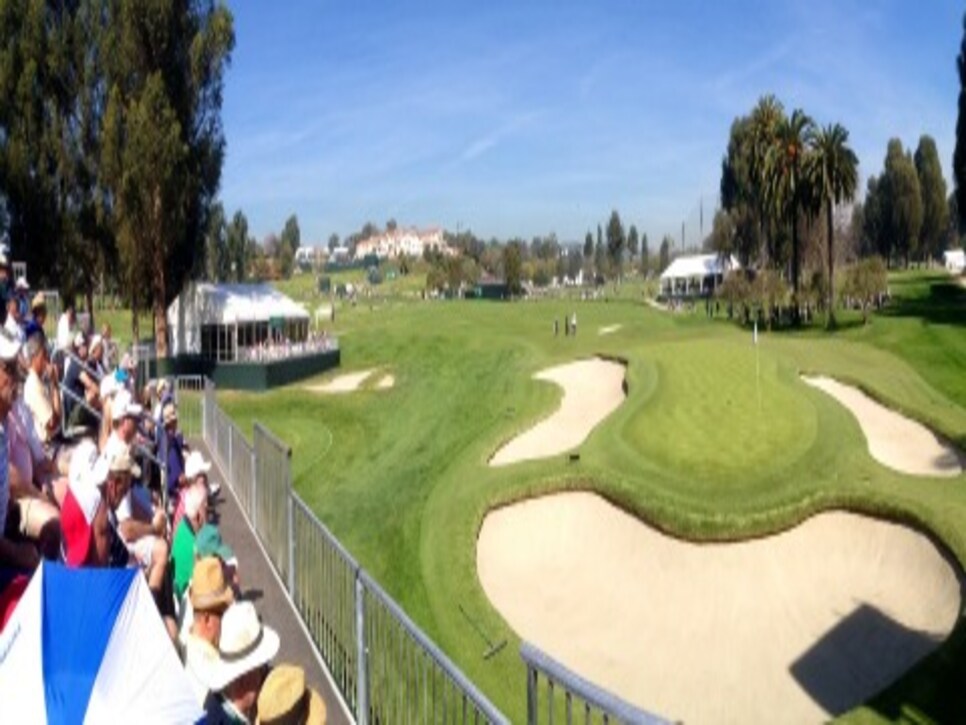 The other play here is more fun for those who love the business of golf. The Tour is throwing out some serious leverage bait to show their network partners that they can be their own best television partner. Aligning with MLB Advanced Media ensures the product will work, as baseball fans can attest. Whether they take the next step when television contracts expire is another story.
We've seen this power play in every sport, and while so far leagues have ended up preferring take someone else's money instead of trying to produce all telecasts themselves, PGA Tour LIVE is more fascinating behind-the-scenes play as much as it is a fan experience move.
In a nutshell, the 10th at Riviera strips players down to their core and puts them in their place. It dangles a reward of easy birdie for the perfect play, and a nice par with a smart lay up. But the slightest miscue or boneheaded choice off the tee can lead to the fastest double bogey on the PGA Tour.
With recent warm weather sand some maintenance ploys to keep the hole relevant in modern times—lowering and rolling fringes, greens rolling 12 on the Stimpmeter—the tenth has bordered on silly in recent years. The PGA Tour rules staff always has the best interests of all in mind so the antics should remain sane, but if you're watching the LIVE coverage, don't be surprised if things push the boundaries of sensible. Which will only make the Featured Hole coverage that much more fun to watch.
Scott Piercy's antics from 2015 will give you a quick idea of what to expect:
Airtimes for the Northern Trust Open, where Jordan Spieth and Rory McIlroy headline and James Hahn defends:
Thursday: Featured Groups from 10 am to 5 pm ET, Featured Holes 5 pm to 8 pm ET Friday: Featured Groups from 10 am to 5 pm ET, Featured Holes 5 pm to 8 pm ET
Thur and Fri - 5-8 pm ET, Sat and Sun - 1-2:30 pm ET
Saturday and Sunday: the end of college basketball around 3 pm ET to conclusion of play around 6 pm ET.
The Maybank Championship Malaysia offers a chance to see the best player in the world right now that no few are talking about: Danny Willett.
Don't hold his leg tan against him.
ISPS Handa Women's Australian Open
Longing for some cool weather viewing late at night? The ISPS Handa Women's Australian Open should feature no shortage of Lydia Ko, who defends her title at The Grange's West Course, a Mike Clayton a design. Clayton has since joined forces with 2006 U.S. Open Champion Geoff Ogilvy.
Airtimes on Golf Channel:
Wednesday 10 pm - 2 am ET
Thurday and Friday - 11:30 pm - 2 am ET