The Loop
Forward Press: Spieth in the spotlight and an apology to readers
There is no other way to say this. The error of my ways has been a burden since last week's edition was posted. You see, the Forward Press aims to prepare you for the week ahead in golf. And I failed you. Miserably.
Turns out, "Tin Cup" aired twice on Golf Channel.
Many of you have come to rely on this space for the near-weekly air times of the closest thing golf has to Casablanca-meeting-a-Cheech-and-Chong film. Thankfully, the Forward Press oversight didn't stop a combined 186,000 average audience members from watching those two airings, reinforcing why Golf Channel racks up the tape and wheels out Ron Shelton's 1996 film on a near weekly basis.
There is a silver lining in this unfortunate turn of events.
"Tin Cup" airs again at 8 p.m. and 10:30 p.m. ET Tuesday, plus four more airings through Sunday!
So just in case you were unclear if Roy McAvoy goes for that green in two or whether the third assistant producer is listed ahead of the lead gaffer in Tin Cup's closing credits, the opportunity exists this week for further study. And should you miss "Tin Cup" this Thanksgiving week due to silly stuff like family time, my gut says December will offer more opportunities to watch Jim Nantz's best performance in a feature film released in the summer of 1996.
It's All About Jordan Spieth This Week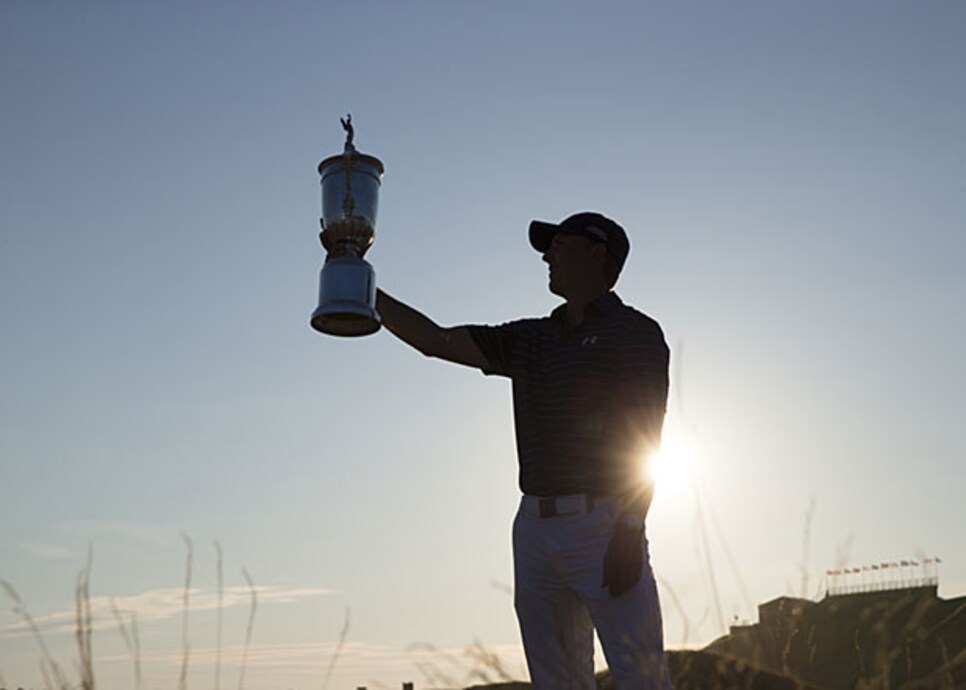 The holiday means the golf world turns its focus away from the major tours and to Australia and Fox. That's because Jordan Spieth defends his Australian Open title and Fox airs a documentary on the 22-year-old player of the year.
Last year's Australian Open saw Spieth holding off several prominent contenders to win, setting the wheels in motion for an historic 2015 season. The 2014 Emirates Australian Open final round re-airs on Golf Channel Wednesday at 1 p.m. ET, with the live coverage from Sydney's Jack Nicklaus-remodeled The Australian Golf Club beginning Wednesday night at 8 p.m. ET. All rounds start at 8 p.m. ET, including Saturday night's finale. Multiple replays are scheduled.
The highlights from 2014's thriller:
During last year's telecast, golf architect Mike Clayton analyzed The Australian's par 3s, par 4s and par 5s.
The prime slotting for a golf documentary happens thanks to last year's successful airing of a Jack Nicklaus documentary on Fox while giving the USGA a chance to build on the buzz surrounding Spieth.
"We just thought the U.S. Open was so compelling, with so much drama that it would be a great time between the football games," said USGA museum director Mike Trostel, who worked on the film with Fox. "There were so many twists that telling the story in a very current, relevant way seemed a logical step. From Dustin Johnson's late run to Jordan to Branden Grace's ball going out of bounds at 16, and with a [Rory] McIlroy charge in there, it was a special week."
Trostel says Fox and the USGA worked to make this more than just a highlights film, with a Hard Knocks-like approach "peeling layers back" to tell the story of Chambers Bay and the many protagonists involved in the drama. Fox's Mark Loomis and Melissa Forman helmed the project with SI's Michael Bamberger penning the script. "Mad Men" star Jon Hamm narrates the 43-minute film, which will also see a director's cut released in a 60-minute addition.
Besides unseen footage and new imagery captured by cameras not working as part of the live broadcast, Fox adds multiple interviews. Though curiously, Spieth was not able to find time to sit down for an interview due to a busy fall schedule.
While the film seeks to encapsulate the lively week outside Seattle, Trostel says the USGA did not use the film to sum up what turned out to be an historic and maybe underappreciated year for the winner at Chambers Bay.
"It's certainly is in the top five of modern times," Trostel says of Spieth's 1-1-4-2 season in the majors, which will sit alongside historic years from Ben Hogan, Tiger Woods and Jack Nicklaus. "As much exposure as Jordan got this year, I do feel his year was a little under-appreciated."
Thanks to "Spieth's Northwest Conquest," sports fans will get a very prominent Thanksgiving day reminder that they just witnessed one of the best years in major championship history.
Here is a trailer for the film:
Senior's Australian Masters
In case you missed it—and thanks to a stellar college football lineup along with middle-of-the-night finish, you probably did—Golf Channel will re-air Peter Senior's Australian Masters win.
Not only is it incredible to see a 56-year-old beat out stars like Adam Scott and John Senden, but the event may be seen as U.S. Amateur champion Bryson DeChambeau's international smash debut. With a second-place finish, the amateur brings his game to this week's Australian Open.
The last minute re-air, added to the schedule due to the incredible result, airs Tuesday at 2 p.m. ET.