The Loop
Forward Press: PGA West Stadium will show us how golf has changed
The last time the PGA Tour played one of its annual stops at PGA West's Stadium Course, Ronald Reagan was President and Corey Pavin was coasting to a stunning victory. Oh, and Tip O'Neill, Speaker of the House, could not get out of the 16th hole's bunker on national television.
Pete Dye's west coast version of his TPC Sawgrass masterwork was not well received. The combination of the wild contours, excessive length, gorse-like shrubbery to catch wayward shots and bunkers as deep as 20 feet could not be handled by the Bob Hope Classic's amateurs.
Fast forward 29 years and the clubs are made out of space-age material, Paul Ryan is speaker, we've had four presidents (included two from the Bush family) and Pavin was last seen serving as a Fox Sports on-course reporter.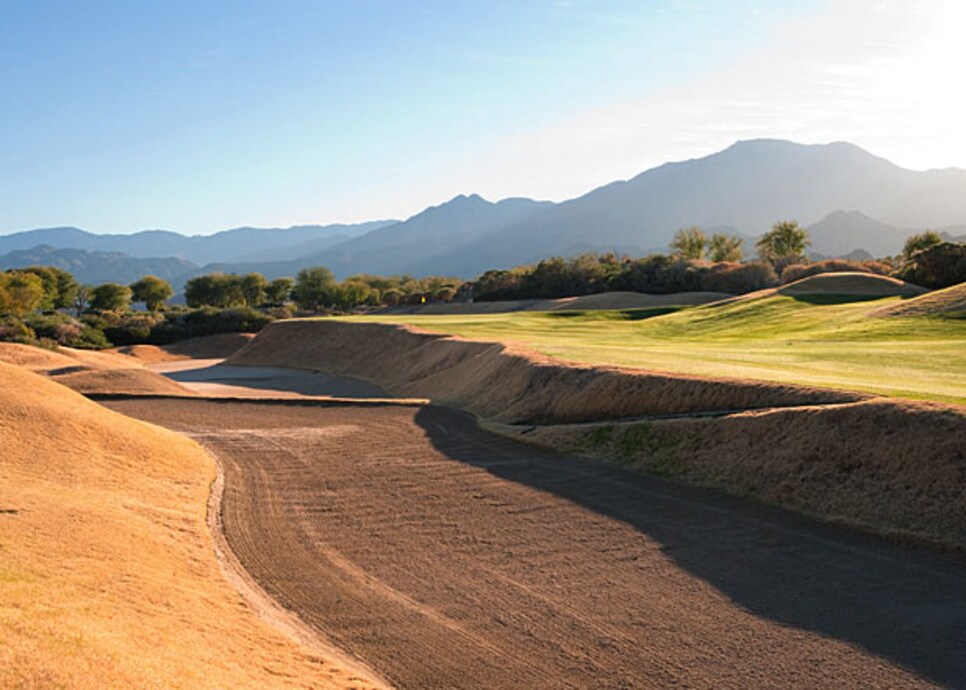 As for PGA West's Stadium course, taking over hosting duties from the Arnold Palmer Private for this week's—gulp—CareerBuilder Challenge Presented By The Clinton Foundation? Expect players to light it up. Even the amateurs, down to one per pro instead of three, should be able to get around fine.
While most of the golf world will seize on the Spieth-McIlroy showdown in Abu Dhabi, hardcore fans should enjoy seeing how PGA West Stadium holds up to the modern game. After all it was so hard the tour said no mas, and now they are back. And if the PGA Tour's advance man on site is to be believed, Pete Dye's once-feared, world famous design should be a vulnerable.
"I think our guys will find the Stadium very playable," says Steve Rintoul. "The conditioning is so good. They had a phenomenal overseed. The weather should be perfect. It'll be a birdiefest week."
That is very much fine with the PGA Tour, which is eager to return the old Hope Classic to a—forgive me—career-building week where the CareerBuilder Challenge becomes known as an ideal place to shake off the cobwebs and build some confidence while putting on a good show for the fans.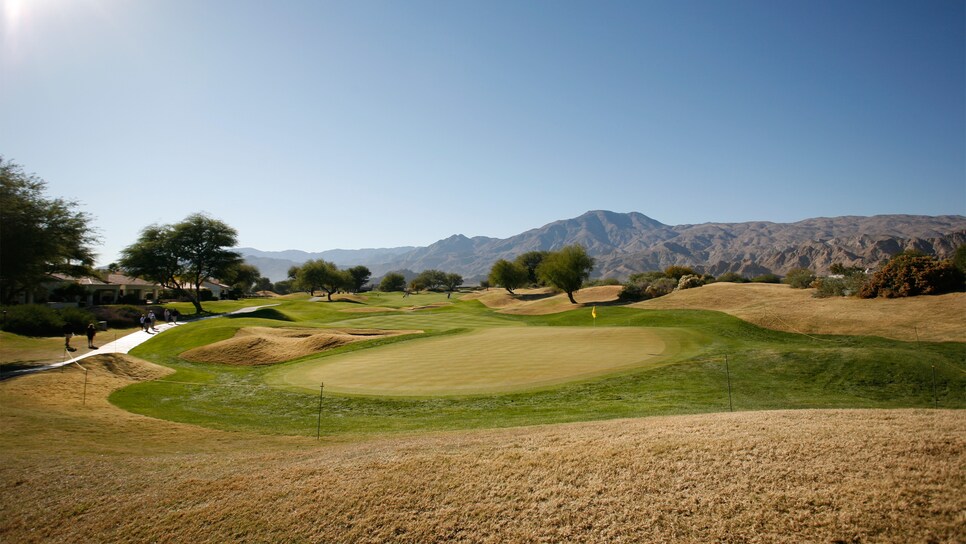 Rintoul was initially unsure how the move to the Stadium and Jack Nicklaus Resort Course would play out, but says the addition of the two "public" venues along with longtime host La Quinta Country Club will work just fine, even better for a tournament built around a leisurely week. To ensure the courses all play by the same yardage, the silly 255-yard tee at PGA West Stadium's sixth won't be used and a tee at the frightening par-5 16th will be employed to encourage players to take a crack at the green in two.
However, as with the 17th at TPC Sawgrass, it's the island green Dye buttressed with Santa Rosa Mountain rocks that will get most of the attention. Some of the players will be used to it from having played in past PGA Tour Q schools, but Dye's west-coast version plays longer to a smaller green. That didn't stop Lee Trevino from pulling off one of golf's most famous aces in the 1987. Rintoul hopes the Sunday setup will play to that yardage with an identical hole location. The chances of players using a 6-iron as the Merry Mex did? Zero! But count it as one more reason to check out the CareerBuilder Challenge to see just how much the game has changed.
Here is Trevino's ace—with Vin Scully on the call—just in case you miss the many times Golf Channel shows it.
Meanwhile, for the first CareerBuilder Challenge in the post Humana, post Hope era, NBC's A-team is headed to La Quinta. That means producer Tommy Roy and his lead announce team of Dan Hicks and Johnny Miller, with Gary Koch in the tower and Roger Maltbie joined by Notah Begay and Jerry Foltz on the course. Steve Sands and Curt Byrum will handle weekday coverage. Golf Channel airs the tournament Thursday-Sunday from 3-7 p.m. ET live each day.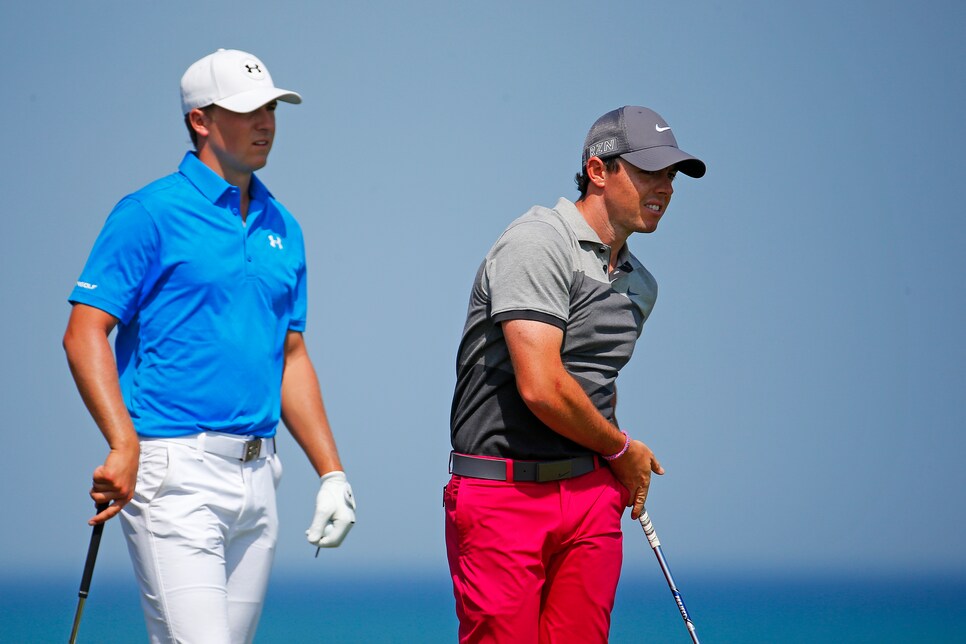 Expect many efforts to start building a rivalry, but all we really need to know is when to watch World No. 1 Jordan Spieth show up to pay off his big house down payment and face off against a refreshed, buffed up and noticeably tighter-swinging Rory McIlroy.
Either way it's too early to be talking tension, rivalry, pressure or anything else suggesting this is a war. Just enjoy an early-season spectacle and know that while they are collecting huge appearance fees, at least you won't have to twirl a golf club around like the biggest fee-earners annually do at this event.
Here are Phil Mickelson and Rory McIlroy last year in one of the more spectacularly awkward clips you'll see:
McIlroy, who makes a first, second or third home in Dubai depending on priorities and tax implications, has been preparing for his first start of 2016. He's even showing what appears to be a refined swing on Instagram.
Joining the field is Rickie Fowler, who made the trip to Abu Dhabi in style.
‪As for the Abu Dhabi Golf Club? It's no Pine Valley—or even PGA West—but the Peter Harradine course design does have a cool clubhouse and has produced its share of drama. You can get a good enough look in this 2014 flyover:
The Golf Channel airtimes (all Eastern) are a bit confusing due to the time difference, so here goes:
Round 1 (morning wave) Wednesday at 10:30 p.m. to Thursday at 3:30 a.m. (Spieth, McIlroy and Fowler tee off at 10:40 p.m.)
Round 1 (afternoon wave) Thursday 6-8 a.m. (10 a.m.-2 p.m. Thursday replay)
Round 2 Friday, 2-8 a.m. (10 a.m.-2 p.m. replay)
Round 3 Saturday at 4-8 a.m. (10 a.m.-2 p.m. replay)
Round 4 Sunday at 3:30 to 8 a.m. (10 a.m.-2 p.m. replay)