The Loop
Forward Press: "Confidential Guide" Is The Book To Buy This Week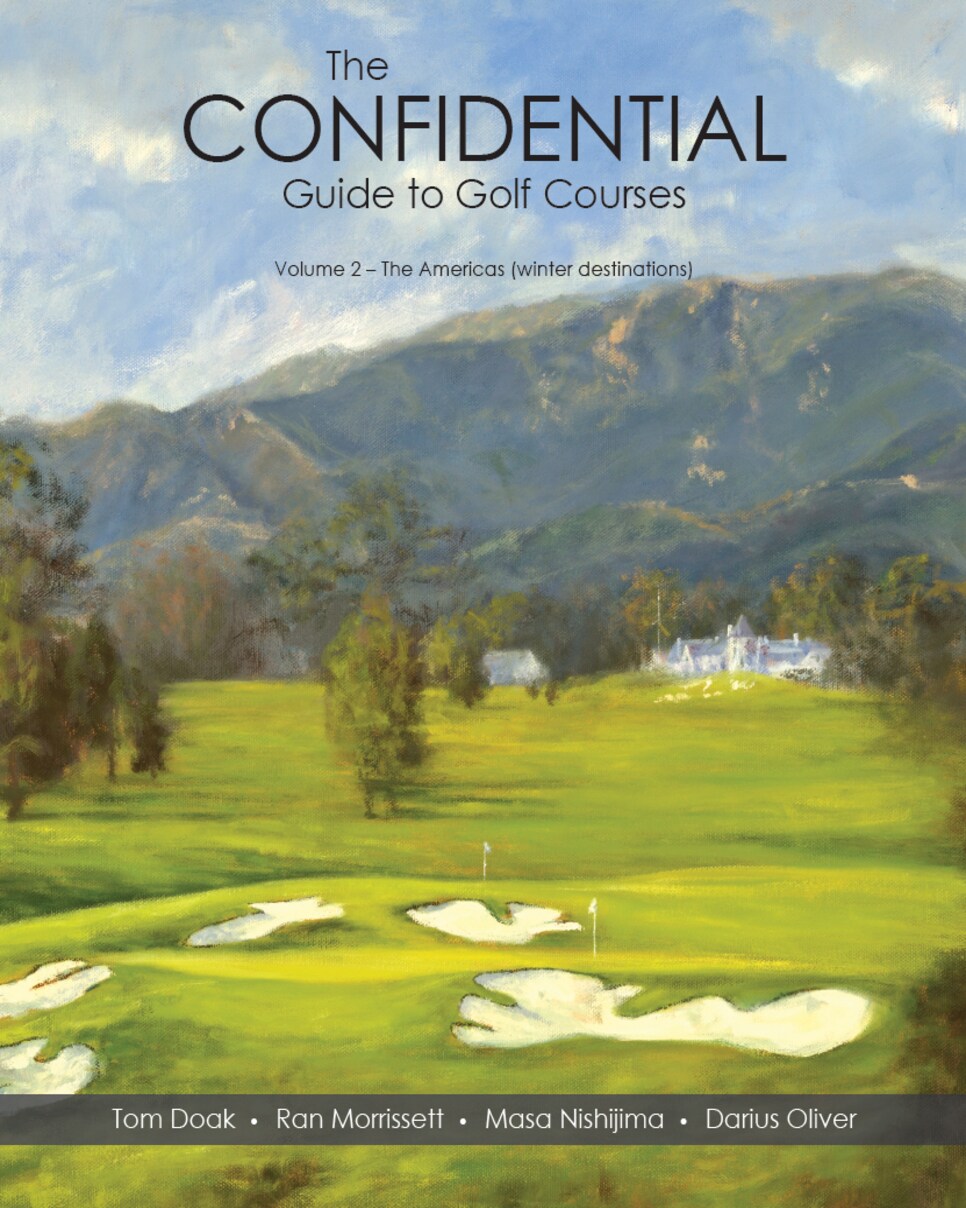 Goodbye Halloween, hello holiday golf book buying season!
While much of the golf world will be buzzing about caddie Stevie Williams breaking the imaginary player-looper confidentiality code with Monday's release of Out of the Rough, a tell-all book involving a golfer once embroiled in an international sex scandal is not the stuff of holiday gift giving.
In recent years the golfer with a decent budget wanting to buy holiday gifts for colleagues, buddies or partners hasn't had many options. That's where the new Confidential Guide To Golf Courses fills a huge void. Even as sales of large hardcover books decline and we reconsider how many such books we put on our shelves, golf architect Tom Doak brings back and reimagines his once wildly controversial and still very useful "Guide."
When he first released the book in 1996, Doak was seen as the Steve Williams of architects, crossing an imaginary line by shining a light on the mediocrity of his peers and seeking to raise the bar on golf course design discussion. The Confidential Guide's now rare and expensive edition published by Sleeping Bear Press lacked a few jabs included in Doak's self-published edition, yet offered Doak's excellent photography and the credibility that comes with a publisher's blessing. While clearly a more commercial edition of his cult-status Guide, the book did exactly what Doak hoped it would: elevate golf course architecture by asking us to look more critically at the 16,000 or so works of art where we play the game. In that sense, it was arguably the most important golf architecture book published in the modern era.
"When the original edition appeared, there was both joy and shock from some readers, who couldn't believe I put such strong opinions in print," Doak tells GolfDigest.com. "The reader reviews this time are more muted, because most readers are at least semi-familiar with the earlier version. There's a lot more focus on the smaller courses, because the big ones had all been rated before."
Doak has since made two big changes in the format. He's added contributors Ran Morrissett, Masa Nishijima and Darius Oliver, and broken the book into a five-volume set ($280 or $60 per copy as they are published). In 2014, Doak released the initial edition devoted to Great Britain and Ireland, and now this month comes the first of two editions devoted to American golf. The first covers the winter destination states for golf, and next year Doak and his crew will cover summer destinations. Why the change?
"First, I wanted the book to be worldwide in scope, and there were so many good courses built in the last 20 years that I'd fallen behind in the percentage of them I'd seen," Doak says. "I felt I needed help with coverage if the book was going to be thorough.
"Second, my co-authors' ratings are an important counterpoint when I don't like a course. Negative opinions are always controversial, so it helps when you have other people either confirming that opinion, or softening my opinion when they disagree."
The course reviews still sound very much like Doak's distinctive voice, only with added photography, the occasional course drawing and "Doak Scale" scores given to each reviewed course by all four contributors. The overall package is superb and more satisfying than the prior volume because of the sense of even more thought having been put analysis that carries much weight. And even if you don't like what he says about a course, the production values and photography make The Confidential Guide the ideal holiday gift book. All volumes can be purchased through Doak's course architecture website.
Doak kindly answered a few quick questions from GolfDigest.com while this week traveling to Australia:
Q: Most recent round of golf was where and how was it?
I played in a charity event at Ballyneal last week. I hadn't played there in four years; building courses in remote spots is very overrated, as far as opportunities to enjoy your own work are concerned. I was in a four-ball match against a friend and his father-in-law, who was getting too many strokes, and I had to shoot my best round there [75] just to get a half!
I've seen 98 new courses this year, because of the book project, and played 60 rounds. It's the most golf I've played in ages. But it didn't really help my game much. I only broke 80 a couple of times.
Q: Course you have not seen that you most want to play?
For years, the answer to that was Banff and Jasper, but I played them both this summer in advance of Volume 3. Both exceeded my expectations. I also checked off places like Gamble Sands and Cabot Links this summer. I guess the current answer would be the new Cape Wickham course in Australia.
Q: Most treasured item in your golf bag?
My putter, a Wilson knock-off of the George Low Wizard 600 that Nicklaus used for years. I've been playing with it since I was 13 years old. Once Crenshaw retires, I'll probably hold the record.
Q: What's the biggest change in golf/course design since the original Confidential Guide was published?
The idea that an architect needs to be out there building his courses, instead of just drawing them up. That was a fringe theory 20 years ago, only used by Pete Dye and a couple of his former students. Now it's gone mainstream.
Regular Season College Golf Comes To TV!
And it's match play to boot! What is this golfing world come to?
First, we had team match play in the NCAA Championships and it's been a home run even after all of these years we had to hear how match play doesn't work on the small screen. Now, Golf Channel will be airing the first regular-season college tournament in what could be the first of many tournaments broadcast featuring America's best teams and individuals.
As longtime Golf World college golf writer Ryan Herrington noted, this is a made-for-TV event, prompting him to ask "will wonders never cease?!?" But the East Lake Cup is very much designed for two days of Golf Channel broadcasts from 2-5 p.m. ET featuring the final four teams from 2015's NCAA Men's and Women's championships.
The men's division feature a rematch of the 2015 national semifinals, with eventual champion LSU facing SEC rival (and PGA Tour player factory) Georgia, while the red-hot Illinois (winners of three of their last four fall collegiate events) plays USC.
The women's division features three of the top four-ranked teams in the current Golfweek/Sagarin Rankings, with 2015 NCAA Women's national champion Stanford facing Baylor while the No. 1-ranked women of Troy (USC) face perennial power Duke.
The format is simple, two days of match play with finals and consolations matches Tuesday after Monday's head-to-head battles. Could this be the beginning of college golf on television? Or dare I suggest, more match play?
The Champions Tour concludes the 2015 season with the Charles Schwab Cup Championship from Desert Mountain, with coverage starting Thursday at 4:30 p.m. ET.
The PGA Tour, meanwhile, has two events on tap, with the Sanderson Farms Championship being held in Mississippi, with coverage beginning Thursday at 7 p.m. ET. And late-night golf fans will get to enjoy Jordan Spieth's return to tournament action after a short hiatus in the WGC-HSBC Champions from Shanghai, with all four rounds beginning at 10 p.m. ET Wednesday through Saturday night.
Bubba Watson defends a title won with quite possibly the 2014 season's most memorable shot, when he holed a greenside bunker shot for eagle, forcing a playoff.