The Loop
Forward Press: All eyes on Trump as anticipation for Augusta intensifies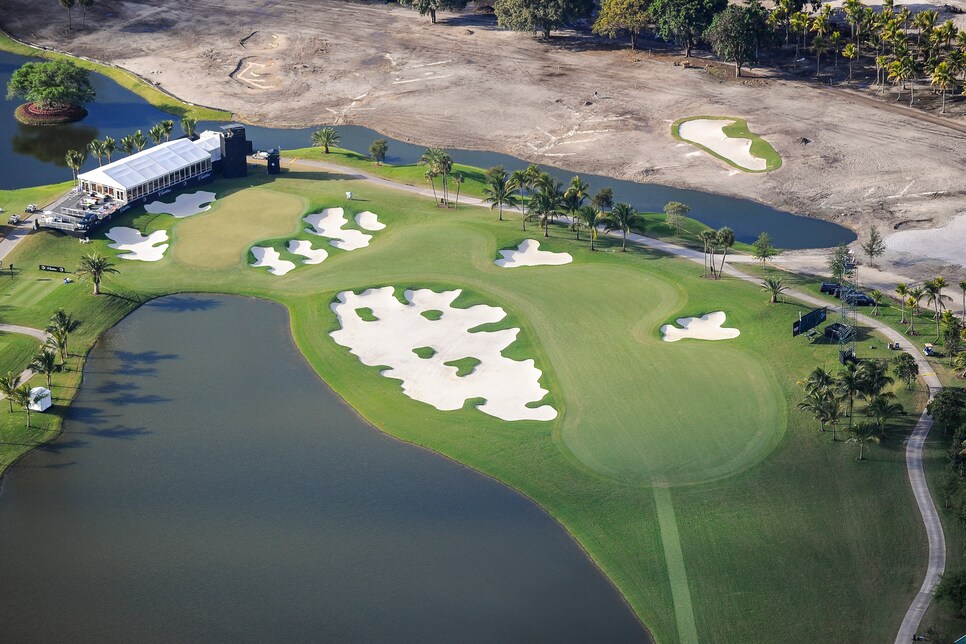 Chris Condon/PGA TOUR/MetLife Blimp
Look hard enough and every PGA Tour stop offers a storyline or two. Maybe five. This year has been especially kind to the PGA Tour, with almost no controversy and just enough stars contending every week to make even the most hardened fan tune in. And now the real fun begins.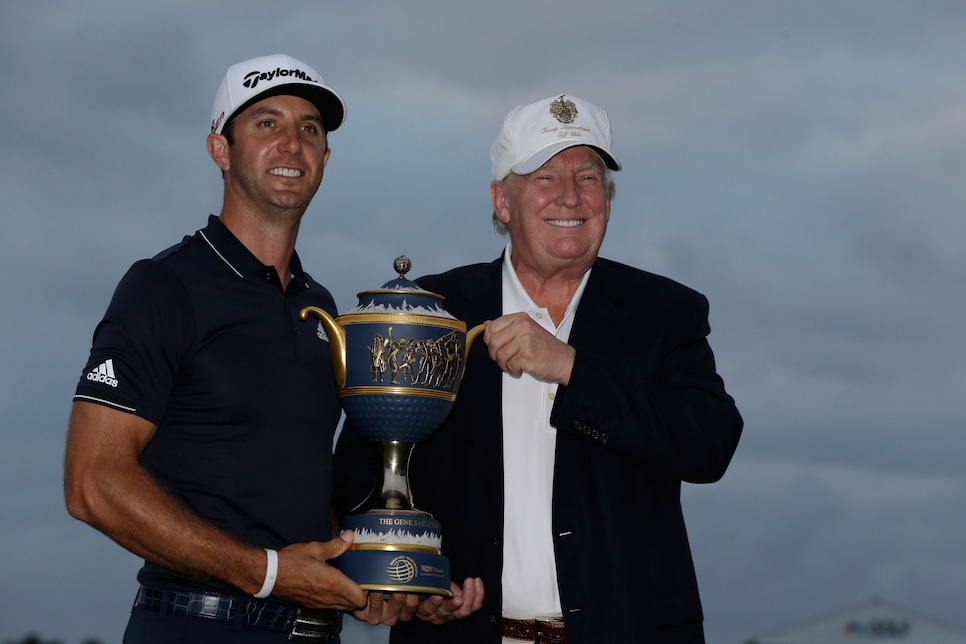 There may be a little bit of an edge to the proceedings at Doral for this week's WGC Cadillac Championship. Just a flavor of what's at stake:
-- The owner of this week's stop, Donald Trump, likes to make impromptu arrivals in the helicopter he parks on the course (against the wishes of the PGA Tour), and could solidify his chances as the Republican party presidential nominee before the first tee shot is struck Thursday.
-- This could be the last playing of a tour event at (Trump) Doral, second only to Colonial among continuously running tour events at the same course.
-- The reputation of Trump Doral's Blue Monster is at stake given player whining about Gil Hanse's 2014 renovation. The redo led to behind-the-scenes gripes when shorter hitters whined about a perceived disadvantage post-Hanse.
-- The WGC Cadillac brings together the world's best for the first time, with each of the "Big 3" eager to jumpstart their pre-Masters games after surprising missed cuts from Jordan Spieth and Rory McIlroy and a quiet kickoff to 2016 by Jason Day.
The great news? We have the best seat in town as Golf Channel/NBC is all in with coverage of the closest thing golf may ever get to a Barnum & Bailey-style circus.
The elephant and ringmaster under the big tent is also the purveyor of this reimagined resort, The Donald. He is said to be busy with Super Tuesday and ensuing campaign stops the day after he hopes he will have solidified the nomination. He's not expected at Doral until Sunday where the plan—emphasis on plan—is for Mr. Trump to keep a low profile.
That "plan" could change, but it's expected to be the case as Trump is on double secret probation with the PGA Tour. The partnership at Doral got off to such a stellar start that a 10-year contract was inked. But things have since soured a bit with Trump's campaign comments leading the tour to publicly express a lack of commitment going forward. Some of the tension also stems from Trump's overreaction to Blue Monster low scores that he blamed on gentle course-setup tactics.
For all of Trump's claims that he'd make more money if the resort didn't have to give players a rate and host this silly WGC event, Doral is only a legendary American property because the PGA Tour has been there every year since 1962. And don't think Trump takes this lightly, especially given the huge investment and (mostly) high praise directed at the renovation.
As for that player feedback, it seems the course is not a favorite of those who only drive it 290. The whining has been kept behind closed doors, but the tour has responded by asking Trump and architects Gil Hanse and Jim Wagner to make the bombers work a little harder. According to Gary Young, the rules staff's advance man on site, several bunker complexes have been extended into fairways, a few palm trees planted and fairways have been narrowed beyond 310 yards.
More importantly, lake banks that were playing almost like the shaved ones we see at Augusta National sport a healthy rough after a thin first two years. Those nice shots players were hitting and losing into the water will likely stay on the banks, while those who play a bad shot will find Doral's many water hazards.
Young says Director of Agronomy Don Thornburg has done a stellar job guiding the Blue Monster through a dreadful growing season and believes players will find the greens receptive. (They were plagued by the usual new-green firmness that doesn't discriminate against good and bad shots sometimes.)
Then there is Cadillac, which multiple reports have said will be out as sponsor of this WGC event. Whether Trump fatigue or new priorities are behind the decision, the event is left looking for one of the few companies that can afford a WGC sponsorship, and at a course where the tour is locked into through 2023—as long as there is a sponsor attached.
Are you beginning to see all of the dynamics in play this week?
While the PGA Tour certainly holds the best cards in this showdown with Trump, simply walking away from one of the most important annual stops would be a huge blow to the Florida Swing. Particularly given that the tour took a perfectly successful annual stop, made it into a WGC, then potentially could walk away. Commissioner Tim Finchem would never be able to show his face in Miami again, not that anyone pegs him as a South Beach party scene kind of guy.
Oh, and then there's golf! With Adam Scott and Bubba Watson having moved to the top of the pre-Masters favorites list with impressive wins at PGA National and Riviera, the pressure will mount on Spieth and McIlroy if they throw in many more clunkers (like each did the last two weeks).
So that should cover the (known) intrigue list. Not bad for the first week of March.
Your WGC Cadillac airtimes (Eastern Standard Time):
Thursday: 1-6 p.m. (Live) / 7 p.m.-Midnight (Replay), Golf Channel
Friday: 1-6 p.m. (Live) / 7 p.m.-Midnight (Replay), Golf Channel
Saturday: Noon-3 p.m. (Live) / 7 p.m.-Midnight (Replay), Golf Channel
Sunday: Noon-2 p.m. (Live) / 7 p.m.-Midnight (Replay) Golf Channel
LPGA: 10 Of The Top 10 Kick Off Major Season
The LPGA Tour turns up in Singapore for the HSBC Women's Champions, where 10 of the top 10 players on the Rolex Rankings and 43 of the top 50 in the world will play this 60-player event.
Inbee Park defends her title, after holding off Lydia Ko in the event a year ago. After various schedule issues and injuries, it's the first time the two top players will be face to face in 2016 as their first major championship looms later this month.
The 18-year-old Ko has picked right up where she left off, with two top-three finishes in her two LPGA starts while defending her title in the ISPS Handa New Zealand Women's Open.
Ko also gets the Vice Sports treatment and, well, it's worth a look. Unless you have something against pigs, snakes and alligators.
HSBC Women's Champions TV Times (Eastern Standard Time)
March 3: 10:30 p.m. - 2:30 a.m.
March 4: 12:00 a.m. - 2:30 a.m.
March 5: 12:00 a.m. - 2:30 a.m.
March 6: 12:00 a.m. - 2:30 a.m.