News
Former presidential aide disputes book's account of 2006 golf round between Bill Clinton and Tiger Woods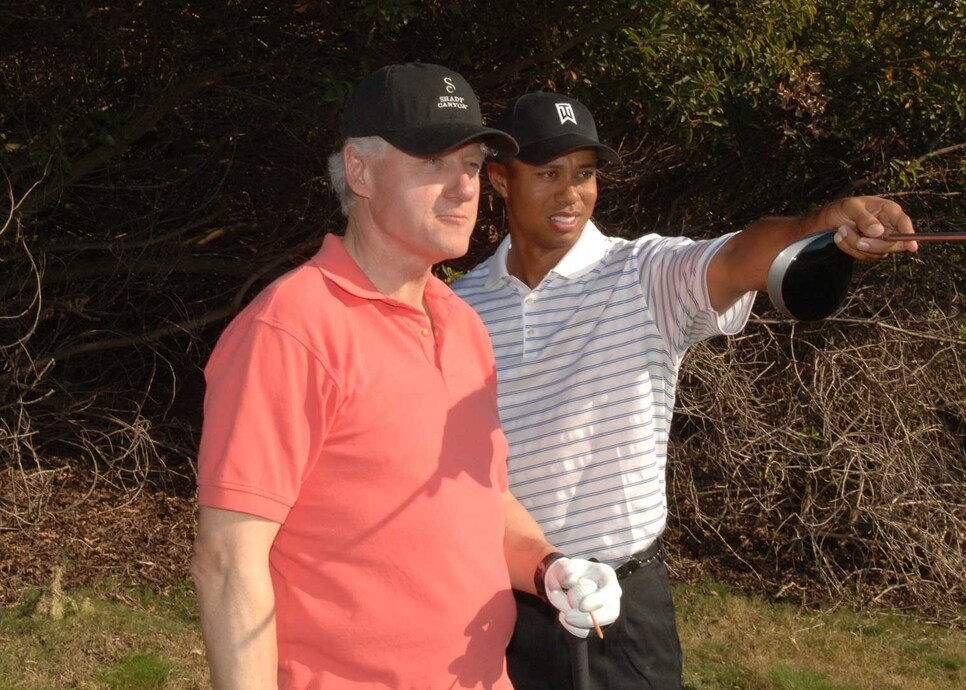 Doug Band, a former deputy assistant and counselor to President Bill Clinton, has raised multiple concerns about an account of a 2006 golf round between the former president and Tiger Woods. The golf round was detailed in an excerpt of the new book, "Tiger Woods," that appeared on GolfDigest.com this month. Band played in the group as well, and has provided GolfDigest.com photos of Clinton and Woods' interactions that day. His depiction of the round is below.
For a short piece, it's striking how much is wrong, in fact and in spirit, in the excerpt from the new Tiger Woods biography, about Bill Clinton's role in the opening of the Tiger Woods Learning Center in February 2006 in Southern California.
I played golf with Tiger and President Clinton that day. As Counselor to President Clinton at the time, I oversaw everything having to do with the visit, and there is hardly an accurate or true word in the excerpt.
The whole notion that Tiger was disrespectful toward the President is completely false. The way the authors describe the round of golf (and the events surrounding it) is not only inaccurate, it's mean-spirited. It was a casual, intimate round with a group of people who relished the chance to hear each other's off-the-record stories and enjoy the day together away from the rest of the world. As best I could ascertain, they came to the game with respect for each other and left it with more.
The authors claim there was "much wrangling" to get President Clinton to accept an invitation to attend the opening of the Tiger Woods Learning Center, and that President Clinton's acceptance came with "conditions." I suggested to Tiger and his representative that Tiger call President Clinton directly, just to make the invitation more personal. I suggested that President Clinton would love to play golf with Tiger before the event, if it could be arranged. There's a world of difference between a suggestion and a condition.
President Clinton was delighted to be asked to come to the opening of the Tiger Woods Learning Center. For one thing, the education of under served young people is one of the core values of his life. For another, the President is consumed with golf and was mesmerized by Tiger's ability. Tiger, as you would expect from a Stanford-educated young man who was the son of an Army officer, spoke to the former leader of the free world only with appropriate deference and respect.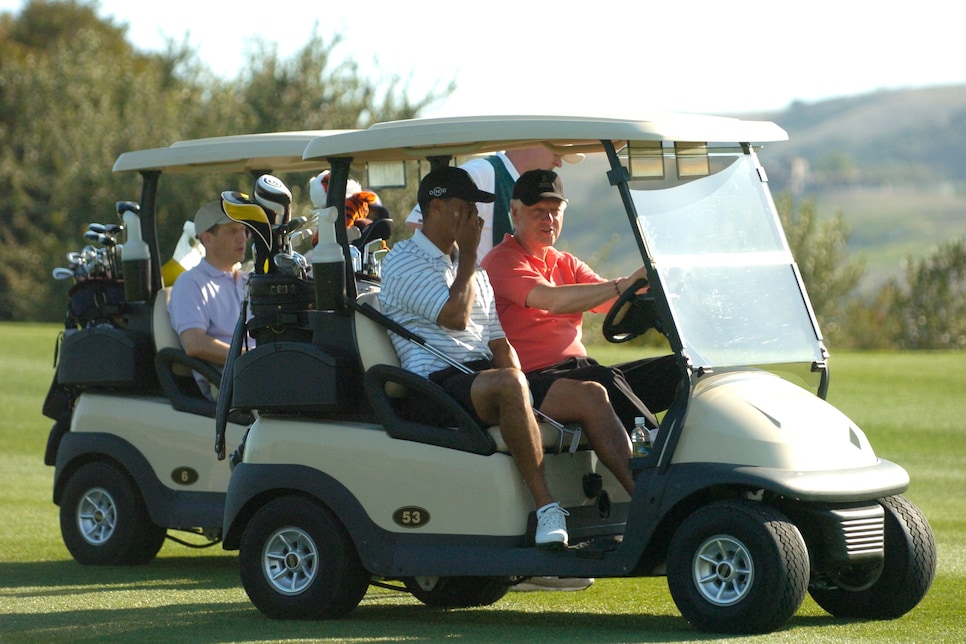 The authors then claim Tiger spent the day "mostly riding alone in a golf cart." Tiger and President Clinton shared a cart and were connected at the hip for most of the day. They also claim that Tiger was on his phone. Indeed, neither of which are true. I have dozens of pictures from that day and there is not one with Tiger on his phone or alone in his cart.
The authors claim that Tiger told a "series of off-color jokes." How would Tiger have time to tell a series of off-color jokes if he was always on his phone and always running to the next tee, as the authors write? He did tell jokes. They were the kind of golf jokes that have been told on golf courses for a hundred years. His jokes, and the ones we all told, were part of the appealing camaraderie of the day.
The authors claim that when "the president hit a wayward drive, Woods snickered." Woods didn't snicker. He mocked him, as friends do on the golf course. Clinton often drops several balls for each shot, takes significant liberties in his scoring and is a very slow player, three well known aspects of his game. Tiger offered swing tips to everyone throughout the day which we all appreciated.
The authors include a remark from Tiger to the President, about his prodigous memory. ("How do you remember all that shit?") They suggest he said this in a disrespectful way. It was said with a kind of awe and respect. Again, the authors completely missed the tone of the day.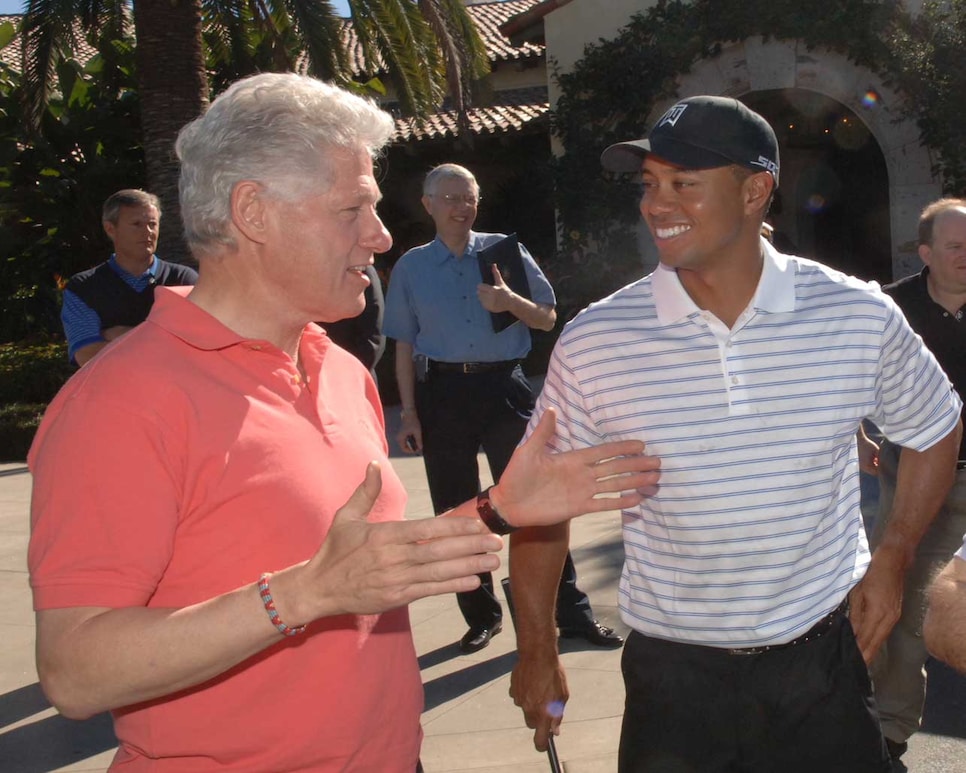 On the flight home, Clinton said to a few of us, "Let me tell you something about Tiger Woods. Most people wait until they are much older to make such significant philanthropic gifts and tackle a complicated issue like education. Tiger's done more for education as a 30-year-old golfer than most people do in a life time."
I spent thousands of days, often long ones, with President Clinton, all over the world. Not all of them were easy, to say the least. I can think of few days that were more of a pure pleasure for President Clinton than that day on the course.
The authors refer to an old story about Tiger refusing to attend a 1997 Jackie Robinson event. I was involved in the planning and execution of that event as a White House aide. It is simply not true. The quote the authors attribute to me on the initial call I had with Casey Wasserman regarding attending the Tiger event, "Did they tell you the story?", a great anecdote for the narrative but it is entirely made up and never happened. Likewise, the Ryder Cup locker room story, never happened. The authors don't say which Ryder Cup this so called snub occurred at because it never did. I was with President Clinton at the 2006 Ryder Cup at the K Club in Ireland. We never tried to go into the locker room nor ever did.
There are other parts of the excerpt I could cite for being wrong in either fact or tone. I spoke to one of the authors before the book was published but wasn't asked about any of the specifics of that round or about any of the absurd allegations they made about Tiger's behavior that day. I was only asked by the authors about Tiger's comment about President Clinton's memory. I confirmed that Tiger had made that remark, including the expletive.
The authors are accurate when they write that it took months for Tiger to finally send a photo from the round to President Clinton, and that Tiger had "scribbled" his name on the photo. To be fair, though, Tiger's penmanship, like President Clinton's, isn't exactly at the same level of Arnold Palmer. Nonetheless, President Clinton has that photo on display in his office, a happy memory for him of a wonderful day.
In the end, President Clinton and Tiger Woods—two of the most famous and accomplished people in modern life—came together those two days in 2006 to do something good and to have a good time doing it. It was a positive experience in every possible way. The authors found an unnamed source to turn the day into something 180 degrees away from what it actually was. Maybe that sells. Maybe that take fits the narrative they wanted to tell. But it's not truthful.
President Clinton spoke for eight minutes at the opening of the Tiger Woods Learning Center in Anaheim, Calif. He didn't use any notes, of course, and he was very effusive. Tiger is sitting to his right, Maria Shriver sitting to his left and President Clinton is speaking to the students, donors, and dignitaries about the "connection between effort and result." He praises Tiger for "giving back," and doing it at such a young age. He repeats something Tiger had told him during our round of golf: "You want to play better, work harder!'" Everybody laughs. It wasn't a stump speech. It was President Clinton expressing exactly what he was feeling about Tiger Woods as an iconic athlete, as a person, and philanthropist and—for one day, anyway—his golf partner.
The authors respond: "In reality, it's Band's letter that is inaccurate. Our sources for this account were three people with direct involvement in the events that transpired. Let us be clear: We stand by the accuracy of our reporting."—Armen Keteyian and Jeff Benedict