The Loop
Former Naval officer Billy Hurley has a unique perspective on an athlete not standing for national anthem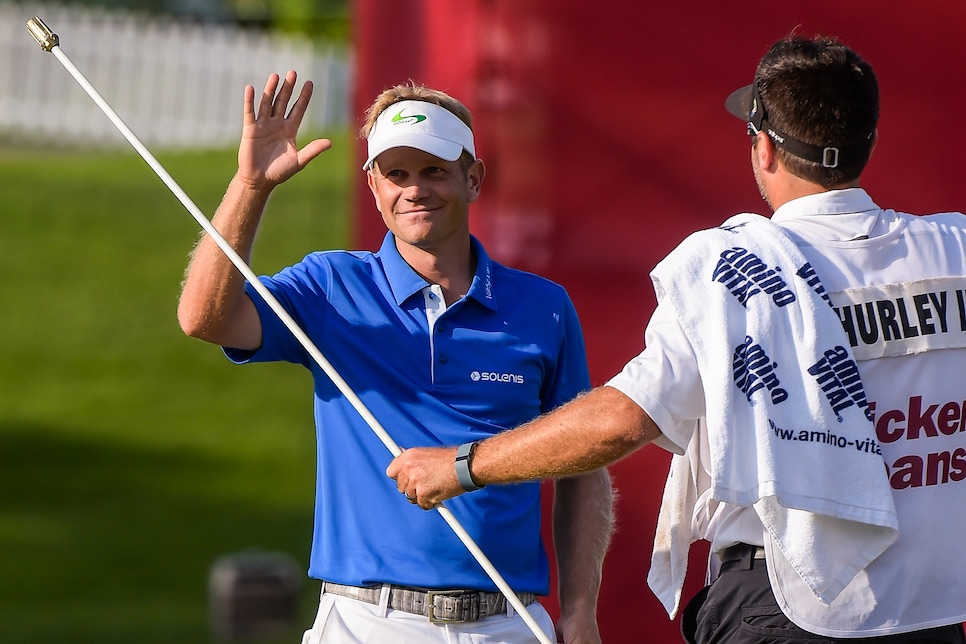 NORTON, Mass. -- Naval Academy graduate and retired Navy serviceman Billy Hurley III said Wednesday that he is not offended by San Francisco 49ers quarterback Colin Kaepernick's decision to not stand for the National Anthem. But Hurley does question whether it's an effective way to get across his message.
Asked at the Deutsche Bank Championship to comment on Kaepernick's controversial actions prior to Sunday night's exhibition game against the Green Bay Packers in San Francisco, Hurley pointed out that the military, "is here for all citizens regardless of how they feel about things going on with the country." Hurley, 34, graduated from Annapolis in 2004 and rose to the rank of Lieutenant while serving in the Navy until 2009.
"It's an interesting situation, and a delicate one," Hurley began, "but he's made it clear that he's not trying to disrespect the military. He's got his own personal issues as it pertains to race problems that he's trying to have addressed. But I have seen where he has stressed he isn't anti-military. Now, do I think there's a better way to go about it? Sure. But that is his right as an American. It's what the military is there for. It's not just to protect the people of this country who like America. We're here for all citizens regardless of how they feel about things going on with the country. We take an oath to the Constitution, and to support and defend the Constitution. And he's exercising his right under the Constitution."
Kaepernick said he is taking a stand against various forms of racial inequality in America, and that he would continue to sit for the anthem until those issues are addressed. "The fact that it's blown up," Kaepernick said this week, "is a good thing."
"He's made the news, I'll say that," Hurley said. "I don't know what he's trying to do. I'm not sure he's accomplishing what he wants to accomplish with this decision. It's clear to me in the coverage I've seen that he's not gaining much traction with his message."
Hurley made news himself earlier this year with his first PGA Tour victory, one that evoked emotions and patriotic overtones. Playing on a sponsor's exemption, Hurley won the Quicken Loans National in his hometown of Bethesda, Md., an event hosted by Tiger Woods that explicitly honors the military. At the time Hurley said there wasn't a more appropriate event for him to win. The victory, worth $1.24 million, propelled him to his first appearance in the FedEx Cup Playoffs.
"That win not only made my season, but my career," said Hurley, who was ranked 607th in the world when he defeated Vijay Singh by three strokes at Congressional Country Club. "Things were not going that great. I was trying to figure out how to make sure I wouldn't miss the Web.com Finals. Nothing was going well results-wise, and now here I am in the [FedEx Cup] Playoffs."
Interestingly, the biggest takeaway from the victory wasn't the money or the trophy. It was the feeling he had all week and the calmness that he felt down the stretch as he fought back his emotions. He'd like to reprise that mojo at TPC Boston, where he comes in ranked 77th in the FedEx Cup standings. Only the top 70 advance to next week's BMW Championship at Crooked Stick Golf Club in Carmel, Ind.
"Looking back, the thing that strikes me most is that I had this inner peace that I can't explain," he said of his play at Congressional. "As a person of faith, I think it was just God watching over me and having that influence in my life. I've never had that sensation before. I've had similar feelings like that since then, but not to that extent or for such a sustained period of time. It really was a magical week for me. I almost wish I could go back and relive those last four holes and feel that way again."