News
Former Augusta National chairman Hootie Johnson, the central figure in Martha Burk controversy, has died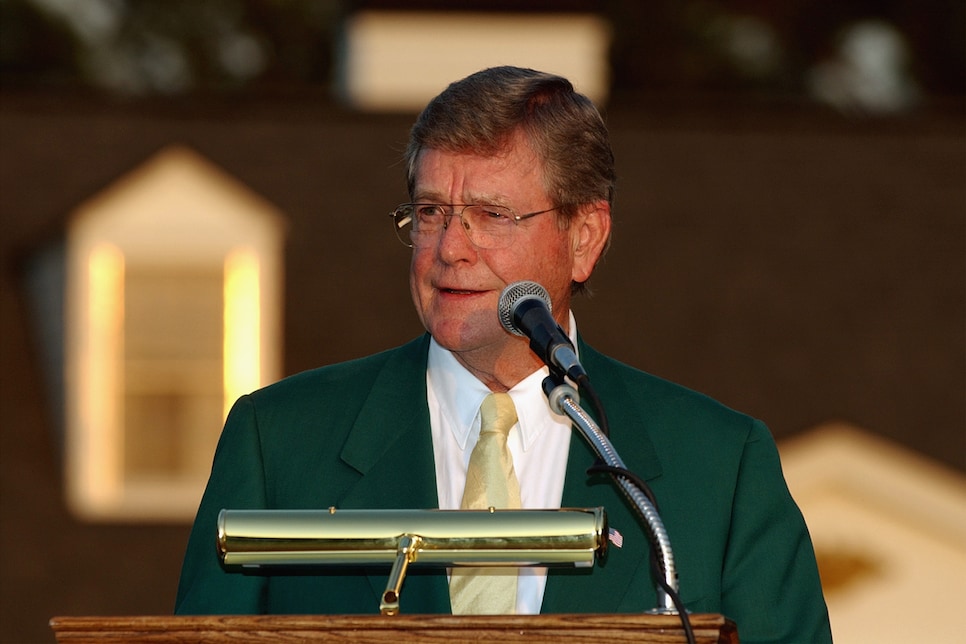 Hootie Johnson undeniably was stubborn, as he so often was described, though in his defense it ostensibly is a requirement for the job of Augusta National chairman, dating to its original benevolent dictator, as he was called, Clifford Roberts.
Johnson's stubbornness revealed itself in the 2003 controversy emanating from Martha Burk's crusade to force the club to open its membership to women.
The club's chairman from 1998 through 2006 steadfastly refused and famously said in a statement that it would not acquiesce "at the point of a bayonet."
Johnson, 86, died on Friday morning and, for better or worse, his legacy inextricably will be linked to Burk.
The controversy, played out in page one headlines and nightly news telecasts over the course of several months, overshadowed welcome changes that occurred during Johnson's tenure, notably expanding television coverage of the Masters to all 18 holes. He also oversaw changes to the golf course, often referred to as attempts to Tiger-proof the layout in the wake of Woods' historic 12-stroke victory in the 1997 Masters.
"During his eight-year tenure, we always admired his genuine and unrelenting respect for the traditions and vision of the Club and Tournament established by our founders Bobby Jones and Clifford Roberts," Johnson's successor Billy Payne said in a statement.
"He boldly directed numerous course improvements to ensure that Augusta National would always represent the very finest test of golf. Simultaneously, Hootie expanded television coverage of the Masters, improved qualification standards for invitation to the Tournament and reopened the series badge waiting list for the first time in more than 20 years. Many of these measures brought more people than ever closer to the Masters and inspired us to continue exploring ways to welcome people all over the world to the Tournament and the game of golf."
William Woodward Johnson was born in Augusta in 1931 and raised in Greenwood, S.C. Hootie, a childhood nickname by which he became known, learned to play golf at Augusta National's neighbor, Augusta Country Club, where his father was a member.
He went to the University of South Carolina on a football scholarship, then joined his father in the banking business in Greenwood and eventually became the president of Bankers Trust of South Carolina.
Johnson, meanwhile, developed a friendship with fellow South Carolinian Darla Moore, CEO of a New York investment company, Rainwater, Inc.
"Hootie will fool you," Moore told the Charlotte Observer in 1999. "He is not only a pillar of the establishment, but he also has an ability to see the global picture. He can think outside of the box. He actually is quite progressive. Don't tell anybody I said he was progressive."
In 2012, Moore and former U.S. Secretary of State Condoleezza Rice became the first women extended invitations to join Augusta National. The man who nominated Moore for membership? Hootie Johnson. The club's timetable on inviting women to join, as he had noted in his statement that escalated the controversy in 2003, "will be ours."
"At all times, Hootie selflessly served as my personal mentor on matters here at Augusta National and the Masters, as well as in business and life," Payne said further in his statement. "He impressed upon me his obsession for constant improvement and a love for Augusta National that will forever remain unmatched. As the current Chairman, I owe an immeasurable debt to Hootie Johnson, and I will thank him every day for what he has meant to me personally as well as to the legacy of Augusta National and the Masters.
"In the days ahead, we will privately honor the memory of Hootie Johnson, stand with his beautiful family and celebrate his extraordinary life."
Johnson is survived by his wife, Pierrine, his four daughters and their husbands, and 10 grandchildren.