Looking beyond Tiger, the PGA Tour has a new headline act in "the Big Three"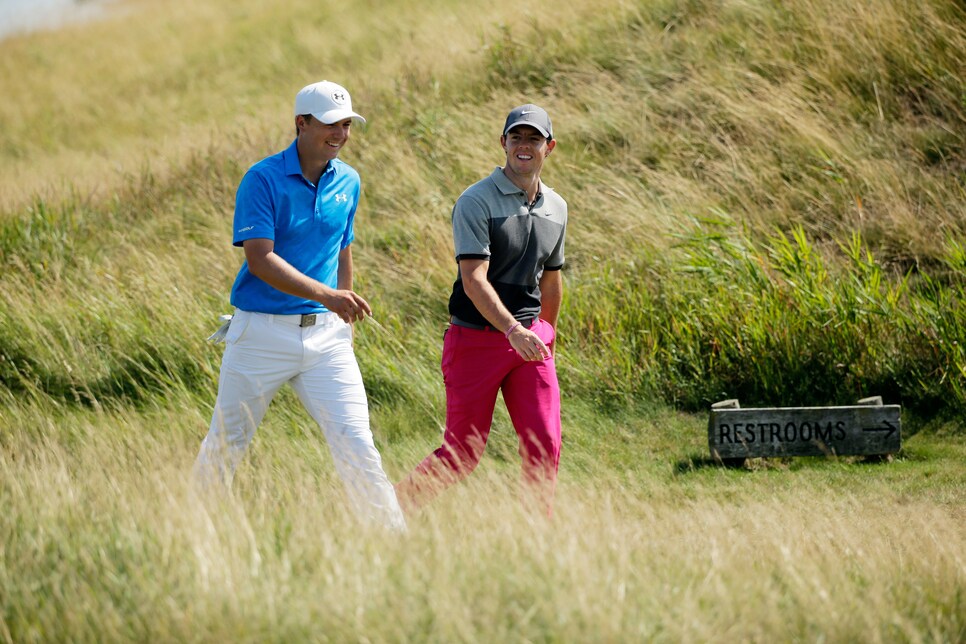 Although an awkward hyphen is needed to signify the still slightly confusing wraparound season, the 2015-16 PGA Tour promises straightforward, various and rich story lines. That's true even though, for the first time in memory, the state of Tiger Woods isn't the main topic.
For nearly two decades, pre-season stories were built on questions about Woods that evolved from "How good will he be?" to "Who will challenge him?" to "Can he come back?" That last one is still unresolved and hovers hugely. But Woods' latest back surgery in September, which figures to keep him out at least until early 2016, means that -- at the moment -- the game's other main actors have all moved up at least one spot in importance.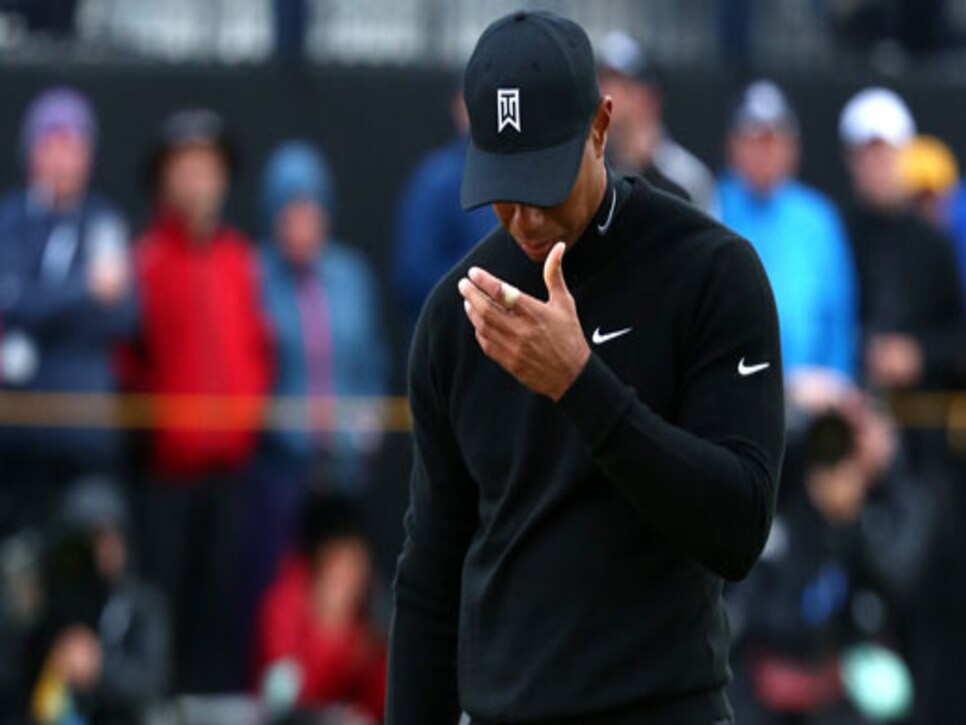 Rickie Fowler has graduated into golf's upper echelon of performers, making the progress of his play more compelling than the phenomena of his popularity.
Dustin Johnson has become the game's new Greg Norman, a charismatic figure who draws increasing concern that his immense ability won't be blunted by disappointments.
Can Adam Scott's forced return to the conventional putter somehow mitigate his weakness so that he's an elite player again? Will Bubba Watson find the key that will allow his savant talents to overcome his nervous nature? Does Phil Mickelson -- mercurial as ever at 45 -- feel enough urgency from the goals of another Ryder Cup and even Olympic gold to make one more mystical shift into his greatness gear?
Of course, the biggest talking point is the suddenly definitive emergence of a new Big Three -- Jordan Spieth, Jason Day and Rory McIlroy. The trio is closely bunched at the top of the Official World Golf Ranking and far ahead of the pack.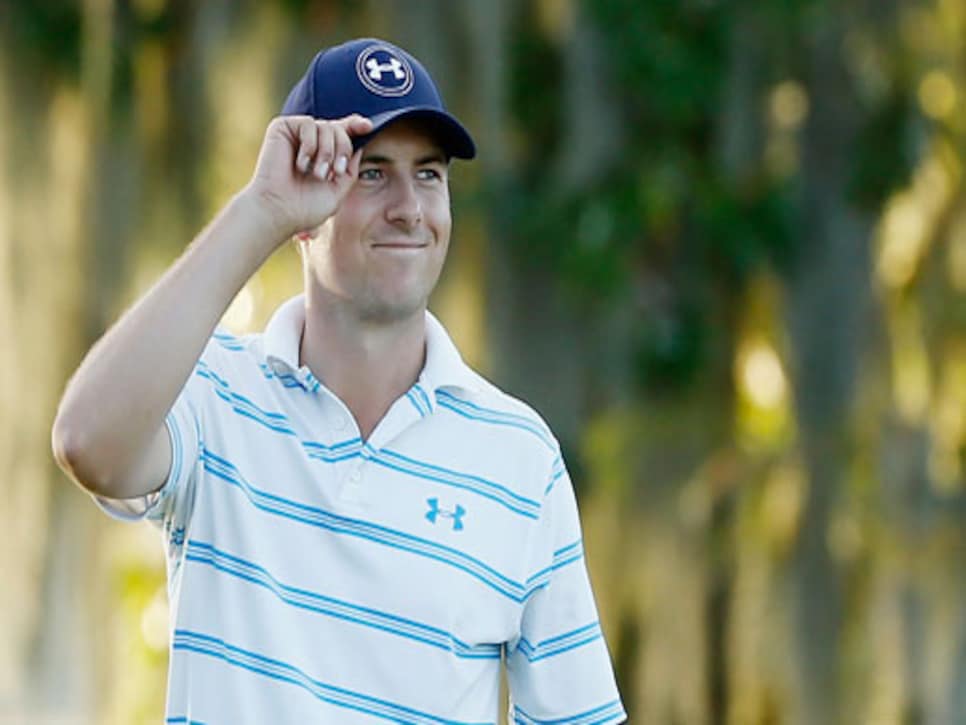 Spieth is currently the main man. The 22-year-old earned it with his dramatic run at the calendar Grand Slam, followed by his drop-the-mic win at the season-ending Tour Championship.
And so far, he seems prepared and even spurred on by the burdens. Spieth appears to understand that the increased scrutiny that comes with his station shifts the reaction to him from constant praise to carping skepticism. He has heard the increasingly persistent questions: How can he get better? Is he maxed out? Will he hold up? Woods, after many years at No. 1, would wearily conclude to confidants that "nothing is ever good enough," and Spieth no doubt has already had similar feelings.
But the six-time PGA Tour winner has also applied his extraordinary golf IQ to his new situation and -- with his always forward-thinking team -- gotten ahead of the narrative.
Improvement is the constant goal, but Spieth also possesses a determination to remain true to his innate gifts and resist the kind of dramatic rebuild that greats like Nick Faldo, Norman and Woods all underwent at great risk and cost despite the perceived rewards.
Cameron McCormick, Spieth's instructor, recently told Golf World's Tim Rosaforte: "The last thing I want Jordan Spieth to do is become an over-optimizer, a player that tries to think too inwardly and thinks he can change too much. That's a far more dangerous path."
When he speaks for himself, Spieth not only stays on McCormick's message, he answers questions with a clarity, candor and insight that make his appearances in the interview room much anticipated. Before play began at the Tour Championship, Spieth, who had dropped to No. 2 in the world behind Day, spoke honestly about how being soundly beaten head-to-head at the PGA Championship by the more powerful Australian had caused him to gamble and had taken him out of his mistake-averse control game.
"I shouldn't be taking those chances because I can make up for it by making mid-range putts," he explained. "Or taking advantage of par 5s by not necessarily having to hit them in two, but doing it the other way, the old fashioned way."
Spieth then opened a window into what makes him a fierce competitor.
"My personality, I don't like getting beat in anything, and I'm very stubborn," he said. "It wasn't fun to watch (Day). But when it's not fun, it motivates me. It doesn't make me angry. It makes me want to get back to the level I was playing at this whole year, to get on top of my game and see if the top of my game can beat the top of anybody else's game."
He concluded with a thought that was reminiscent of Woods once reflecting on how, at his best, he was able to will himself into the zone.
"I believe it comes down to when the lights are on, can you create your 'on' days," Spieth said. "Where when the lights are on, you don't have your best stuff and (yet) you do."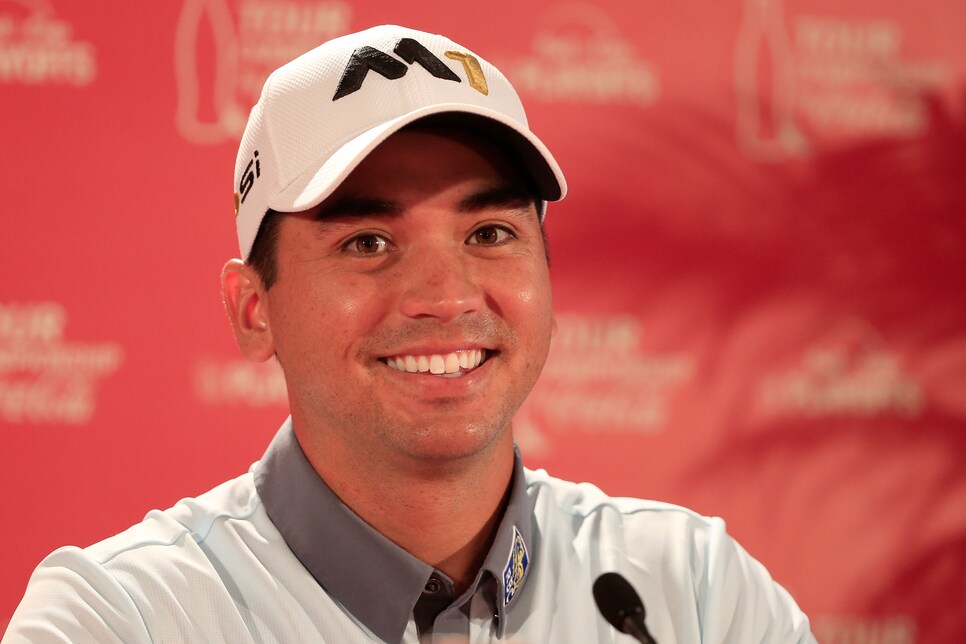 As good as Day has become, he's still learning about such advanced mental levels. Indeed, until he won four events out of six in the late summer, Day had mainly been a "nearly man." But it was his latest such finish—falling one shot out of a playoff at St. Andrews—that proved a psychological breakthrough.
"Something happened that week (at the British Open) . . . everything was going to be fine," Day said before the Tour Championship. "Just to be able to get onto a golf course and even still feel pressure and that stuff, but knowing that it's OK, it's good pressure to have."
Under the pressure of the Presidents Cup, Day couldn't bring out his best. Anticipated as the International team's biggest weapon, he instead wound up with an 0-4-1 record, confirming his closing thought at East Lake.
"Now that I know what it's like to win and what I've done to win, hopefully it does come easier," he said. "But it doesn't. These things don't come easy."
It's a dynamic that No. 3 McIlroy understands all too well.
In capturing the last two majors of 2014, the 26-year-old Northern Irishman proved he had grown into a golfer who could win without his overwhelming best stuff. Looking forward to becoming a more dominant world No. 1 in 2015, he was ambushed by Spieth's brilliance at the Masters and then undone by his frequent nemesis —indifferent putting—at the U.S. Open. Then, primed to bomb St. Andrews into submission at the British Open, he suffered an ankle injury playing soccer that derailed the rest of his season.
The year resulted in an unexpected wake-up call for McIlroy, and that forced him to confront his weaknesses directly.
"I felt like my putting definitely could have been better this year," he said last week at the Frys.com Open. "Around the greens was pretty good, but if you're chipping it within six feet but missing a few of those putts . . . "
It has become clear that no matter how well McIlroy hits the ball, in matching up again Spieth in particular, he is being outplayed around and on the greens. And the habitually honest McIlroy couldn't avoid conceding as much.
"I guess address a few of those areas that I'm not maybe quite as good as they are," he said. "Just trying to creep close to them. I sometimes feel last season I neglected those weaknesses too much to focus on the strength. I just need to maybe spend a bit more time on those."
Day is right -- these things don't come easy. But while being beaten by your closest rivals is painful, it also makes getting better easier. The new Big Three are pushing each other hard. Where that will take them is the most anticipated part of the 2015-'16 season.