News
Forget Sam Snead. Tiger Woods already has the tour record for wins. Seriously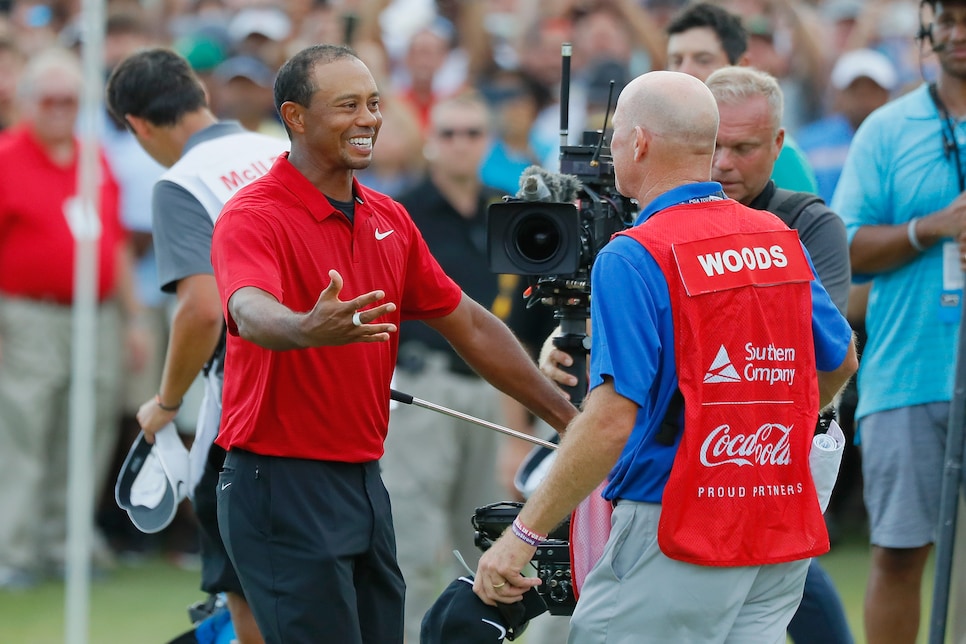 Tiger Woods' triumph at the Tour Championship left a lot to digest. The performance, and the seemingly fictional panorama throughout the weekend at East Lake. Tiger's past, good and bad, both of which make the present all the more unbelievable. And, of course, the future, if Tiger's play—not just at the Tour Championship, but the past two months—is a sign of what's on the horizon.
Yes, the horizon. About that. Woods' win was the 80th of his career, moving him just two victories away from tying Sam Snead's all-time PGA Tour record. A benchmark Woods' acknowledged Sunday night.
"I've still got, I feel like, a chance to play some more golf and maybe I'll keep chipping away at that number and maybe surpass it," Woods said of Snead's 82. "But I just think that what I've gone through and what I've dealt with, I've gotten lucky, to be honest with you. I've gotten very lucky. I'm not playing a full contact sport or I've got to move people around in that regard. At 42 years old with a fused lower spine, that's not going to happen.
"But in this sport, it can. I'm lucky to have the opportunity to have the people around me to have supported me and worked through this process with me, and I've ground out a chance to win golf tournaments again."
Even with his injury-riddled sabbatical, Woods remains on pace: Snead won 12 times after the age of 42, his final win notched two months before his 53rd birthday.
However, while Snead "officially" holds the mark, in reality, Woods has long surpassed Snead on the tour's totem pole.
The problem stems from a 1980s study by Deane Beman, then commissioner of the tour. Beman deputized a host of golf historians to create an official statistical catalog for the tour, but by most accounts, it was a flawed process. Part of the problem resided in lost records when the tour and PGA of America split in 1968, leaving the group to decide what to count or discard. Though players at the time felt the panel was too strict, history has proven otherwise.
For example, three of Snead's wins were events contested over 36 holes, with another tournament only 18 holes. Per PGA Tour policy, for a tournament to be official it must be at least 54 holes.
Then there are the fields. Snead won the Palm Beach Round Robin five times. He faced only 15 competitors in four of those instances, and 14 in the other. While we're here, one of the 36-hole tournaments, the 1946 World Championship of Golf, had all of four players in it. Might as well credit Tiger for his "Monday Night Golf" showdowns or his seven PGA Grand Slam of Golf titles.
We'd be remiss in forgetting to add the 1950 Bing Crosby Pro-Am. The Clambake was canceled because of darkness, with Snead tied with three others when play was suspended. Instead of coming back for a playoff, a tie was declared, all four players given the win.
To Snead's credit, he lost recognition for the 1949 North and South Open, one of the premier tournaments of the era, because the event's purse was too small. Still, even with that added—and giving Snead the benefit of the doubt at the '50 Crosby—that brings his total down to 74 wins. Meaning Tiger Woods should not just be the official PGA Tour record holder. He should have been for quite some time, earning win No. 74 at the 2012 AT&T National.
So congrats, Tiger, on breaking the record. Six years ago.