Activewear
Women's golf apparel brand Foray introduces bold sportswear collection
*All products featured on Golf Digest are independently selected by our editors. However, when you buy something through our retail links, we may earn an affiliate commission.*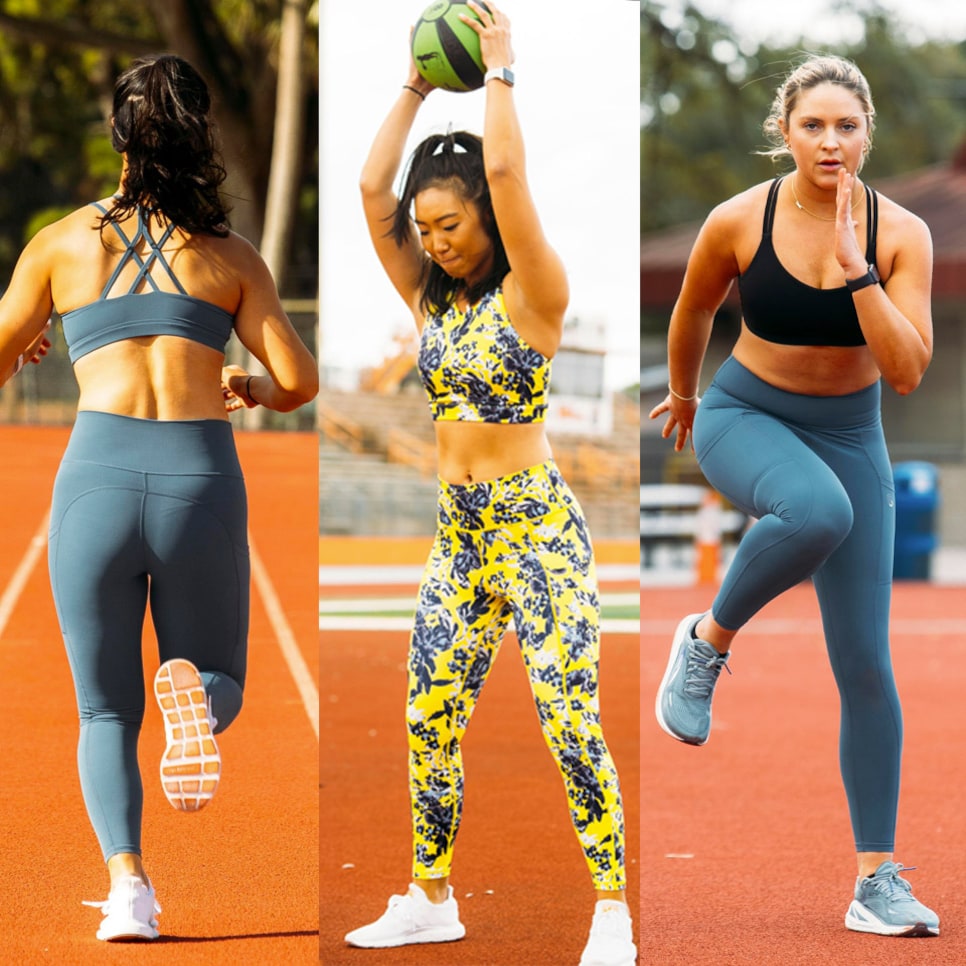 Women's golf wear company Foray Golf is tackling an entirely new sector of apparel: sport wear. The brand's new line, Foray Sport, features female-designed sports bras and performance leggings to fit every woman's needs both on and off the course. When founder Megan LaMothe heard LPGA players and female golfers raving about the quality of her brand's clothing, she knew she had to make pieces for them to wear in the gym and in their daily lives as well.

RELATED: Why is it so hard to find the perfect pair of women's golf shorts?
"We know our girl does everything. She's not just a golfer. She does yoga, she runs, she exercises, she does all the things," LaMothe told Golf Digest. "Especially now, you need your clothes to do more than just one thing, so we really wanted to fill that gap."
Foray's new bras—one with an intricate strap design and one with a longline design that has a high neck and lower hem than traditional sports bra—are the true gem of the collection. As the former Director of Design Operations and Integration at Victoria's Secret, LaMothe is a bra-constructing mogul. When designing Foray's new sports bras, LaMothe used her industry experience to create pieces that addressed every problem-area you can think of.
For LaMothe, it was essential that the bras don't feel constricting, but offer maximum support for all sizes. In golf, it's hard to know whether to wear a sports bra or a regular bra. You're walking, not running, but you're outside all day moving your body and sweating. LaMothe realized that freedom and flexibility are the real key factors in making a great bra, no matter what activity you're doing.
"For the longline bra, it was really about the shoulder blades. How do we maximize freedom of movement?" LaMothe said. "People don't realize how important the straps are on a bra and the placement of the straps. These straps sit on your collar bones. They don't sit on your muscle tissue, they don't sit somewhere that's going to irritate you, they're not going to slide off. They're on, you're secure, and it's not in your way."
Not only does the line's nylon spandex material feel buttery smooth on the skin, it also allows the brand to bring the vibrant colors that their customers love to the new collection. The bra and leggings set comes in a bright yellow colorway layered with an intricate floral design.
Plus, the leggings in the collection include pockets. The feature is practical but doesn't comprise the seamless look, an element that emphasizes the female-designed nature of the pieces.
"We know there are a lot of other women's brands out there and men's brands that are starting to do women's clothing," LaMothe said. "But the differentiation for me is men designing for women and women designing for women. They are two wholly different things."
Expect more to come from Foray Sport in the coming year, as the brand continues to expand in the golf and athletic wear spaces.